Beef Central publishes an occasional summary of appointments, departures and achievements occurring across the red meat and livestock supply chain.
Send details for entries to admin@beefcentral.com
NTCA president and SA producer join NFF board
Lillyvale appoints GM feedlot operations
Larkin moved on from Kimberley Meat Co role
New chair for specialist property agency LAWD
Harold Sealy joins Minerva
Grassdale manager moves to Stockyard
New head of supply chain appointment for Hancock/Kidman
Tracey Hayes joins RFDS Federation board
Station manager promotions and changes for Cunningham Cattle Co
More station management appointments for CPC
Peter Hall new AgForce Cattle president
New owners for Western Qld's Brodie Agencies
Board Director changes at AHA
US Meat Exporters elect new chair
RPC Life membership for ag journalism stalwart, Pete Lewis
NTCA president and SA producer join NFF board
Northern Territory Catttleman's Association president David Connolly has been voted onto the board of the National Farmers Federation, joining six others.
Mr Connolly and South Australian cattle and grain producer Natalie Sommerville are the only new additions to the board – with Ms Sommerville voted on as an independent director.
The NFF board, including the president, vice president and five directors, is elected by the members council, which is made up of state farm organisations and other agricultural lobby groups. The board can appoint two independent directors to ensure the necessary balance of skills.
Two positions were available at this week's AGM, with Mr Connolly taking over from south-west Queensland producer Robyn Bryant, who did not re-contest her position. The other available position on the board was held and retained by south-west NSW mixed farmer Lisa Minogue.
Lillyvale appoints GM feedlot operations
Experienced feedlot operations manager Andrew Rushford has joined the Morgan family's Lillyvale feedlot near Condamine on Queensland's Darling Downs.
Mr Rushford will act as general manager feedlot operations, replacing feedlot manager Amanda Weedan, who is taking a break from the industry. Mr Rushford spent the past three years as feedlot general manager at Stanbroke Beef's Bottletree feedlot near Chinchilla. Prior to that he managed Queensland Gas Corp's rural property portfolio on the Western Downs, after spending 13 years as manager of the Teys Condamine feedlot.
Mr Rushford arrives as the Lillyvale business completes a major expansion, currently feeding 27,000 head, and heading for 33,000 next year (click here to view recent Beef Central article). Lillyvale is celebrating its fiftieth year of operations this year, having been established in 1972 by Euen Morgan as one of Australia's pioneer lotfeeders.
Click here to view a short video marking the milestone: https://fb.watch/g_wwCLyGOt/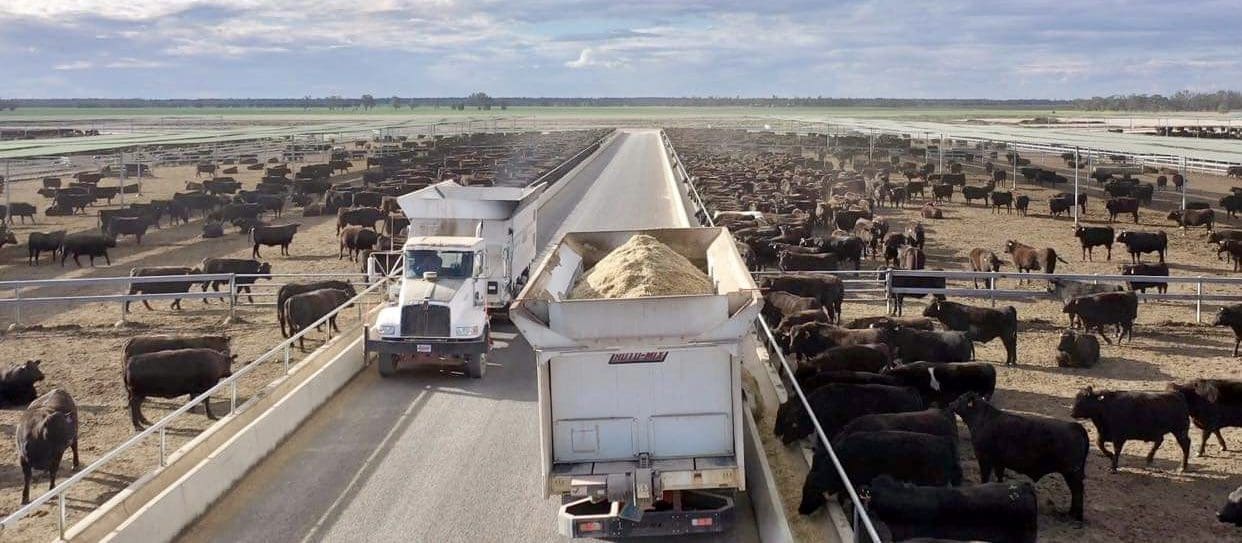 Larkin moves on from Kimberley Meat Co role
David Larkin's 12-month contract with Kimberley Meat Co came to an end in mid-November, but he continues to provide advice to the company on an as-needs basis.
Current plant management are seeing-out the rest of the 2022 season, about to close for its wet season break. Kimberley Meat Co expects to make a new chief executive appointment early next year.
Mr Larkin took up the Kimberley project after finishing up after four and a half years as general manager of Gina Rinehart's Hancock Ag and Kidman cattle operations. He also spent a term chairman of the Australian Meat Industry Council. This year he re-opened, re-commissioned, and perhaps most challenging of all, 're-laboured' the Kimberley plant after a 12-month closure, killing around 250 head a day, six days a week, to deliver the largest annual throughput seen through Australia's most remote processing plant. He also successfully managed Kimberley Meat Co's re-establishment of export licences, including the US.
David Larkin featured in one of Kerry Lonergan's Weekly Grill podcasts earlier this year. Click here to access.  
Harold Sealy joins Minerva
Prominent Western Australian livestock industry identity Harold Sealy joined sheepmeat processor Minerva Foods Australia earlier this year in a senior livestock procurement role.
Mr Sealy spent much of his earlier career working in livestock export operations out of WA, firstly with Wellard, and later with LSS. He also spent time as livestock manager with Beaufort River Meats and Hillside Meat Processors when owned by Wellard.
His new role with Minerva is livestock director, based in WA.
Brazilian-owned Minerva last year bought two WA sheepmeat processing plants at Shark Lake near Esperance and Great Eastern near Tammin.  Last month the company expanded its investments on the east coast, securing a deal to buy The Australian Lamb Co near Colac in Victoria.
Grassdale manager moves to Stockyard
The Stockyard Group has appointed a new general manager of livestock operations, with Marcus Doumany taking over from George Lubbe at the end of the month.
Mr Doumany is currently the manager of Mort & Co's Grassdale feedlot, which is the largest in Australia. He previously worked for Australian Agricultural Co managing large-scale pastoral properties, Wagyu breeding and backgrounding operations and the 20,000 head Goonoo Feedlot. He then moved to Western Australia as business development manager for beef supply chain Harvest Road.
Mr Doumany starts in his new role on Monday. The Doumany family have a long association with Stockyard, with the company's founder Robin Hart employing Marcus' father Sam Doumany to help with marketing its new boxed beef operation in 1973.
Mr Lubbe left the company earlier this year to start his own supply chain consultancy called Premium Bovine Solutions.
New chair for specialist property agency LAWD
Specialist rural real estate and property advisory firm LAWD has appointed respected property sector leader Rob Blain as its board chairman. The development was announced at LAWD's national conference in Brisbane this week.
A veteran of four decades in real estate, Mr Blain has held a number of high-profile executive and non-executive positions throughout Australia and Asia. He has extensive experience in transactions, property and asset management, strategic development, cross border investments and capital raisings.
Born in country NSW, Mr Blain spent 20 years in Hong Kong at the helm of CBRE Asia-Pacific, during which he developed long-term relationships with global institutions, high net worth individuals and prominent family offices in Asia.
In 2020, he and wife, Julianne returned to Australia where they bought a 1760ha cattle property on the Barrington and Manning Rivers on the Barrington Coast of NSW.
Mr Blain said his new position was one that held great appeal to him both professionally and personally, given the strong foundations he has in the agriculture sector.
"LAWD is committed to introducing its investors to attractive opportunities and I look forward to working with CEO Enda Foley and his team, many of whom I have worked with before, to achieve successful outcomes for our diverse and growing range of clients," he said.
Founded in 2020, LAWD has quickly established itself as a leader in specialised property transactions, valuations and advisory, attracting almost 60 professionally qualified team members now based in Brisbane, Melbourne, Sydney and Perth, as well as regional centres. To date, LAWD has overseen more than $3 billion in transactions across the agriculture and development sectors and completed the valuation of more than $17 billion of property assets.
New head of supply chain appointment for Hancock/Kidman
Experienced meat and livestock supply chain manager John Houghton has left the Australian Agricultural Co to take up a similar, but expanded position with the Hancock Ag and S. Kidman businesses, based out of Brisbane.
Mt Houghton spent six years with AA Co as manager of supply chain, a livestock related role covering both Wagyu and conventional cattle channels, but his new role as head of supply chain with Hancock/Kidman embraces both the livestock and meat sales and marketing streams.
Mr Houghton has well over 20 years' experience in the Wagyu industry, originally with Elders, before he joined Mort & Co, and most recently, AA Co.
Tracey Hayes joins RFDS Federation board
The Royal Flying Doctor Service has welcomed prominent northern cattle industry identity Tracey Hayes as the services's new Federation Board chair.
Ms Hayes was the first female chief executive of the Northern Territory Cattlemen's Association and led the industry's legal response over the 2011 live export suspension. She has been named one of Australia's 100 Women of Influence.
"With a rich background in remote Australia and a lived understanding of the challenges for those that live, work, and travel in the bush, we welcome Tracey to the role of RFDS Federation Board Chair," the service said.
"As a mother, businesswoman, and long-term advocate for people in the bush, I am excited about this new role contributing to the RFDS," Ms Hayes said.
Station manager promotions and changes for CCC
Cunningham Cattle Co has made a number of promotions and appointments heading into the new year, building capacity among internal team members, offering scope for career progression and attracting new members of the industry to join its team.
After developing their leadership and station management capability over the last seven years at CCC's 400,000ha Esmeralda Station near Croydon, Bryce and Sarah Foster will transfer into the management of 484,000ha Abingdon Downs near Georgetown. This large-scale operation will provide lots of role diversity and call upon Bryce and Sarah's strong operational and leadership skills in breeding programs, heifer production, team building and farming.
Filling the vacated managers' role at Esmeralda will be Joe Daly and his partner Alix Hyde, who will utilise their experience in medium-scale breeding operations to take on the management of the larger scale property at Esmeralda. Joe and Alix have demonstrated strong knowledge and ability and have been through a rapid development plan over the last 18 months with CCC.
"Their exposure within our business and hunger for knowledge has set them up for an excellent start as they take on the next opportunity at Esmeralda," the company said.
In other changes at Esmeralda, Cameron Clarke, who has spent the past three years with CCC – most recently as Head Stockman at Esmeralda – has been promoted, and will be joined by his partner Logan Bethel to undertake the management of 52,000ha Katandra Station, south of Hughenden. Logan will support Cam in the management of Katandra and brings extensive background in administration of processes and governance.
Joining CCC will be David and Ellie Young, who take on the management for the company's Maranoa Aggregation, consisting of Ballaroo, Ekari Park and Fairview. The aggregation is an intensive backgrounding/breeding operation with a focus on genetics and pasture management. David and Ellie have a depth of experience in extensive cattle operations throughout the north, bringing a set of skills that will integrate well into CCC's business and their local community.
More CPC station appointments
With annual Christmas wind-downs on the horizon for the northern cattle industry, Consolidated Pastoral Co has made further management appointments for next year, following on from last month's People on the Move entries.  
Ali Quintana will return to CPC after a break in the US to take on the Allawah Stud management role in the next few weeks. She will report to Lester Bolton who with Stacey and their boys will move to Jimarndy Station. Allawah will remain CPC's elite stud centre and works closely with Jimarndy.
Born and bred a territory kid, Ali grew up on family cattle stations that were spread over Queensland and the Northern Territory. Ali started with CPC in 2018 at Bunda Station looking after the stud and from there moved into managing the Newcastle Waters stud operations.
She has been developing her skills and knowledge of the industry along with challenging herself not only through internal CPC training, but by being part of the 2021 Young Live Exporters Network Onboard Stockperson scholarship program. Prior to that, Ali was part of the Georgina Pastoral Co's Future NTCA Barkly Branch representation. With international travel borders opening this year, Ali took the opportunity to spend time in the US to experience what other countries had to offer.
In other CPC staff news, Brooke Barkla has returned to full time duties after her maternity leave. Brooke will work for CPC's Indonesian joint venture JJAA and report to William Bulo, but remain based in Darwin and travel to JJAA as required. She will continue to work with the Indonesian and Australian teams to drive improvements in business performance, communication, and project management.
Peter Hall new AgForce Cattle president
Cloncurry cattleman Peter Hall was elected AgForce Cattle president during the state farm organisation's annual meeting in Mt Isa last week. He replaces Calliope's Will Wilson, who did not seek re-election.
Mr Hall said he was ready to get to work and continue developing the peak body's policy for the Queensland cattle industry. A key priority would be supporting Cattle Australia in its transition from Cattle Council of Australia.
Mr Hall has been involved in AgForce since its inception in 1999 and has been on the cattle board for the majority of that time. He has also sat on the CCA board for about 17 years.
Within Agforce's commodity boards, several positions were contested. In Central Queensland there were five nominations for four cattle board positions. Successful were Mark Davies, David Hill, Bronte Lloyd and Tamara Finger.
In southern inland Queensland there were two positions available on the cattle board but three nominations – Kenneth Syme, Garth Christiansen, and Tom Nixon.
New owners for Western Qld's Brodie Agencies
A new generation has taken the reins of prominent Western Queensland independent livestock and property agency, Brodie Agencies, based at Winton.
Jack and Courtney Brodie have been buying the Winton-based business off Jack's parents, Tom and Emma, over the past two years, with the takeover recently completed.
Tom has been peeling back from the livestock side of the business and concentrating on property – a job he will continue to do.
"Nothing has changed with the operations, Dad will still be selling property and working on our two blocks around Winton," Jack said.
The agency has been busy in recent years, with some of the highest throughput numbers on AuctionsPlus and plenty of property movement in the local area.
Board Director changes at AHA
Animal Health Australia welcomed two new directors during its Annual General Meeting last week.
Joining the board are prominent NSW seedstock producer Lucinda Corrigan and Stuart Crockett.
Riverina local Lucinda Corrigan joins the board as an experienced non-executive director with a speciality in livestock breeding and genetics and has extensive networks and an outstanding reputation in the livestock sector. She brings a range of government and non-government connections through her current and past roles as chairs of CRCs and academic institutions, MLA board membership, advocacy groups and government committees.
"I look forward to joining AHA at a time of increased biosecurity challenges and climate change adding to that complexity," Ms Corrigan said. "Australia has an amazing record of doing biosecurity well; with increasing urbanisation and global trade the risk has increased and strong partnerships throughout government, industry and the AHA members will mitigate that increasing risk," she said.
WA local, Stuart Crocket joins the AHA board with an extensive trade and investment background having worked in Australia, the UK, US and China in various roles for the public and private sectors. He has worked as a senior leader with one of WA's largest protein producers and exporters, Craig Mostyn Group.
"As an exporter and promoter of Australia's food products throughout the world I am extremely proud to join the board of AHA," he said. "Australia's significant credentials in biosecurity management are world's best practise and I look forward to helping ensure all global supply chains are prepared for any issues that may arise," he said.
Moving off the AHA board are Paula Fitzgerald and Catherine Cooper. Sharon Starick was re-elected as chair during last week's AGM.
US Meat Exporters Federation elects new chair
The US Meat Export Federation (USMEF) has a new chairman – soybean and livestock producer Dean Meyer, from Rock Rapids, Iowa. Mr Meyer was elected during US MEF's Strategic Planning Conference last week. He succeeds outgoing USMEF chair Mark Swanson from Fort Collins, Colorado.
In addition to raising corn and soybeans, Mr Meyer's diversified operation, which he oversees with his sons, includes a cattle feedlot and piggery. This provides him with a deep appreciation of the diverse range of agricultural sectors that make up USMEF operations.
"USMEF is a unique organisation where a corn grower from North Dakota, a cattle feeder from Texas and a soybean farmer from Indiana can pull together to market the same product," Mr Meyer said. "I've seen the momentum growing in the way these sectors work together, and my goal is to enhance that even more. Wearing several different hats, I have a broad perspective – and this organisation is my passion."
He became involved with red meat exports through the Iowa Corn Growers Association, where he served as a director and USMEF representative. His farm recently featured in a video campaign promoting US beef in Japan.
"Our customers overseas love the quality and safety of US red meat, but they want more than that. They want to know the story behind these products and details on how they are produced. Having the opportunity to tell that story and engage with these customers has been a very positive experience."
RPC Life membership for ag journalism stalwart, Pete Lewis
Former ABC ag journalist Pete Lewis was honoured with Life Membership of the Queensland Rural Press Club this week.
Former QRPC president Brendan Egan made the presentation during a Club lunch function, describing Pete as a legendary rural storyteller and long-time contributor to the club.
"Peter Lewis is an award-winning rural journalist who has spent a 40-year professional career sharing stories about the people, industries, and communities of rural and regional Australia across a range of media platforms including newspapers, radio and television news and current affairs," Mr Egan said.
"His passion has always been the bush and life beyond the 'end of the bitumen', where he came to national prominence as reporter and later executive producer of ABC's Landline program over 16 years, and then as the ABC TV's National Rural and Regional Reporter.
Since retiring from the ABC, Pete has continued his passion for rural story-telling as a freelance journalist, spending his time travelling Queensland educating farmers and regional communities on how to tell their own important stories about the food and fibre they produce through traditional and new social media channels.
He is a former president of the Australian Council Agricultural Journalists and helped push for the re-establishment of the National Rural Press Club in Canberra. He served as an active member of the Rural Press Club of Queensland on the committee, and later as its president.