A NEW beef industry supply chain risk management tool is drawing closer to commercial launch – likely around mid-February.
Project developer StoneX* plans to have its new cash-settled Feeder Cattle Swaps product ready for launch around this time next month, after 12 months of development and testing.
The Swaps product will list up to 12 months forward, to provide plenty of hedging opportunity for future price movements. The product will be cash-settled, basis the average of the program's index figure over that month.
"Any time a commodity is at the extreme end of the pricing cycle – as beef cattle currently are – is an ideal time to launch a risk management product like this," StoneX vice president agriculture Nick Orssich told Beef Central.
"The industry needs the ability to manage price risk at times like this, and Swaps offer a way to give the market opportunity to take some of that price risk off the table," he said.
At launch-time next month, StoneX will announce to the market that the project is live, and that the Swaps product is available for use by stakeholders along the supply chain.
Following an education and awareness program towards the end of last year, StoneX already has a group of stakeholders – from corporate pastoral companies and larger-scale private beef producers to lotfeeders, processors and large end-users – set up with trading accounts. Others are being on-boarded this month, so that when the product opens, they can start trading. Other supply chain participants like beef traders and cattle backgrounders could also utilise the product.
Understanding Swaps
So for those unfamiliar with risk management tools, what are Swaps?
Swaps are paper contracts where the risk is offset between two parties – with equal and opposite risks. In this example, StoneX stands in the middle, meaning the counter-party for both buyer and seller is StoneX. Neither side knows who the counter-party is. This eliminates any counter-party risk, and also maintains anonymity between the two parties – an important feature for the cattle and beef industry in Australia, where many players like to 'hold their cards close to their chest.'
Margin facilities may also be provided by StoneX after the program's launch, meaning participants would not have to tie-up working capital to trade.
"To start with, once the product is launched next month, we will have some bids and offers that we will show to participants involved in the market," StoneX's livestock program manager Tim Jude said.
"We'll have bids and offers on either side of the market, as an indicative range of where it is going to trade. (Once registered, anyone is welcome to come in and bid or offer themselves, and at that point the new Swaps product will start trading, and we will start to report to participants on where it has actually traded at," Mr Jude said.
StoneX's new Swaps product has been built around 0-2 tooth flatback (50pc or less Indicus content) feeder steers 380-480kg liveweight delivered Darling Downs (300km centred on Dalby).
An important distinction between the new Swaps index and the EYCI is that the EYCI includes a broad range of breed types, weights and locations, meaning that from a hedging perspective, the correlation can break down quickly.
A tighter range in the Swaps index is likely to generate more confidence in the trade, the project's backers say.
Previous hedging tool attempts
Australia has seen two failed attempts over the past 30 years to launch a different hedging tool, in the form of a live cattle futures contract.  Both fell over for a number of reasons, including lack of liquidity, however there has been a lot of water under the bridge for the industry since then, and there is now clear evidence that a growing number of stakeholders are receptive to new risk management tools.
The fact that there are is now consistently more than one million head of cattle on feed across Australia, alone, suggests the time may be right for the launch of the new Swaps product. Multiple industry policy and research discussion papers have been posted in the past few years calling for greater transparency in trading across the supply chain.
Encouraging results from indicator trial
StoneX had anticipated around 30 participants for an initial webinar discussing the new Swaps product held last year, and eventually attracted 85.
The company last August set up a 'trial' version of the Swaps project to test the system and gather data. The indicator was created based on pricing inputs supplied by around 25 industry participants, and was already accounting for 'some tens of thousands' of feeder cattle. Data is collected and processed weekly by collaborators, Argus, adjusted for breed type, location and other parameters.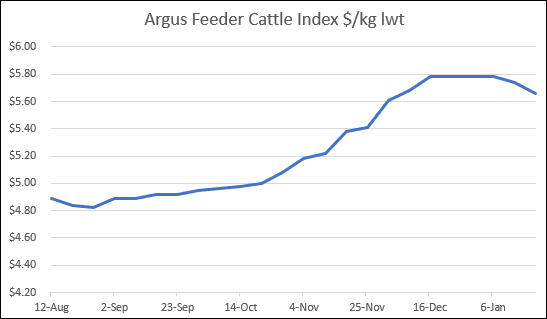 "Participation in the trial has been higher than what we had expected," Tim Jude said. "Even in trial form, it is creating a lot of noise in the market."
The indicator price started at 489c/lg liveweight back in August, climbing to 578c/kg at the year's end. The indicator has stepped back 12-13c in the first two reporting cycles this year, but that was based on only very limited numbers.
Current problems being experienced by lotfeeders with congestion of fed cattle (click here to view earlier Beef Central story), caused by reduced rates of slaughter among processors because of COVID sickness among plant staff, has been blamed for the current dip. Some lotfeeders are clearly holding off on procuring feeder replacements this week, until the congestion and backlog sorts itself out.
Worth noting is that while the EYCI has trended to new record highs this week, fuelled by feverish restocker demand for light cattle, the new feeder steer Swaps Index, more narrowly defined, has gone the other way.
As the graph published above shows, the index tracked sideways within a fairly tight range after it kicked-off at 489c/kg in mid-August, through to late September. It then rose steadily, in line with the market, nudging close to 580c to end the year.
"We've seen a correlation with the Eastern Young Cattle Indicator above 90 percent so far, and an even stronger correlation with MLA's Saleyard Feeder Steer index," Mr Jude said.
"That correlation, combined with the number of index participants we have attracted already, makes us very confident that the index is accurately reflecting the underlying market – which in turn supports the suitability of using our swap as a risk management tool," he said.
Initially, the project managers are not anticipating a 'huge amount' of liquidity (trading participation), but based on feedback to date, they are confident it will grow over time.
"Some stakeholders have indicated they are ready to jump straight in, while others may watch how the indicator develops, before committing," Mr Jude said.
Over time, multiple different indexes could emerge for different market segments, depending on where the trading demand goes, Beef Central was told.
Swaps program manager Tim Jude joined StoneX last year from Fulton Market Group, where he was responsible for beef procurement for McDonald's and others across Australian and New Zealand Domestic markets, as well as exports to Korea, Taiwan, Malaysia, UAE, Philippines, and the US. Prior to FMG, he worked at GrainCorp and Allied Pinnacle in the grain and flour industries. He has ten years of experience in commodity procurement, hedging and risk management, including providing advice to multinational food processors and manufacturers.
Click here to access a recorded webinar on the new Feeder Cattle Swaps product.
About StoneX*
StoneX (some readers may remember the company under its previous name INTL FCStone) is an international financial services network that specialises in hedging tools like forward contracts and swaps across a range of agricultural commodities. It connects companies, organisations, traders and investors to the global markets through a blend of digital platforms, end-to-end clearing and execution services. Click here to access StoneX's website.