A NATION-WIDE beef supply chain crisis is emerging, as Omicron COVID sweeps through staff in processing facilities across the country.
The impact of greatly reduced kills is being seen across the chain, with trade sources confirming to Beef Central this morning that export contracts with some customers have had to be cancelled this week, as a result.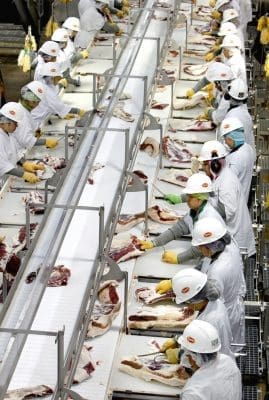 Lotfeeders are being particularly hard-hit, with large numbers of grain finished cattle due for slaughter backing-up in feedyards.
Beef Central spoke to a number of large processors, lotfeeders and integrated supply chains for this report.
One large multi-state, multi-site processor contact told Beef Central that processing operations were a 'day by day' proposition in terms of manning shifts, but all his company sites were being impacted to some degree.
Other contacts suggested some southern plants may be 30-50pc down on operational capacity, due to staff illness. One large southern Queensland processor has cancelled its second daily shift again this week, with 150 absent from the boning room, consolidating back to a single shift each day processing 800 head for the time being.
The current circumstances amount to the most serious beef supply chain challenge seen since the start of the COVID era in March 2020 – and arguably since the major impacts on supply brought on by eastern Australia's record floods in January 2011.
The impact from the constriction in processing capacity is being seen across the supply chain, in a number of ways:
Grainfed cattle – more exposed to timeliness of slaughter than grassfed – are now backing-up in feedlots in large numbers, waiting for kill spots to emerge. Many feedlots are now reporting to be at capacity, and this, in turn, is impacting their ability to induct new feeder cattle. More on the illness episode's impact on grainfed cattle below.
While clear slaughter cattle market signals for the start of the 2022 season are still only emerging (see today's weekly kill report), some large export plants in Queensland have this week dropped direct consignment rates by 30c/kg (carcase weight) on final offers seen in 2021. That is directly related to supply and demand based on COVID challenges, Beef Central was told. Other processors are simply not offering direct consignment quotes this week, content to work their way through contracted cattle and spot-market cattle secured before seasonal closures in December, for kills early this year
With finished cattle now backing up in feedlots, feeder steer prices have not yet shown strong evidence of decline in price – but equally, quotes for feeders out of the paddock this week have largely evaporated, as lotfeeders face already-full pens
So far the impacts on the grower cattle and restocker markets have been minimal, with the common view being that the current bottleneck disruptions will be 'short and sharp' rather than long-term. Owners are banking on the prospects that current problems will have cleared, by the time those cattle are ready for feedlot placement or slaughter.
Some export meat orders are clearly being impacted, trade sources told Beef Central this morning – particularly to key markets like the US, Japan and Korea. That means one of two things: either the customer seeks another Australian supplier (problematic in the current environment), or seeks a supplier in another country, unless they have chilled/frozen stocks on hand, which is highly unlikely in the current trading setting.
Generally speaking, it appears that southern Australian processors are currently being impacted more severely than those in Queensland, but equally, that Queensland may simply be 'lagging' a little behind businesses further south in terms of the disease spread cycle.
One large southern operator saw just five members of the boning team turn up for work at the start of last week. Some are operating this week on what they described as 'skeleton' shifts, motivated by the need to keep some product moving out the door, due to high international and domestic demand.
National kill collapses
The impact of the current crisis was clearly seen in NLRS weekly slaughter reports, which showed week two (ending 7 January) national throughput of less than 42,000 head, down 58pc on the same week last year, and a colossal 80,000 head decline on the same week in 2020. Last week's report for the week ended 14 January saw national kills reported to rise to 62,600 head, but some stakeholders are questioning that figure's accuracy, given difficulty in obtaining data presently. See today's separate weekly kill report.
How long will it last?
How long the current supply chain impact lasts, is anybody's guess. Some southern processor operators feel they may already be at, or near the peak of the staff illness cycle, and may soon start to see greater numbers of recovered staff returning to work. In Queensland, the general feeling appears to be that the worst is yet to come.
Lotfeeding sector sees most immediate impact
Because of the timeliness factor in killing grainfed cattle that have 'done their time,' the lotfeeding sector is bearing greatest impact from the current situation.
One large Queensland processor which kills both grain and grassfed, said it had heard from 'just about every large lotfeeder in the country' this week, wanting to sell grainfed cattle on a spot basis, having been turn away from their original destination. Some of the offerings were large with one mob totalling 400 export grain bullocks. Some mobs of 300 negotiated prior to Christmas for January slaughter had been rejected by the original processor this week, and were now looking for a home.
Looking back, some processors late last year were clearly hesitant about forward-booking too many slaughter cattle, due to the prospect of Omicron impact on staffing levels and plant operations after the holidays.
The longer the processing staff illness/absenteeism episode goes on, the greater the likely impact on cattle markets, both grain and grass, several contacts said.
Another major factor for grainfed cattle is the risk of falling out of spec – either over-weight, or over-fat – due to delays in slaughter. Processors typically apply savage grid price penalties for grainfed ox above 420kg carcase weight, and over-fatness, however Beef Central has learned this week that some processors are taking a 'sympathetic and flexible' view to sub-optimal contracted grainfed cattle, due to the circumstances. What happens to non-contracted cattle is anybody's guess, but we will ask some questions in coming weeks.
Adding to that is the fact that due to the season, many feeder steers and heifers bought last year were 500kg and more liveweight, heightening the risk of weight penalties if fed on much past 100 days. A typical 100-day steer fed on for another month beyond requirements could easily add 35kg dressed weight (60kg liveweight) to the animal.
Another impact on lotfeeders is that feeding weightgain and efficiency performance drops significantly after 100 days, making each beast less profitable to maintain.
Cash flow could also quickly emerge as an issue for some lotfeeders, if the blockage persists for any length of time. Some feedyards this week are reporting 60-80pc reduction in numbers entering their pens, over normal January cycles.
"Many lotfeeders are evidently unable to bring through the normal supply of feeders into their pens this week, due to the backlog of finished cattle that are now awaiting slaughter," Elders Killara's Andrew Talbot told Beef Central this morning.
"There's no doubt that there has been a 20-30 day increase in days-on-feed for many cattle already in some yards, because of the bottleneck," he said. "It's a classic log-jam."
Asked whether this was yet being reflected in feeder cattle prices, Mr Talbot thought not. "It's too early to tell, because January is normally a very shallow period for feeder trading anyway," he said.
"We're all looking closely at the feeder market to see what happens. But if this episode goes on for any length of time, it will inevitably have an impact on feeder prices – especially if supply of feeders starts to grow."
He said the only saving grace for cattle producers in the current situation was the quality of the season, meaning any delays in slaughter were less impactful, as grass producers (as opposed to lotfeeders) could hold cattle longer-term.
"This episode will float through, and the industry will come out the other side. But if the season deteriorates and cattle need to start moving, then it will have much greater impact," he said.
Some southern Australian plants, like Teys Wagga and Tamworth, were heavily impacted by COVID work absences earlier in January, but are now evidently past the peak, with staff returning to work. One South Australian plant is scheduled to kill 800/day next week, having drifted as low as 350/day earlier this month.
MLA senior analyst Stephen Bignell said similar numbers in terms of processing impact (typically 30-50pc decline in throughput) were reported to MLA last week during an information gathering session with stakeholders.
"Obviously numbers are down, but the impact is hard to verify in detail," he said.
"It appears at this stage that Queensland is a little behind NSW in terms of where the active sickness cases are," he said.
Mr Bignell said the NLRS livestock indicators that rely on processor buying all fell significantly last week, compared to the final stages of 2021.
"For example the medium cow indicator is back 10pc from the end of last year, while in contrast the Eastern Young Cattle Indicator is only down 19c/kg carcase weight, or a little over 1pc."
The feeder steer indicator has fallen a little (on very light trading so far), easing from 569c at the end of December, to 561c yesterday.
Meanwhile any NLRS indicator segment reliant on producer and restocker buyers is still stable with last year, suggesting the market sees the current challenges as being reasonably short-term, clearing over time.
"Restockers are looking at the Bureau of Meteorology forecast this week, and seeing that two thirds of Eastern Australia looks like getting saturated. So there is still this long-term confidence among restockers, despite the current supply chain difficulties," Mr Bignell said.
The Australian Meat Industry Council's Patrick Hutchinson agreed with the summary of the state of infection and impact across the eastern states.
"We have heard 30-50pc reductions in production at some sites in recent weeks," he said.
"It looks like the peak may have been reached in some locations, processor members are telling us."
Mr Hutchinson said staff absenteeism was being impacted either directly by people contracting COVID, or exposed as close contacts (especially in situations like shared accommodation among overseas Visa holders). The difficulty in accessing Rapid Antigen Tests was another factor.
Inconsistencies from state to state in isolation duration and other factors had also impacted management of the disease (see earlier AMIC statement).
"Our advice to meatworks staff is to listen to advice being supplied by your employer," Mr Hutchinson said.