Global burger giant McDonald's is making a second attempt to introduce a plant-based burger pattie to its Australian menus, under what it describes as a limited trial launched yesterday.
Under the trial, only Macca's customers in the company's 270 restaurants across Victoria have the chance to try the new McDonald's McPlant burger through to the end of October.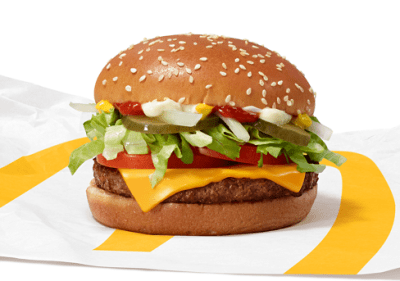 The McPlant, co-developed with Beyond Meat, is made with a "juicy, plant-based patty made from peas, rice, potatoes, and beetroot. The patty is served on a sesame seed bun with tomato, lettuce, pickles, onions, mayonnaise-style sauce, ketchup, mustard and a slice of American cheese," the company said.
In July last year, McDonald's Australia quietly pulled its original McVeggie burger from its menus less than two years after it was first introduced. A spokesperson said the decision was made because not enough people were buying it.
"The McVeggie burger was removed from menus in response to changes in customer demand," the spokesperson said.
The original McVeggie was launched in 2020 and marketed as McDonald's first ever plant-based burger.
The new McPlant burger launched yesterday "offers customers the same iconic Macca's taste, in a delicious plant-based burger," a company statement said.
"Macca's is always testing new menu items and flavours, as part of its ongoing commitment to
innovation and choice. The McPlant gives customers another delicious menu option, alongside their usual favourites," the company said.
The company noted that in addition to the plant-based patty, the McPlant contains non-plant-based ingredients such as cheese and mayonnaise.
It is also cooked on the same grill as meat-based products and eggs – a point that some customers objected to during the earlier McVeggie burger era.
"As always, guests can customise and request to hold the cheese and mayonnaise, or any other ingredients," the company said.
In May, McDonald's announced plans to pull out of the Russian market, in response to Russia's invasion of Ukraine.