The Global Roundtable for Sustainable Beef  Scientific Advisory Council has launched the Beef Carbon Footprint Guideline, to allow for sector-wide consistency in the calculation of the carbon footprint of beef cattle.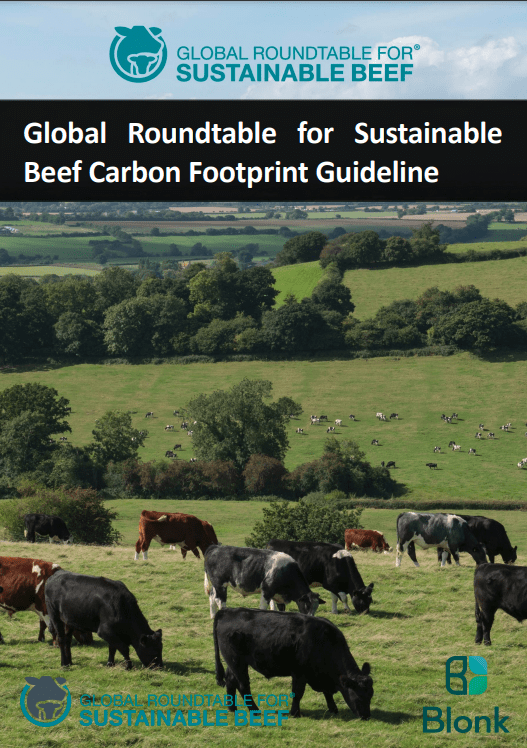 Together, GRSB and its members noticed, that across the sector, businesses and organisations globally were using different methodologies and data to measure their carbon impact – leading to inconsistencies.
As such, comparable and consistent measuring across companies, countries and continents was difficult.
The new Beef Carbon Footprint Guideline has therefore been developed based on UN FAO's LEAP guidance to:
Quantify emissions from cradle to farm gate or cradle to processing gate
Allow monitoring of GHG emissions through time for a specific system
Identify main drivers for GHG emissions in the beef cattle life cycle
Allow comparisons within the context of the same study
Complement the dairy sector's LCA work, also based on FAO LEAP guideline
The announcement builds on the established progress by GRSB and its members to ensure a joint global approach to sustainable beef production.
Last year, GRSB launched its global sustainability goals – commitments to advance and improve the sustainability of the global beef value chain. The goals focused on three key areas – climate, nature positive, and animal health and welfare.
Ruaraidh Petre, Executive Director of the Global Roundtable for Sustainable Beef said: "A key part of GRSB's mission is to ensure transparency when it comes to evaluating and reporting key sustainability metrics. However, the global beef carbon footprint has, to date, been challenging to effectively track and report."
"Launching this new guideline will help to create consistency in the global beef sector. There is growing momentum in the industry to protect and nurture the earth's natural resources and having a clearer carbon footprint guideline will allow us to do this better than ever before."
The creation of the guideline was made possible by a number of notable members of the organisation. This included financial support from McDonald's Corporation and DSM. Blonk Consultants supported by advising on the methodological approach and developing the guideline.
The Global Roundtable for Sustainable Beef (GRSB) is a worldwide network of the people and organizations powering progress in sustainable beef. Across its global roundtable and 12 regional roundtables, GRSB has over 500 members, working in 24 different countries. Collectively, its members are responsible for more than two thirds of cross-border beef trade.
GRSB powers progress in sustainable beef by setting ambitious goals around reducing greenhouse gas emissions, improving land use and animal welfare. To help achieve these goals, GRSB champions best practice, facilitates the exchange of knowledge and fosters a collaborative approach.
Source: GRSB. To access the guideline click here.
Harvest Road joins GRSB
Meanwhile, Twiggy Forrest's WA-based vertically integrated beef business Harvest Road Group has joined the Global Roundtable for Sustainable Beef.
The Global Roundtable includes international leaders in the industry such as McDonald's, Cargill, Zoetis, JBS and Tyson, and Australian industry representatives including Meat & Livestock Australia and Cattle Council of Australia. In addition, membership includes advocacy agencies such as World Wildlife Fund (WWF).
In a statement, Harvest Road said membership of GRSB complemented its already well-established commitment to animal welfare reform through its 'No Pain, No Fear' campaign
No Pain No Fear Pty Ltd (NPNF) was established by Tattarang chairman Twiggy Forrest with a challenge to industry to ensure all animals cared for in animal protein supply chains globally are free from all avoidable pain or fear. Its initial focus is on the welfare of cattle, given Harvest Road's extensive integrated beef supply chain. Click here to view an earlier Beef Central story on the No Pain, No Fear project.
Mr Forrest said he was pleased that Harvest Road had joined the GRSB, along with other industry leaders, and GRSB clearly outlined "what a good life for an animal can look like."
"Consumers have a right to know that what is on their plate didn't come from pain or fear," Andrew Forrest said. "We want to make it easier for consumers to be able to endorse good animal welfare practices with their own choices at the supermarket or in restaurants."
Call for lift in standards
"We need a lift in industry standards that aims for far higher levels of welfare than are currently articulated in industry standards, guidelines or legislation and seek to reform industry across the globe," Dr Forrest said.
Contrasting with earlier comments from Mr Forrest which criticised meat processing practices in Australia, Harvest Road chief executive Paul Slaughter said animal welfare practices across the Australian industry were "generally positive" and many companies had invested significant time and money in exceeding current standards.
"Our aspiration is to work across the sector to ensure that the standards articulate the good work that is happening in Australia. This enables continuous improvement," Mr Slaughter said.
"Animal welfare requirements in Australia are fragmented, with all States and Territories responsible for their own legislation. This makes it difficult to deliver reform that is consistent across the nation but by no means impossible.
"Sustainable reform will be delivered if we do this together with the industry – producers and processors, retailers, governments and consumers," Mr Slaughter said.
GRSB executive director Ruaraidh Petre said Harvest Road was a business with values that clearly aligned with GRSB's, and that of the roundtable's members."
"Launching our global goals last year was a key milestone for the organisation and working with partners such as Harvest Road will help us achieve our mission for beef to be more environmentally sound, socially responsible, and economically viable," he said.