FOUR months after the Federal Court's judgement declaring the 2011 live cattle export suspension to Indonesia illegal, stakeholders affected by the market closure are no closer to receiving damages.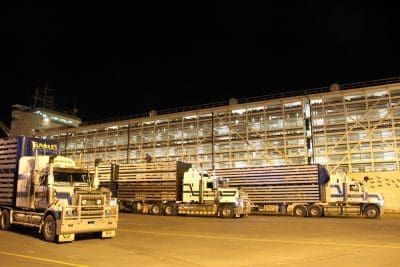 There was widespread expectation that a Federal Court hearing last Thursday would provide clear guidance and a timeline on damages and the compensation fund distribution process. However the judge's comments made it clear that this is now unlikely before at least December, and possible well into next year.
A notice to be issued by the Federal Court on October 29 will provide broad background for northern industry stakeholders who are not currently part of the class action group, advising them about the need to notify the court if they wish to join the group, and by what date that notification needs to happen.
The next Federal Court case management hearing is not due to happen until 4 December, by which time final claimants are likely to be completed, Beef Central understands.
A standardised evidence form is being prepared for use by claimants. Those responses will then be reviewed by the Commonwealth – if it has no objections to a claim it will be paid, while any objections will be put to a mediation process, the Federal Court said. A review body will examine evidence put forward over claims by individuals, companies and others, and depending in where they sit in the supply chain, the extent of compensation they are entitled to.
The number of final claimants over the illegal market closure is yet to be determined, but speculation suggests the final number may be as many as 600 entities. The current claim group numbers around 300.
The Federal Court earlier defined 'eligible participants' as people or businesses selling cattle to Indonesia affected by the ban, those exporting cattle to Indonesia, or those providing services to northern producers or exporters affected by the ban.
Beef Central was told the third group (service providers) might include obvious stakeholders like livestock transport operators, vets and others, but could also extend to real-estate agents, local motels, charter aircraft operators, fuel supply companies, saddle-makers and other perhaps less obvious claimants impacted by the closure.
In the original Federal Court judgement back in July, Brett Cattle Co, the lead applicant in the successful class action against the Federal Government's June 2011 decision to temporarily suspend cattle exports to Indonesia, was awarded almost $3 million in damages.
Justice Steven Rares, who earlier ruled that ex-agriculture minister Joe Ludwig's acted recklessly and committed the tort of misfeasance nine years before when he elected to suspend the entire trade without exceptions, in July handed down his ruling on damages.
With damages for the remaining parties registered with the class action yet to be determined, the Federal Government is facing a potential compensation payout worth hundreds of millions of dollars.
Some stakeholders anticipate it will not be until at least February next year before the damages process makes any real progress.