AUSTRALIA'S food service sector is showing the first green shoots of recovery after being pole-axed by restaurant, hotel, café, conference and resort closures over the COVID-19 closure period.
The trend is being reflected in modest, but growing demand for red meat from wholesalers who service the food service trade. Quick-service restaurants like McDonald's have been much less affected, continuing a brisk take-away trade, but many middle and higher-end establishments have been shut since March.
Regulations over social gatherings in food service venues are easing, but still vary from state to state. As of this week, food service outlets can cater for between 20 and 50 patrons per enclosed space, in in-house dining. From 22 June, more states will increase to 50 patrons, and some plan to increase further to up to 100 patrons per enclosed space for the second half of July.
Some restaurants remain closed, having calculated that current patron limits are too low to justify turning on the burners. Others are working within the customer allowances, turning over multiple early and late table sittings under two-hour limits for lunch and dinner.
Financial commentator Alan Kohler's weekly report on ABC this week said restaurant bookings in Australia were on the way back.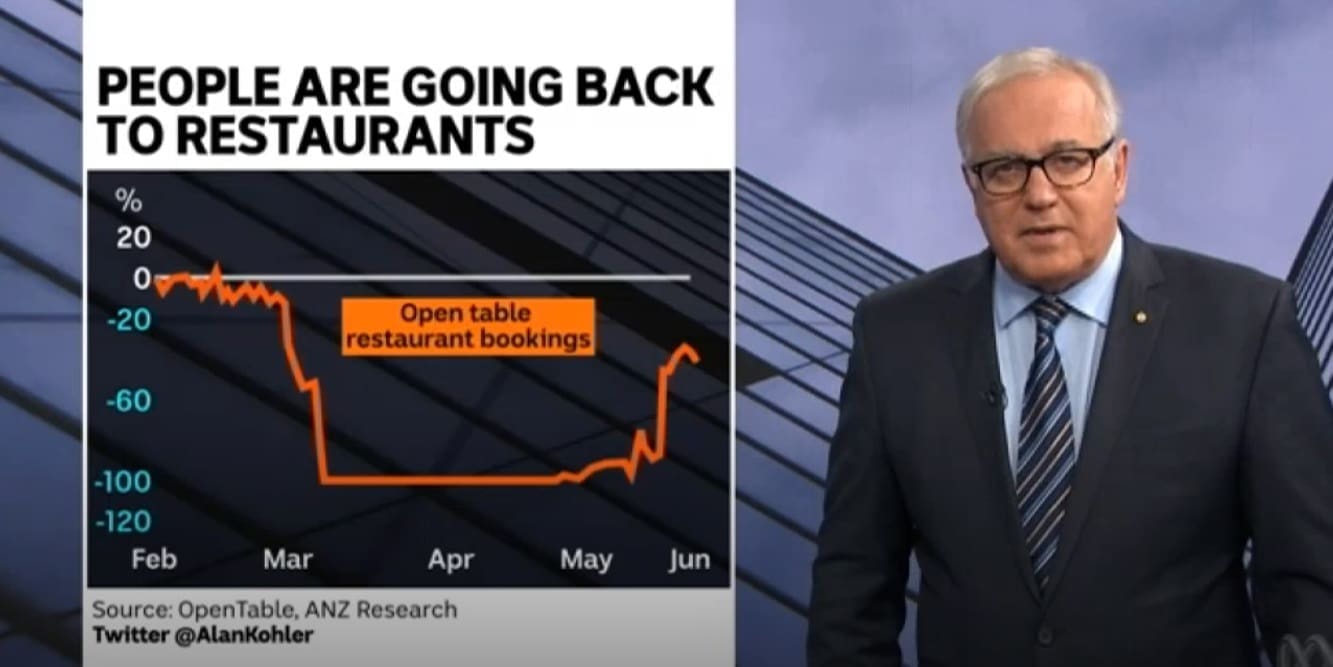 Quoting traffic figures from online restaurant booking service, Open Table, Mr Kohler used the graph above to illustrate that bookings were currently down 40 percent from February levels, which was a 'lot better' than the 100pc falls from March and April.
People who have faced two months of self-isolation at home are evidently keen to get back to normal with eating out. On the tourism front, with regional trips in most states now either allowed or soon to be allowed, people are thinking about travelling. Web searches for "Melbourne hotels" and "Sydney hotels" have lifted sharply in recent weeks. It also looks like people are heading back to Airbnb, with searches up dramatically.
Trend evident in wholesale trade
Large national red meat wholesalers spoken to by Beef Central this morning all acknowledged that the food service sector was again "showing a heartbeat."
"We're starting to hear from customers in the trade again," one large multi- state trader said.
As evidence of this growing confidence in where food service meat trade was heading, he said his business was starting to 'arm itself' with good quality chilled meat it could add an aging period to, for sale later in June and July.
"While retail butchery and supermarket customer demand has remained strong right through, we're preparing ourselves for a lift in demand from restaurants, cafes and hotels, as they slowly get back to work," he said.
He said some people in the supply chain were still reluctant, because some had been 'badly burnt' during the COVID-19 closure crisis, with non-payment and meat returned to the supplier.
"The challenge right now is that there is no good quality chilled meat available with any (MSA) age on it," he said.
"That's because supply has been very tight. It's broken the cycle of domestic meat held in storage for aging purposes, which now has to be repaired. And some wholesalers simply did not replace stock inventory that ran down a few months ago, due to uncertainty."
Some of the older better quality meat carried-over after food service demand collapsed in April (both whole primals and portioned cuts) had since been frozen-down, and would now have to 'work its way through the system.' How much domestic meat is caught up in that is pure speculation, but it is likely to be significant, Beef Central was told.
What discount, if any, that good quality meat that had been frozen down attracted was yet to be seen. Some might in fact be sold 'thawed', as fresh meat, by unscrupulous operators, one wholesale contact warned.
"If it is whole cryovaced primals, check the pack date," was his suggestion.
With grids for good quality MSA/Angus/certified grassfed type cattle in southern regions around 700c/kg in recent months, he said wholesalers still had to be 'very careful' in the current market.
"Some of the meat they currently have in stock may owe them a lot of money," he said.
Asked how far the food service sector was along the recovery path, another large wholesaler said it was slow, but steady progress, at this stage.
"We think state borders will have to open, to really spark change in demand," he said.
"Food service operators desperately need to get some money in their pockets, and the only way to do that is volume."
The worst outcome for food service would be a relapse in COVID infections, forcing a second wave of food service closures, he said.
In sharp contrast with the food service segment, wholesale trade into retail continued at brisk levels, Beef Central was told.
"Retailers report coming off the extreme highs experienced earlier in the COVID cycle when consumers were stockpiling, but generally, trade remains strong," he said.
One large butchery chain in Sydney reported recent trade down slightly on March/April, but still considerably better than pre-COVID turnover figures.
At the same time, large national retail chains like Woolworths, Coles and Aldi are scrambling to try to attract customers back, after losing some market share to independents during COVID.
Another clear trend at retail is in stocking more high-end (mostly Wagyu and longfed Angus) beef, seen as a 'reward' meal to be consumed at home while consumers are shut-off from eating out.  In the absence of demand from restaurants and hotels, some very sharply-priced high-marbling beef was evident in Brisbane retail outlets on Saturday morning.
"People are prepared to spend that extra few dollars on a real quality steak to cook at home, while they cannot eat out," one wholesaler said.
"Our meat trade with retailers is as good as it has ever been at present. But if we had the food service customers coming back into trade, it would take us to another level."
"Our big concern in coming months is supply of quality meat, come August- September this year. We see it getting very tight, due to the drought impact, and meatworks have already started closing for short periods, as a result."
Wholesale prices
While the normal season mid-winter demand trend away from barbecue cuts towards slow-cook items for casseroles and curries is in clear evidence, steak cut prices have held up much longer than normal this year, due to home confinement.
"Some cuts are lower, some higher, but if you take the overall into a cut-out figure, revenue is reasonably good," one source said.
Larger volumes of beef again starting to be produced in the US (see today's separate story) may put further pressure on Australian beef prices in export markets. If that happens in export, if often flows back into domestic trade as well.
"All that lean manufacturing meat that was going into the US a few weeks ago while the US plants were closed is now starting to slow down, and prices are starting to drop," a trade source said. "And the US is building its own export volumes into Japan and Korea, where we compete head-to-head."
"The fact remains that US cattle prices are at an all-time low. New Zealand is much the same, and Australian cattle are as dear as poison. Something has to give."
Domestic wholesale price wise, the market was still 'pretty good,' considering the events of the past three months, the trade source said.
Striploins and cube-rolls this week were trading in a wide range, from cow cubes as low as $12/kg this week up to $28/kg for quality MSA/Angus type branded yearling product.
"Some of that better meat, at least, is filtering back into better food service outlets. It's just starting to get back there," he said.
"But its the other 75pc of product that is not consumed in Australia where the real challenge currently lies."