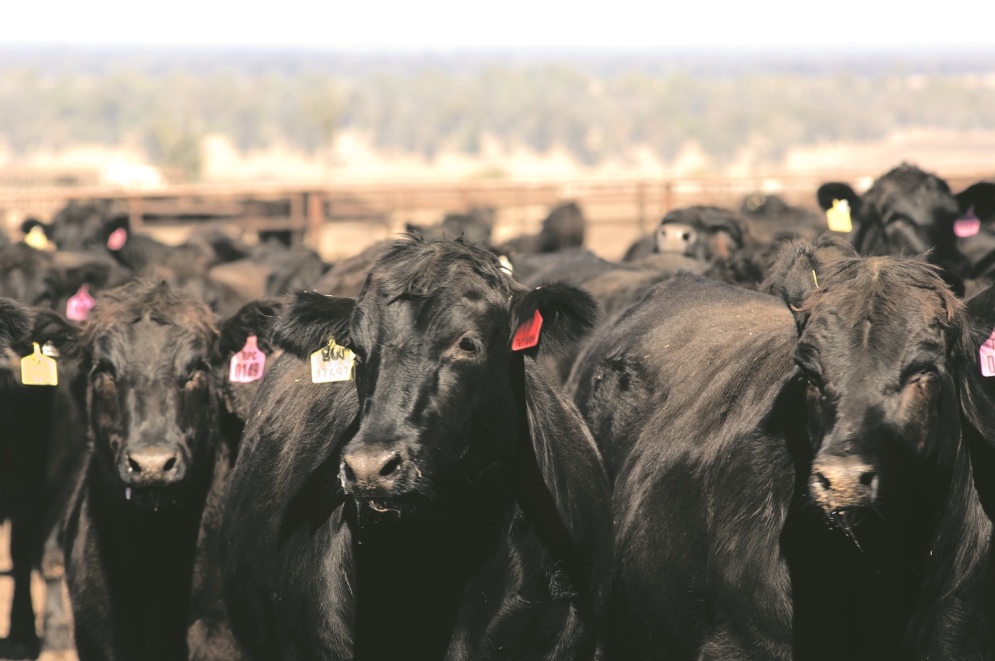 BACK in 2006, Australian lotfeeders took an 'over the horizon' look at the nation's grainfed beef industry, including projections of how the industry might expand over the following 15 years out to 2021.
The ambitious project took a somewhat bullish view, given some big headwinds at the time, including an unfavourably high Aussie dollar and near-record high feedgrain prices caused by widespread drought.
Such predictions are always prone to over or under reporting, due to unforeseen circumstances, of course. The rapid and widespread expansion in today's Wagyu feeding operations is a good example, with Wagyu feeding business today far exceeding anything that was anticipated back on 2006. In fact Wagyu rated no specific mention whatsoever in the original industry forecast.
"Despite significant challenges posed by competitive market pressures, weather issues, rising operating costs and increasing regulatory demands, the feedlot sector will continue to be a significant factor in the Australian beef industry," the original report concluded.
An initial 'target scenario' for the report that all Australian slaughter cattle (except cull breeding stock) would be grainfed at some time in the future was later modified, on the basis that there would continue to be a vibrant live export industry in the north, and in southern Australia many cattle would continue to be finished on high quality pasture and fodder crops.
Moving the industry to a production system where all available suitable sale cattle were channelled through the feedlot supply chain would have produced a doubling of the number of cattle on feed from about 906,000 head at the time, to 1.81 million head between 2006 and 2021, the report's authors concluded. This would have resulted in an increase in the proportion of cattle slaughtered that had subjected to grain feeding rising from 32 percent to 69pc.
Readers may remember Beef Central's milestone article published in June last year, when grainfed numbers passed 50pc for the first time in history.  
As discussed by former ALFA president Malcolm Foster in a separate article, the overall projections fell a little short of where they sit today, for a variety of reasons. It was estimated at the time that industry capacity by the end of 2021 might get to around 2.3 million. The most recent ALFA/MLA quarterly feedlot survey has current capacity at a record 1.453 million head, but the long-term trend continues to rise.
It was estimated 15 years ago that numbers on feed across Australia would be about 1.8 million head by the end of 2021. Actual numbers at the end of December were not far short of 1.2 million head.
"At the industry-wide level, drivers for feedlot expansion, namely ever-diminishing land resources and pressures to reduce greenhouse gas emissions, are also opportunities to improve the environmental performance of the Australian beef herd," the report said.
Other opportunities identified related to improved efficiency in production, particularly with respect to energy usage and waste stream resource (energy and nutrient) recovery.
Total value added (measured as a contribution to GDP) generated by feedlots nationally was forecast to increase from $950 million in 2006 to around $1.8 billion in 2021. The 2021 forecast impact was comprised of more than $500m in direct value added and almost $1.3 billion in flow-on value added. The major contributors to the total national value-added impact in 2021 were expected to be Queensland (55pc) and New South Wales (24pc).
At the national level, direct employment in feedlots was forecast to increase from around 1450 in 2006 to almost 2900 in 2021, while direct plus flow-on employment was forecast to rise from around 6700 full-time equivalents to 11,400.
The report also noted a series of industry-wide constraints to expansion, including labour shortages, increased regulatory pressures on development, greenhouse gas regulations and water security. All have proven to be accurate, especially water access and labour.
The initial stages of the study examined global beef industry drivers and the Australia-wide feedlot industry structural, managerial, economic and social effects of moving to a more 'highly-differentiated and specialised' production system within the northern and southern beef industries.
"The demand for animal protein will continue to grow, driven by markets in developing countries requiring higher levels of protein in their diets as those countries' gross domestic product increases over time," it said.
"While beef will have to compete with other forms of protein for human consumption, it will still be a preferred food source that will satisfy middle and top end demand for eating quality," the report concluded.
Feedlot expansion location
One of the report's findings was that feedlot development was likely to expand outside its traditional base across the Australian grain-belt, especially in southern Queensland and northern NSW.
It noted that historically, feedlots had tended to be sited with access to cattle, meat processing capacity, and feedgrain and water. Despite significant grain production in Western Australia and South Australia, grain supply capacity had not been matched with comparable feedlot development in those states, it noted.
The forecast anticipated significant growth in some 'non-traditional' regions, including North Queensland, northern WA and the Northern Territory. Other more established regions like southern WA, with strong access to grain and water, were predicted almost quadruple in size, to 184,000 head on feed (see table).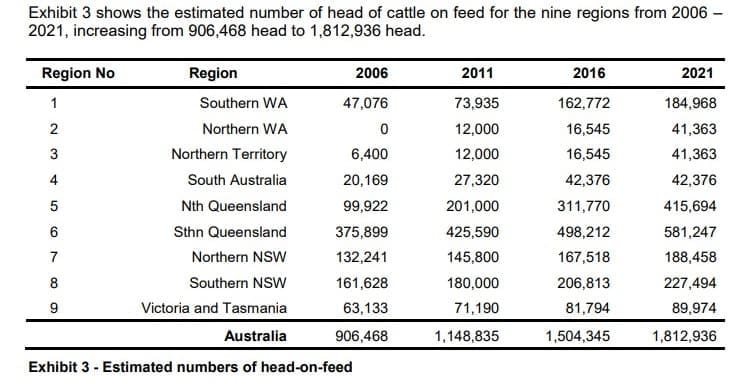 "The expansion of lot feeding in southern Queensland will result in higher numbers of cattle being transported from north to south, tightening of grain supplies and a shift of feedlots to sparsely populated areas with high security water supply. Expansion is expected to stretch feedgrain supplies and lead to regular importing of grain from southern regions and possibly further afield," the report forecast.
Significant expansion on the western Darling Downs and in the New South Wales border region could occur through the construction of approved developments and expansion of current feedlots, it said.
This has largely proven to be true, with the overwhelming majority of recent industry expansion taking place in the established grainfeeding regions of southern Queensland and northern NSW.
Industry expansion in northern Queensland was favoured by the availability of land and water and location in the tick zone, eliminating the need to dip cattle en-route from northern regions, the report said. There were few region-specific limitations to expansion, it said.
In southern Western Australia, expansion could occur by sourcing northern WA cattle to feed through the winter. Constraints to development include state environmental regulations and current limitations in processing capacity. WA projects like Twiggy Forrest's new feedlot development are helping this part of the forecast to come true.
Expansion of the feedlot sector in northern and southern New South Wales and Victoria/Tasmania was anticipated to be less than in the regions discussed above.
"There are good opportunities for expansion in northern NSW, based on the abundant grain supply, cattle supply and availability of land. This may favour development in this region in preference to southern Queensland. However, OH&S regulations in NSW and competition for cattle from grassfed markets may be a constraint," it said.
Southern NSW had potential for expansion through further development of existing feedlots and proposed new feedlots. Potential for sourcing water and sites available for large developments meant there were opportunities in the region. However, expansion would require cattle to be sourced from northern NSW and Victoria.
Constraints in this region included existing abattoir capacity and availability of labour, OH&S compliance costs and livestock transport loading standards inconsistent with other states.
Victoria and Tasmania were predicted to expand at a relatively slow rate, which has proven to be the case. Expansion was likely to occur in western Victoria where land and water are available for developments. Development in Victoria could be constrained by tight regulations from local councils and development controls in many river catchments. The Wimmera-Mallee region may provide the best options for development in response to additional secure water entitlements being made available from the Wimmera Mallee Pipeline Project.
Expansion of the South Australian industry was favoured by a readily available supply of feed grain, however water security and processing capacity would present challenges to expansion.
Feedlot production in Tasmania was not expected to expand significantly, largely due to the low availability of grain, a less favourable climate and competition for cattle from grass finishing operations. This has proven to be accurate.
Environmental drivers
The report made some surprisingly accurate references to environmental issues as a future driver of feedlot growth, given that the subject was still in its infancy at the time the report was compiled.
"There are some significant environmental drivers favouring feedlot industry expansion," the report said.
At the industry-wide level, likely environmental drivers for feedlot expansion included:
Opportunity to reduce the impact of cattle production on the natural environment by reducing stocking rates and transferring young animals to feedlots
Opportunity to reduce GHG production through feeding young cattle in feedlots in preference to low productivity grazing system and the opportunity to introduce feed additives if developed to reduce enteric methane emissions. In the broader context of the Australian beef industry, lotfeeding of cattle would lead to lower overall GHG emissions per kg of beef compared to standard grassfed production systems.
Opportunity to make significant financial gains through energy and nutrient recovery from the feedlot waste stream. Nutrient value at 2006 feedlot throughput levels might be as high as $200m, if the total excreted nitrogen could be captured, or close to $100n under current management systems (based on a simplistic calculation from current fertiliser values).
It said additional benefits from this process might include:
Reduction of GHG emissions through capture and utilisation of methane, and potentially a reduction in nitrous oxide from manure management
Reduction of odour from manure stockpiles and effluent ponds
Elimination of pathogen risk from manure/effluent reuse
Potential government funding for developments that generate green energy.
Environmental and infrastructure constraints to feedlot expansion that relate to the whole industry included:
Shortages of skilled and un-skilled labour.
Increasingly stringent and complex development regulation and appeal processes: largely relating to odour, nutrient management and new topics of concern such as air-borne pathogens.
Greenhouse gas regulations: site-based mandatory reporting of GHG, efficiency targets and the inclusion of agriculture in the proposed ETS represent a very significant reporting and financial burden if progressed as planned.
Water costs: with the introduction of water trading and a cap on the overall resource, the capacity of feedlots to compete for water may be limited considering water costs may be considerable.
Increasing environmental regulation problems relating to nutrient reuse at feedlots
Other constraints identified by the project included the lack of accurate, detailed data on current industry year round occupancy and capacity, and annual grain use in feedlots.