The sense that red meat industry is under attack from powerful and aligned forces, and urgently needs to better align its own resources and "get off the back foot", has been a central and recurring theme at seminars at Beef 2021.
Orthopaedic surgeon Dr Gary Fettke is an independent medical practitioner with no commercial ties to, or any financial interest in, the red meat industry.
At an AgForce forum at Beef 2021 on Tuesday, he explained that over the past 30 years he started seeing more and more complications arising from diabetes and lifestyle disease, that led to him having to perform amputations  which he believed should have been avoidable.
The further he delved into the science he said it became clear that diets high in sugar and refined carbohydrates were the underlying cause, diets that effectively reflect the recommendations of Australia's (and most other developed countries') official dietary guidelines.
He said he spent several years exploring the evolution of plant-based vegetarian guidelines, and has uncovered the extent to which powerful processed food corporations and anti-meat religious groups have influenced global dietary guidelines and policies universally in place today, which effectively demonise red meat while promoting increasing consumption of grain, sugar and carbohydrates.
In particular he outlined how the Seventh Day Adventist church and its associations with processed food companies Kelloggs and Sanitarium, the latter being the Australian company which makes Weet Bix and is owned by the Seventh Day Adventist church, have worked to influence global dietary guidelines to favour diets high in grain, sugar and carbobydrates and to gradually exlcude meat.
In the current version of the official Australian dietary guidelines, he said, "you almost need a search and rescue party to find meat".
He also demonstrated the extent to which people with links to the church and vegan ideologies now dominate influential global policy organisations and lobby groups including EAT Lancet, the World Health Organisation and the World Economic Forum, all of which are actively advocating a global shift to plant based diets and away from animal protein consumption.
This was despite history showing humans were at their healthiest when diets before the agricultural revolution, urbanisation and the industrial revolution were predominantly animal-based, Dr Fettke said.
Plant-based foods provided a rich supply of non-essential carbohydrates but lacked the full spectrum of bioavailable essential proteins, healthy fats, minerals and vitamins. By contrast, beef covers all of those, particularly if you eat "nose to tail".
Deep flaws in nutrition research based on the unreliable results of food questionnaires and the fact it is impossible to separate lifestyle from what you do and don't eat had enabled beef to be demonised over time, he said.
The lack of conclusive data in nutritional research made it possible to justify claims rather than true outcomes.
"Statistical manipulation is rife with bias in nutrition literature."
"Health claims against red meat are not in the ball park and never have been," he said.
Unwittingly, vegan protagonists had become "the unknowing foot soldiers of the processed food industry and religious zealots".
'vegan protagonists have become the unknowing foot soldiers of the processed food industry and religious zealots'
Dr Fettke said he started speaking out in 2014 in lectures and on social media, urging people to reduce sugar, grains and carbs in their diets, but also replacing those poor nutritional energy foods with a substitute, red meat.
But his outspoken work to shine a light on how vested interests have led to the flawed dietary guidelines now in place soon led to a ruling by Australian Health Practitioner Regulation Agency (AHPRA) to 'silence' him from talking to his patients and the wider community about the health benefits of reducing sugar and processed carbohydrates, and reintroducing healthy natural fats back into their diet.
He fought the ruling and in 2018, after a four and a half year battle, was cleared by the National AHPRA medical board and the ruling to silence him was overturned.
Dr Fettke said there was no question that vegan propaganda was "holding beef industry at ransom"
"It covers a lot of areas – animal rights, environmental, water management, land use, as well as methane and this propaganda is highly organised and resourced."
It ranged from highly evocative Netflix movies perpetuating long-debunked or discredited information, to campaigns of deliberate misinformation by companies such as the The Alternative Meat Company, also owned by Sanitarium.
One slide showed an Alternative Meat Company advertisment, central to which was a claim that 51 percent greenhouse gas emissions are attributed to ruminant livestock production. This was despite that claim having "been been retracted over and over again", Dr Fettke said.
Red meat is 'under attack'
"Red meat is under attack, it has been a long time," he told yesterday's forum.
"Plant based substitutes are taking market share and it is not based on science.
"It is based on corporate profit, and somewhat surprisingly, religious ideology."
Mirroring a similar message to the cattle industry by US air quality scientist Dr Frank Mitloehner at the CQU Symposium at Beef 2021 on Monday, Dr Fettke urged the industry to be proud of its product and speak up.
'You guys have got a good product, you know you are being screwed'
"You guys have got a good product, you know you are being screwed," he said.
"Stick with what you know, stick with your product, defend it to the enth degree because if you don't defend it you certainly won't be defending it for your children.
"Just do it now, because it is EAT Lancet, World Health Organisation, World Economic Forum, it is all anti you guys."
Red meat, green facts
There is work underway at an industry level to use facts and science as a tool to change the conversation about the red meat industry.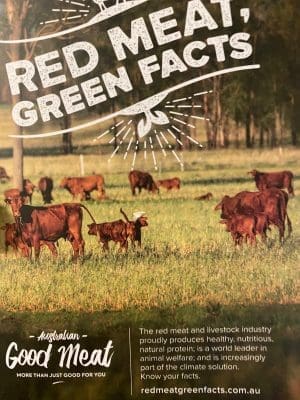 As one facet of that work, at Beef Australia this afternoon Meat & Livestock Australia will be launching a new resource, 'Red Meat, Green Facts',
"It is vital the red meat industry is transparent and proud of our ongoing achievements in caring for our land, animals and products, with the evidence to back it up," MLA said in launching the resource.
"MLA has created Red Meat, Green Facts to do just that.
"It brings together clear, evidence-based messages to empower Australia's red meat advocates on topics such as the environment, animal welfare, nutrition and plant-based fake meats."
The printed booklet is available at MLA's Beef 2021 trade site as well as online resources.
"We all need to do our bit"
At the same forum, innovative young beef producer and AgForce Cattle Board member Adam Coffey said it was becoming increasingly important all cattle producers "do their bit".
"Why do so many of us leave it up to industry bodies to advocate solely on our behalf?
"It hasn't worked that well, and it is far more genuine and effective coming from a producer."
Read more from Adam's presentation here.