Key points:
Cattle producers are in the cross hairs from various groups, but "need to be proud and speak up"
Consumers want to be reassured the meat they eat is produced in a responsible way, but from farmers, 'not a PR campaign'.
Aim of cattle industry should be climate neutrality, not carbon neutrality
IF an omnivore decided to go vegan for one year, the science shows that would reduce that person's carbon footprint by 0.8 tonnes of greenhouse gases.
Is that a lot?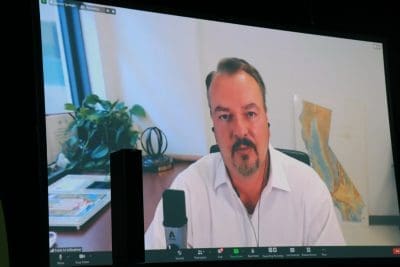 Not when you consider a single flight per passenger from the US to Europe would amount to 1.6 tonnes of greenhouse gas emissions, US air quality scientist Dr Frank Mitloehner told about 600 Australian cattle industry stakeholders via video address to the CQ University symposium at Beef 2021 on Monday.
"Meaning you would have to go vegan for two years to save enough greenhouse gases to offset one flight that you might make to Europe."
If the entire US went vegan, that would reduce the carbon footprint of the US by just 2.6 percent.
This science isn't new, so why isn't it cutting through?
That was a common theme of most questions Dr Mitloehner received from the floor following his presentation.
Why are scientists, media and recipe websites still drawing on incorrect comparisons of methane from cattle and methane from fossil fuels to demonise beef?
Dr Mitloehner's response suggested he is just as surprised too.
"When you take fossil fuel out of the ground then you are taking carbon that was in the atmosphere hundreds of millions of years ago, and you are pulling that out and you are burning it, and that is all new additional carbon.
"So why people don't see that is beyond me.
"How can you not see that?
"The methane from a cow is not the same as the methane from drilling."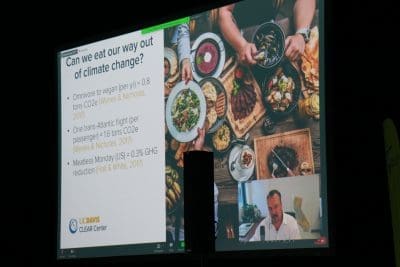 Asked what can be done get more scientists engaging in the debate and greater adoption of the science, Dr Mitloehner suggested the most important thing was to "show the world that you care."
"You need to say we care, we care for the climate, we understand our industry has a footprint and we have quantified what that footprint is.
"We are proud of our footprint because compared to any other regions in the world it is much better, but that is not to say that we will stop trying hard."
Consumers wanted to be reassured that the meat they were eating was produced in a responsible way, but, importantly, not through a PR campaign.
"They need to hear from farmers, they need to hear from your station owners and workers.
"I have been there (to Australia), I was so, so impressed, I love what you do and how you do it and I hope you get the word out."
Part of the problem he said was many Governments are very happy with the way methane emissions are currently accounted.
Dr Mitloehner said cattle producers are "in the cross hairs of many groups out there", but they need to be proud, and they need to speak up.
"I don't want you to feel like you have to fight them," he said.
"I want you to be proud of what you do and communicate what you do and learn how to communicate what you do in a compassionate way, in a way that really shows you care."
"People love your product, we need to make sure they understand that it is responsibly raised."
Dr Mitloehner also reiterated his previously stated view that the Australian cattle industry should be aiming to achieve a goal of climate neutrality, rather than carbon neutrality.
"I think cattle industry can be climate neutral, not carbon neutral," he said.
Asked by Beef Central after the presentation if he could explain that further, he said most of Australia's cattle production is on pasture, and hence there is little opportunity to reduce manure or enteric emissions.
"There is no way that we can reduce enteric methane to zero.
"You need to reduce a lot of the methane from enteric sources but there are limits of what can be done, particularly under grazing conditions.
"In my opinion, Australia should focus on reducing what really matters and what is achievable: the impact of beef on 'warming' and not 'carbon'.
"Do a 0.5 percent reduction of greenhouse gas emissions and reach 'climate neutrality' by 2035.
"Do more (1%/year) and reach that goal maybe by 2030.
"Agriculture does not need to bring its emissions down to zero like other sectors but it needs to reduce particularly methane to benefit from its unique behaviour in the atmosphere."