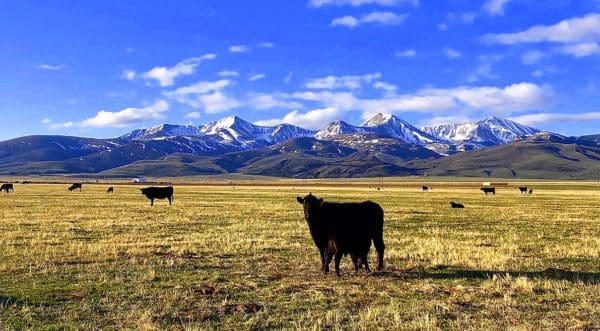 THE firm involved a landmark soil carbon deal with Microsoft has been appointed asset manager for a US$200 million Montana ranch, which was purchased by media tycoon Rupert Murdoch earlier this year.
Armidale-based asset management company Impact Ag last year brokered the $500,000 soil carbon deal from projects on properties owned by the Wilmot Cattle Company in the New England region of New South Wales.
The new project on the Beaverhead Ranch in the US state of Montana will be dealing with similar issues to those raised by the hit television series Yellowstone. The 138,000ha (340,000ac) ranch is largest in Montana, with about a 15,000 head cattle capacity and significant environmental assets near Yellowstone National Park.
Beaverhead is primarily a breeding operation, with a portion of livestock finished on grass and the majority sent to the feedlot.
Impact Ag managing director Bert Glover said one of the main reasons why the property was so highly sought after was water assets – with temperatures dropping to -20 in the winter and a 330mm annual rainfall.
"We are talking about 2,400ha under pivot irrigation and about 8,000ha under flood irrigation, which is significant for that part of the world," Mr Glover said.
"It grows alfalfa for fodder in-case winter is exceptionally harsh. We also have pasture under pivot irrigation, which we use to finish our stock."
Significant environmental assets
Mr Glover said the area surrounding Beaverhead was a major target for investors and conservation groups looking to control the management of the environmental assets.
"It has the big wetlands associated with the Centennial Valley, which is seen as one of the most significant wetlands outside Yellowstone National Park – we are surrounded by a lot of land which is under conservation easement," he said.
"Migratory birds from Alaska come and rest there on their way to South America. We have the Trumpeter Swan, which is an endangered species. One of the large migratory Elk herds come out of Yellowstone and pass through the ranch, which brings wolves and other predators through."
Mr Glover said conservation was a big part of running the Beaverhead operation – working with government departments and other interested parties.
"We have three projects which are related to managing fish stocks and some of those fish are close to extinction," he said. "We need to keep a relationship with wildlife groups and manage the hunting season."
"Some environmental groups believe livestock should not be in the landscape there. So we use a lot of data and information to demonstrate that, under our management, livestock are beneficial to the landscape.
"But that does not distract us from the fact we are a cattle operation and we have a long-term goal of producing carbon neutral beef from the Beaverhead."
Carbon projects in the pipeline
Impact Ag has two carbon generating projects in the pipeline on the Montana ranch – one sequestering soil carbon and another making methane reductions using asparagopsis seaweed.
The company plans to use a different carbon credit scheme to the one used on the Wilmot/Microsoft deal – this time going with the global Verra program. Montana does not have a regulated carbon market.
"We will start with an 8,000ha soil carbon project, we are planning to start sampling for that in August," Mr Glover said.
"The other program we are planning was around using asparagopsis seaweed in a grassfed system to reduce methane emissions, Verra has a method for that."
Many similarities to Yellowstone
If you have watched the hit television series Yellowstone, Mr Glover said you should have an idea of the operation at Beaverhead.
"On Yellowstone, you hear them talking about the competing stakeholders – external investors, federal agencies, state governments and conservation groups – those things are all true," he said.
"Not so much big investors coming to build a casino or an airport, but there is interest from big investors to come and buy the small residential blocks.
"In terms of the cowboys and the way of life it's pretty similar – they have their cowboys in a bunkhouse, whereas our cowboys live with their families in a house. The show is really popular with the staff too, because it has raised some really good issues about maintaining communities and a way of life, which we are very eager to support."