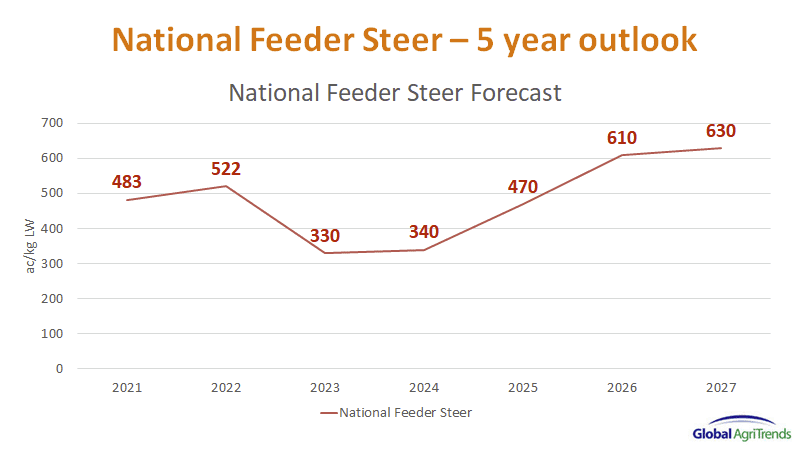 WITH the American cattle herd heading for a 70-year low and Australian meat needed to fill the void, livestock prices could see a significant recovery over the next three years.
That is according to independent livestock analyst Simon Quilty, from Global Agritrends, who gave last week's RMA conference on the Gold Coast an in-depth analysis of the factors likely to drive the cattle market in the next three years – with a forecast of feeder steer prices reaching $6/kg in 2026-27.
Mr Quilty started by addressing the current price crash, putting it down to a to a "moderate herd expansion" and a processing bottleneck caused by a shortage of labour.
"If you look at the last time we had falls in prices in Australia, between 2011 and 2013 prices fell 32pc over a 73-week period and the average weekly kill was 122,000 head. Then we had the period of 2016-19 where we had a 38pc fall and the average weekly kill was 122,000 head," he said.
"This latest fall in prices has taken the shortest amount of time and we have had the biggest fall of all at 41pc and 48pc in some categories and the average weekly kill was 87,000 head.
"We simply do not have the capacity and the manpower to kill the cattle. It is not a particularly large number of cattle, but the labour constraints have been enough to create a bottleneck."
Mr Quilty spoke about the possibility of an increase in capacity with some new plants opening in the Southern States. He asked JBS Southern livestock manager Steve Chapman whether an increase in capacity was likely in the next six months.
Mr Chapman said it was unlikely to happen within the next six months and was more of a six-to-12-month prospect.
"At JBS, we have experienced an enormous people challenge over the last 12-to-18 months," Mr Chapman said.
"If you take Bordertown as an example, we have purchased a motel to house 76 Pacific Islanders just to get people there.
"We cannot employ enough people to increase capacity. If we look back prior to Covid, we could double shift any plant in eight weeks, now it takes eight-to-nine months."
US vulnerable to further herd liquidation
Another factor contributing to the price crash is the amount of meat in cold storages creating a backlog in some of Australia's key markets. A situation addressed in this previous Beef Central article.
While there are many demand factors contributing to the overloaded cold storage, a large-scale liquidation of the American cattle herd has also played a significant role.
With an El Nino induced dry period on the cards in Australia, America is likely to see the opposite and the drought is already starting to break in some areas.
Mr Quilty displayed a webinar where he asked his Global AgriTrends colleague Brett Stuart about the possibility of a further herd liquidation in the US.
"There are some pretty important regions around Missouri, Western Kansas and Eastern Nabraska that are still pretty dry," Mr Stuart said.
"I think we could still see come cattle pushed into feedlots and cows continuing to be culled and that is a pretty cattle dense area."
Mr Quilty said the US herd was heading towards a 70-year low, which he said was likely to push global price higher.
"It is the longest drought in their history, it lasted 132 weeks where more than 42pc of the entire country was in drought. The biggest drought prior to that was in 2012-13 which lasted for half the time," he said.
"The more they liquidate, the better for Australia later on because prices are only going to do one thing – go up."
"Flight to quality" to emerge
While some areas of the United States are dry, other major cattle producing areas have seen rain and flooding in recent times. A yawning gap in prices has emerged between the US and Australian.
Mr Quilty said a "flight to quality" was likely to emerge with the US cattle prices increasing. He said some countries like Japan were likely to come to Australia looking for higher quality meat.
"The Japanese have to pay the US more and they come to Australia to buy it cheaper from us,"
"We move with America as prices go higher in all these markets. Grainfed beef will become tighter and tighter as the US rebuilds and the flight to quality will return.
"China is going to keep buying meat, they are truly the largest buyer globally and their needs are going to continue. It has been a little sluggish recently, but we are confident their demand will continue over the next three years."
Mr Quilty spoke about the Australia herd starting to move out of its herd rebuild phase, with an increase in cows and heifers going to processors. An observation many of the agents in the room also made.
"I think we are going to see all those female ratios go higher and higher as the dry sets in," he said.
"You could argue that NSW has already started liquidating its herd."
Mr Quilty said it was likely that by 2026-27, three global cycles were likely to come together with tight supply in the US, tight supply in Australia and tight supply in South America.
"For the first time in my lifetime I think the three cycles will overlap, demand will be strong and unique," he said.