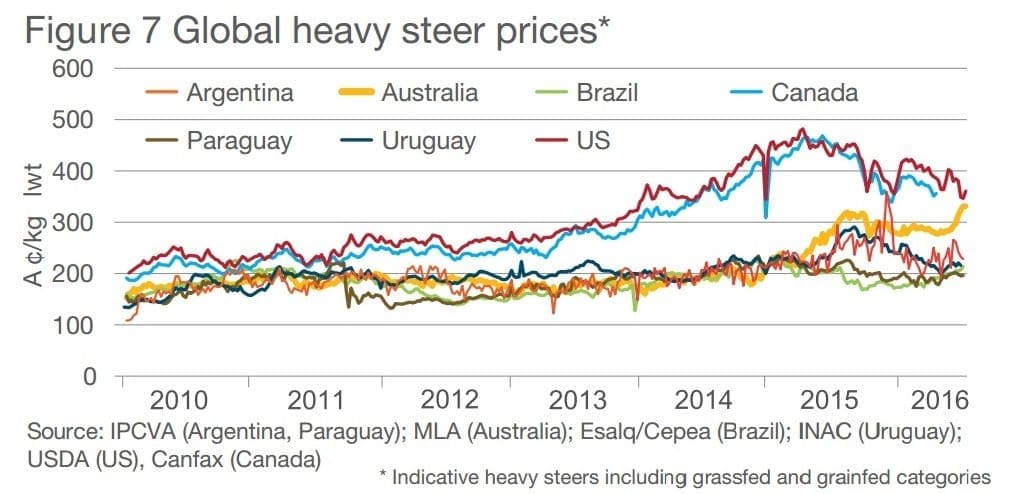 A COMPARISON of current world cattle prices conducted by Meat & Livestock Australia shows Australia close to the top of the tree in terms of pricing, for the first time in recent history.
Included in yesterday's half-year beef industry projections update, the graph published here shows Australian cattle prices, in mustard, within a whisker of US cattle prices (red), and well ahead of other competitors Brazil, Canada, Uruguay, Argentina and Paraguay.
The comparison mirrors a recent similar assessment conducted by Beef Central, which in fact showed Australian cattle prices slightly in front of those in the US. The MLA analysis used a slightly different set of data, however, including combining grass and grainfed categories, delivering a slightly different, but still similar result.
MLA analyst Ben Thomas suggested on the MLA data set, at least, Australian prices might not now go past those in the US.
"While coming very close to US cattle prices may be deemed as a milestone for Australian producers, it could also be an indication that a price ceiling has already been reached in Australia," he said.
"The world cattle market remains in two different leagues," Mr Thomas said.
"These are closely aligned with North American grainfed production and the grassfed systems used across most of the rest of the world."
"On the one hand, Canadian and US indicative prices are significantly higher than their global counterparts, despite having softened from their highs in mid-2015, and production expectations for the remainder of the year suggest that the weakening market will continue."
At the same time, in A¢/kg lwt terms, the South American markets are strengthening on the back of improved market access for Brazil and Argentina and contracting supplies in Uruguay and Paraguay.
"While all of these markets have generally improved in recent months, they continue to lag behind those elsewhere in the world, largely as a result of weaker currencies," Mr Thomas said.
The Australian heavy steer indicator averaged 312¢/kg lwt during June, buoyed considerably by the rain induced tight cattle situation, and is likely to remain high for at least the winter months, the report said.
"It is looking unlikely that average Australian finished cattle prices will overtake those in the US, and become the dearest cattle market amongst the major exporters, largely as a result of the greater trade exposure and significantly fewer grainfed cattle," Mr Thomas said.
"But the very narrow gap may in fact continue to tighten, based on the diverging production situations in the respective markets, while weak currencies will keep South American cattle prices below Australian prices for the foreseeable future," he said.