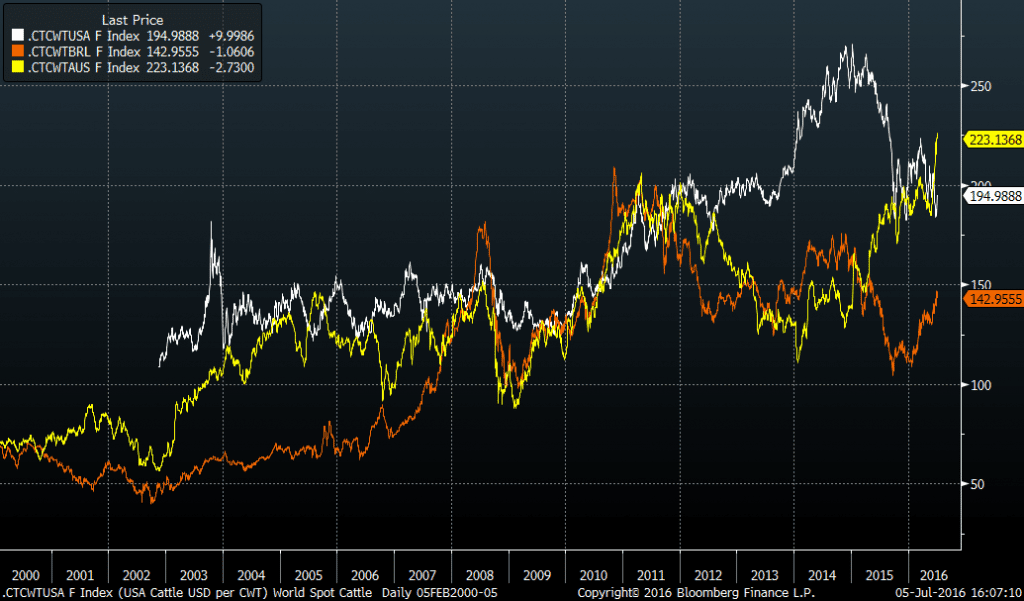 IN A historic first, Australian cattle prices are now the best in the world, in comparisons in $US terms with major export rivals the United States and Brazil.
The graph published here (Click this link to access a larger version for easier viewing) shows Australia's Eastern Young Cattle Indicator value (yellow line) plotted against equivalent US cattle (white line) and Brazil grassfed steer (orange line).
While the timeline extends all the way back to 2000, the Australian price can clearly be seen surging to new records, in US$ terms, over the past two months. At the same time, both the US and Brazilian prices have slipped dramatically since the start of 2015.
Short of a very brief period in early 2011 when Australian cattle prices sky-rocketed on the back of record flooding rain across much of eastern Australia, and another short-lived bubble in mid-2005, it's the first time that Australian cattle prices have led the world 'league-table'. The 2005 rise coincided with overwhelming international demand for Australian beef after the detection of a second BSE case in the US, causing many large export customers to suspend US supply.
Current circumstances prevailing, the price advantage being enjoyed by Australian cattle producers over their equivalents in the US and Brazil does not look like changing any time soon.
As can be seen in the graph, Australian cattle prices lagged a distant third during lengthy periods from 2013-15, due to oversupply caused by intense herd liquidation due to drought. The sharp climb in Australian prices really commenced around May 2015, as cattle supply became exhausted, and slaughter numbers started to slow.
As Beef Central has reported frequently this year, the current big surge in cattle price has been driven by recent widespread rain across the eastern states and mild weather during the first half of winter, combined with underlying scarce cattle supply.
The Eastern Young Cattle Indicator hit a new record of 660.5c on Monday this week, before easing a little as the week has progressed. That figure was up 13c/kg on the previous week; 75c over the past month; and an incredible 127c on this time last year. On a typical EYCI-eligible steer weighing say 350kg, price has risen $444 a head over the past year.
Slaughter cattle have shown a similar trend, with Queensland grids this week offering a record 570c/kg on four-tooth heavy grassfed steers, and 525c on cows – both rising 50c/kg in just five weeks.
Worth stressing again is that none of the current cattle price surge in store or slaughter markets can be attributed in any way to demand-side influences.
The graph also shows that other than the drought affected years of 13/14, Australian cattle prices have tracked somewhere near US cattle price, despite the huge currency differentials at times.
What's driven US, Brazilian price trends?
As can be seen in the graph, US domestic steer prices hit their peak in late November 2014, reaching a record US$171.38 per cwt. This was the result of shrinking domestic beef cattle supplies over several years due to severe drought, Beef Central's US columnist Steve Kay, from Cattle Buyers Weekly said.
The 2014 year, though, also saw the most aggressive net heifer retention for herd rebuilding seen in the US industry for many years. The rebuilding continued at a strong pace in 2015 and into 2016.
"More US cattle began to be fed and harvested from mid-2015 on," Mr Kay said.
"But prices collapsed in October mainly because cattle feeders delayed their marketings too long and fed cattle to record heavy weights. Prices recovered from that collapse, but have been under pressure from a negative and irrational futures market so far this year," he said.
"The futures largely caused fed steer prices to drop US$10.78 per cwt in two weeks last month, before rebounding. US cattle feeders have also accepted lower prices in order to keep marketing cattle as aggressively as possible," Mr Kay said.
Brazil's downward price trend in cattle price, also evident in the graph, is a result of both supply and demand factors.
Brazil's cattle herd has been growing rapidly for the past five years. Its herd total at the start of 2011 was an estimated 190.9 million head, according to USDA. At the start of 2016, it was an estimated 219 million head – a rose of close to 30m head in just five years.
At the same time, but most notably in the past two years, Brazil's economy has weakened dramatically. Brazil was disposing of up to 80pc of its beef on a strong domestic market before that. But that market has weakened, along with the economy, so the returns are less, putting pressure on cattle prices.
Increased exports of Brazilian beef have not made up for this weakness.
A report out of Brazil this week suggests the country will likely end this year with the second sharpest decline in per capita income seen in 116 years. The Brazilian Institute of Economics estimates that the GDP per capita will show a cumulative drop of 9.4pc from 2014 to 2016 – even worse than during the Great Depression in 1929­31.
Despite signs that the Brazilian economy may have hit the bottom, the expected trend for 2017 is that income will continue shrinking, analysts say.
Meat & Livestock Australia plans to present a similar international cattle price comparison as part of its upcoming half-yearly Beef Industry Projections report, being released later in July. Beef Central will provide a follow-up report.