RESULTS from Beef Central's latest 100-day grainfed trading budget have turned around dramatically since our previous budget delivered back on 7 May.
From a record projected loss of $212 six weeks ago, today's budget delivers a theoretical negative $70 result on our typical flatback heavy feeder steer, going on feed today and closing-out on September 30. For better performing cattle gaining at 2.2kg/day (our benchmark steer performance is 2kg/day), today's result comes out as a modest $1 profit.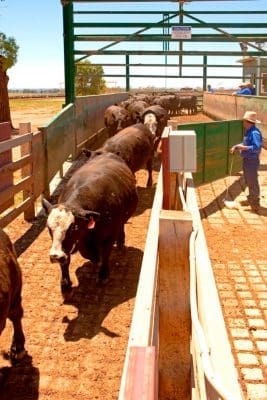 All key variables have moved sharply for today's budget, compared with six weeks ago. That a reflection, in part, on the dramatic market uncertainty and instability brought on by COVID-19. The business of feeding and marketing grainfed cattle is complex enough at the best of times, but the recent COVID-19 environment is bringing a suite of new challenges to bear that stakeholders have never previously contemplated.
Big swings can be seen in feeder cattle price, forward contract finished cattle price, and ration price since our previous breakeven calculation.
The projection is based on our standard set of variables (see full list at base of page) for a typical flatback heavy feeder steer entering a Downs feedlot today, and exiting after 105 days on feed.
Readers are reminded that Beef Central's regular trading budget calculation should not be interpreted as a comment on the viability of the lotfeeding sector – it is simply an exercise designed to gauge the viability of a beef producer buying feeder steers, sending them to a custom feedyard, and then selling the finished cattle at the expected forward grid price at an abattoir. The opportunity cost of the exercise is often missed by producers.
Feeder prices rise to equal record 375c
For today's budget, we have allocated a feeder steer purchase price of 375c/kg – up 30c on our previous budget and equal to the highest figure we have ever recorded in this nine-year series.
There are certainly isolated sales at 10-15c above that rate this week, and similar feeders cattle sold at Roma yesterday above 400c/kg due to overall tightness of supply. It could be argued that today's figure is somewhat low, but sales around 375c are also taking place this week, and bids appear a little more conservative this week, from where they were a week or so ago.
Some of the momentum is in feedlots coming off a lengthy period of particularly high occupancies, due to drought. While they want to continue to fulfil demand from processors – just not at any level.
Similar price levels for feeders were reported in this series in March, just before COVID set-in. Just before our previous report, there were bids in the market north of 400c, but eased a little by the time the March report was compiled.
Current heavy feeder supply was described by some large lotfeeders this morning as 'really tight,' as drought impact from last year continues to exert an influence.
Today's feeder price trend is also reflected in the Eastern Young Cattle Indicator, which appears poised to break into new record territory in coming days, after coming back 'on-line' after a two-month break due to COVID restrictions on saleyards.
Underpinning some of the recent gains has been a growing level of confidence that business and demand is slowly getting back to normal, post-COVID.
Today's feeder price values out steer at $1687, an additional $135 on the same steer purchased six weeks ago.
Ration price drops sharply
Driven mostly by substantial declines in the value of barley, ration price for today's budget has been pulled back to $430/t, down from $475/t in early May.
Big variances still exist in ration prices between downs feedyards, however, with quotes evident from $400 to as high as $460/t, reflecting grain stock bought earlier at higher prices, and other commodity costs including hay and cottonseed. Ration price variance is larger than normal, due to the fluctuations that have occurred since COVID.
A big differential still exists between wheat and barley, with most yards currently basing rations on cheaper barley, which carries a prompt price for June-July around $330-$340/t ex Downs, back about $40/t on quotes when our previous report was published.
Today's finished ration price is the first time the figure has been below $450/t in this series since July, 2018, when prices dipped to $415/t.
Worth noting for today's report, however, is the fact that today's cattle will exit the feedlot in late September – the last cycle before new-season winter grain comes into the equation. Next month's report, exiting late October, will carry a portion of new season grain pricing in their diet. With luck, that could see ration prices $50-$60/t cheaper than today.
Total feeding cost in today's budget is $673/head, compared with $736 last time.
Total production cost (feeder steer cost plus feeding costs) is $2475, up $75 on our May 7 budget, influenced most by the higher purchase price for feeders.
Cost of gain today is calculated at 321c/kg (351c last time), and for a better-performing animal gaining at 2.2kg/day instead of our standard 2kg/day, 292c/kg. That downwards trend in cost of gain is likely to mean that cattle are fed-on a little longer, which may help future breakevens, marginally. It remains to be seen whether cheaper cost of gain is reflected in lighter cattle being placed on feed.
All that leaves today's breakeven figure on our standard beast at 701c/kg, and our high-gain performer at 680c/kg.
Finished grainfed steer prices leap to 680c/kg
Forward contract prices on 100-day ox offered by processors are also reflecting some recovery from recent uncertainly about global beef markets under coronavirus.
For today's budget we have quoted 680c/kg for cattle exiting the feedlot late September, up a massive 60c from the 620c/kg quoted back in May, and back to where they were just prior to the 'COVID factor' emerging. That rise is worth a hefty $242 a head on our benchmark 356kg carcase. September is traditionally the peak of pricing for slaughter cattle each year, reflecting seasonal supply.
Given our breakeven figure of 680c/kg calculated above, today's forward contract bullock slaughter price represents a loss of $75 on our standard steer gaining at 2kg/day, and a profit (albeit slender) of $1 on the higher performance animal gaining at 2.2kg/day.
While there is some concern about much larger volumes of US beef coming onto export markets in coming months as the US grainfed industry gets back to normal after COVID closures, the strength of international demand continues to underpin demand for Australian beef.
Beef Central's regular 100-day grainfed trading budget scenario is based on a standard set of representative production variables, ex Darling Downs. The trading budget summary is built on a feeder steer 450kg liveweight, fed 105 days; 356kg dressed weight at slaughter; ADG of 2kg; consumption 15kg/day and a NFE ratio of 7.5:1 (as fed); $25 freight; typical implant program. Bank interest is included. It is important to note that variations exist across production models (feed conversion, daily gain, mortality, morbidity, carcase specification); from feedlot to feedlot; and between mobs of cattle. Equally, there can be considerable variation at any given time in ration costs charged by different custom-feed service feedlots. Click here to view an earlier article on this topic. For a more specific performance assessment on a given mob of cattle, consult with your preferred custom feeder.