THE past 12 months has seen a substantial amount of expansion activity happening in the lotfeeding sector, with a casual survey carried out by Beef Central this week producing a figure well above 100,000 head in additional capacity in feedyards across the country.
That figure covers expansion projects recently completed, projects in the middle of development, approved and about to be undertaken; or seeking approvals, but likely to proceed. Most of the growth appears to be occurring in Queensland, but there is also evidence of pockets of growth in other regions, such as South Australia.
While the table below suggests part of the trend is in large 'chunks' in three or four very substantial feedyard upgrades, there's also lots of smaller expansions that add to the overall tally.
At least one brand new yard is also likely to emerge from the expansion trend, Beef Central has discovered.
While feedlot capacity is logged in the MLA/ALFA quarterly feedlot survey, the figure is gauged on a representative 'sample' of feedlots only, and does not necessarily accurately capture the current trend.
For example, industry capacity in the March quarter last year was listed at 1.219 million head. Just three months earlier, the reported figure was more than 20,000 head higher. In NSW, the reported figure was back almost 60,000 head over the same three-month period – difficult to believe, as there was no evidence of voluntary suspensions being applied that would account for such wild swings.
In contrast with the industry capacity expansion outlined here, Meat & Livestock Australia in its recent 2017 Industry Projections has forecast cattle on feed to be down by about 100,000 head for 2017.
"Maybe the extra capacity will cater for longer feeding the same number of turnoff cattle to reduce impact of livestock costs and take advantage of lower grain prices in the short term," one major domestic supply chain manager offered this week.
Additional Wagyu cattle feeding, typically 350+ days for crossbreds and +450 days for Fullbloods, may also help soak up some of the expansion in pen capacity.
Summarised below, and via the table published here, are current known examples of expansions taking place across the feedlot sector. The current cycle of capacity growth is arguably the largest seen in a decade, since the very aggressive feedlot construction period in 2005-07.
Many of the feedlots mentioned also feature in Beef Central's Top 25 Lotfeeders feature, accessible here.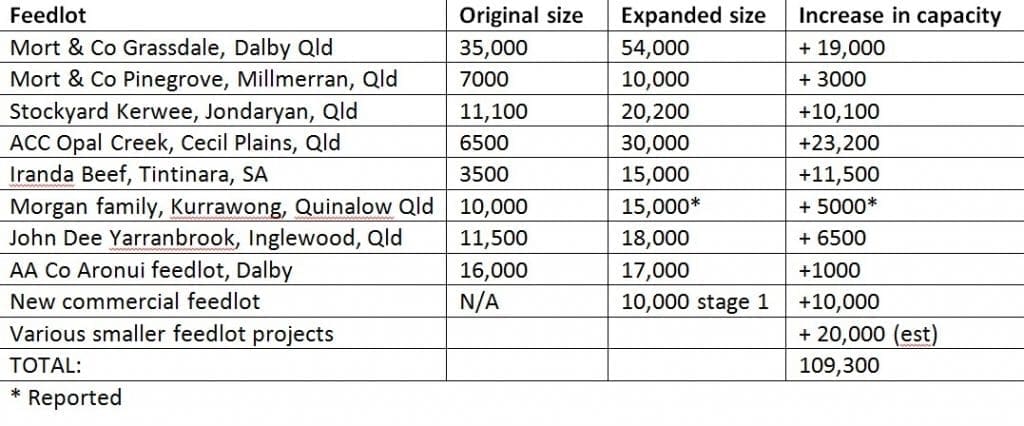 Mort & Co Grassdale and Pinegrove
Mort & Co's Grassdale feedlot near Dalby on Queensland's Darling Downs expects to complete the last of its new pen construction by the end of February, taking capacity from 35,000 (physical) to 54,000 (physical) or 48,000 Standard Cattle Units.
The expansion will be used to feed a variety of categories, from domestic steer and heifer to Wagyu.
Mort & Co's Pinegrove feedlot near Millmerran has also undergone a small expansion, from 7000 to 10,000 head.
Australian Country Choice – Opal Creek:
Australian Country Choice is now well-advanced on its major expansion investment at Opal Creek feedlot, near Cecil Plains (Qld). ACC bought the 5800-head yard in June 2015, and immediately announced expansion plans.
ACC's chief executive David Foote told Beef Central the project was now 75 percent complete, and was on schedule for May completion.
In addition to the pen expansion, the project includes major infrastructure upgrades including a new steamflake grain processing installation and commodities shed. Still left to be completed are the new induction/livestock processing facility, mill and storage complexes, and installation of pen shade.
The yard is currently feeding about 22,500 head of yearling type cattle, and will expand to full capacity around mid-year.
Stockyard Kerwee
Also expecting completion around the end of May is the expansion of Stockyard's Kerwee feedlot near Jondaryan on the Darlnig Downs
The project will almost double capacity at one of Australia's oldest feedyards, from 11,100 head to 20,200 head.
Most of the earthworks for pen construction has now been completed and a new turkey's nest built to provide additional water security. Completion is expected late May.
Stockyard managing director Lachie Hart said demand for the company's high quality Wagyu and Angus branded beef programs was currently exceeding supply, and was the main reason for the decision to expand capacity.
"But what's enabled us to do that has been some changes in Queensland's environmental licensing arrangements, which allows feedlots to use odour modelling, as opposed to the feedlot guidelines, to show that the business can operate effectively, without impacting on the surrounding community," he said.
Kerwee was the first Queensland beef feedyard to gain such expansion approval, but the modelling has been used already by state shire councils for approvals for poultry operations and piggeries.
Iranda Beef
Iranda Beef feedlot near Tintinara has become the largest feedlot in South Australia, almost quadrupling in size to 15,000 head over the past 12 months. Iranda beef is a joint venture involving Thomas Foods International and the Vogt family. Final completion took place only a few weeks ago. The Iranda Beef project is profiled in a separate article appearing this morning.
Princess Royal
South Australia's Princess Royal feedlot, which currently operates at 4409 SCU plans to expand to its full licensed capacity of 15,000 SCU, although that expansion will not necessary happen in one jump.
Principal Simon Rowe said the South Australian Government had taken a strong role in guiding the EPA approval process. "The SA State Government is receptive to any projects offering more regional employment, and with the shutdown of power stations, in our area there is not a lot," Mr Rowe said. "A feedlot operating at the expanded size is going to be around 22 full-time equivalents, in terms of employment. Any business of that size in a rural community of 1000 people would be receptive to that," Mr Rowe said.
Princess Royal feeds a variety of cattle from EU grainfed to grainfed steer and heifer for a Woolworths contract. Some of the expanded site may continue to be used as a live export transit/spelling facility.
Yarranbrook
The Hart family's Yarranbrook feedlot near Inglewood, on the Queensland/NSW border is two to three months away from completion of its expansion, growing out from its previous capacity of 11,500 head to about 18,000 head. In addition to new pens and bunk, the expansion project includes a new feed mill, loading ramps, new feedlot delivery trucks to cater for the expanded operations and other infrastructure. Yarranbrook supplies into the Hart family's John Dee export beef plant near Warwick, catering for a range of grainfed export beef brands.
Kurrawong, Dalby
The Morgan family's Kurrawong feedlot near Dalby has completed a 5000 head expansion, taking feeding capacity to 15,000 head. Older original pens are also being refurbished. There's also talk of an additional 5000 head capacity to be added at the Morgan's second nearby Whaka feedlot, currently about 10,000 head capacity.
New feedlot
In the course of this feedlot review, Beef Central has learned about the looming construction of a brand new feedlot in a well-established lotfeeding area, likely to be 10,000 head in its first phase, but with a license for expansion out to 25,000 head. Details cannot be revealed at this stage, but we'll keep readers informed at the appropriate time. The project is currently before the local council, and its backers are confident of clearing all the remaining regulatory and environmental hurdles to allow construction to commence.
Aronui, Dalby
The Australian Agricultural Co last year completed a small 1000-head expansion at its Aronui feedlot, near Dalby on Queensland's Darling Downs. The project happened soon after relaxations occurred in Queensland's environmental licensing arrangements. The new "L" row of pens takes Aronui's capacity to 17,000 head.
Smaller yard expansions
A number of reliable sources have pointed to a large number of expansions taking place in smaller feedlots across eastern Australia. While modest in individual size, when added together they add considerable volume to industry capacity.
Leading feedlot nutritionist Rob Lawrence from Integrated Animal Production said these projects were typically yards 1000-4000 in capacity that were adding another 1000-2000 head, or in a couple of cases doubling in size. Cheap grain and the high value of cattle were the main motivations.
Senior project manager with consultant engineers, Ostwald Bros, Alan Murray, said his company was involved in quite a number of the smaller yard projects either underway, or under consideration.
"They cover a big area, stretching from the inner downs, west to Roma, and south to the Victorian/NSW border," he said.
Some were existing small yards simply adding an extra row of pens, while others were new facilities. Several projects were backed by farmers whose primary business was graingrowing, who wanted to value-add grain through the establishment of a small commercial feedlot.
"If they all go ahead, I would guess the small feedlot projects that we are aware of would easily add up to another 20,000 head," Mr Murray said.
Many of the feedlots mentioned above also feature in Beef Central's Top 25 Lotfeeders feature, accessible here.