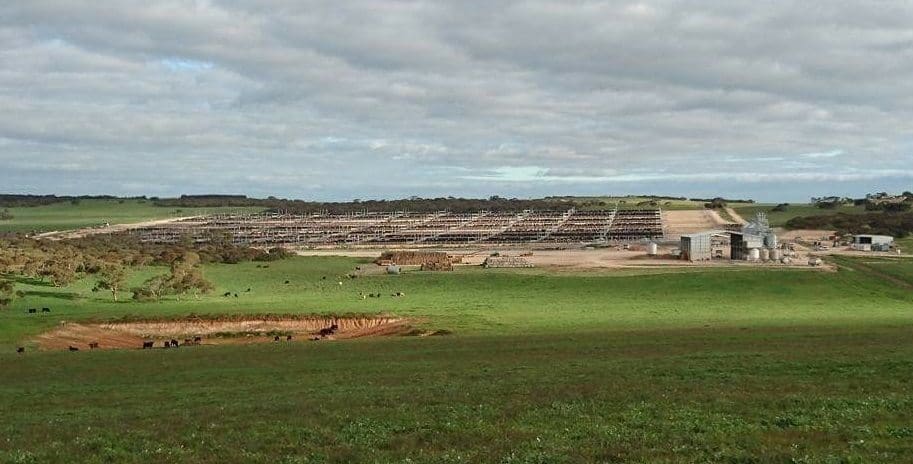 A GOOD example of the capacity expansion currently being seen across the lotfeeding industry (see this morning's separate story) is a project at the Iranda Beef feedyard near Tintinara, about two hours east of Adelaide in South Australia.
The Vogt family, which established the Iranda feedlot 24 years ago, entered into a joint venture with export processor, Thomas Foods International two and a half years ago. That has led to the recent feedlot expansion project, which has seen the yard's original 3500 head capacity grow in two stages last year to today's 15,000 Standard Cattle Units.
Final finishing touches on the project were applied just before Christmas, and the yard is now operating at near its new capacity. Because the Standard Cattle Unit is calculated on the basis of a 550kg export weight steer, the proportion of lighter domestic-weight feeding at Iranda effectively allows it to operate at a maximum of about 17,500 head.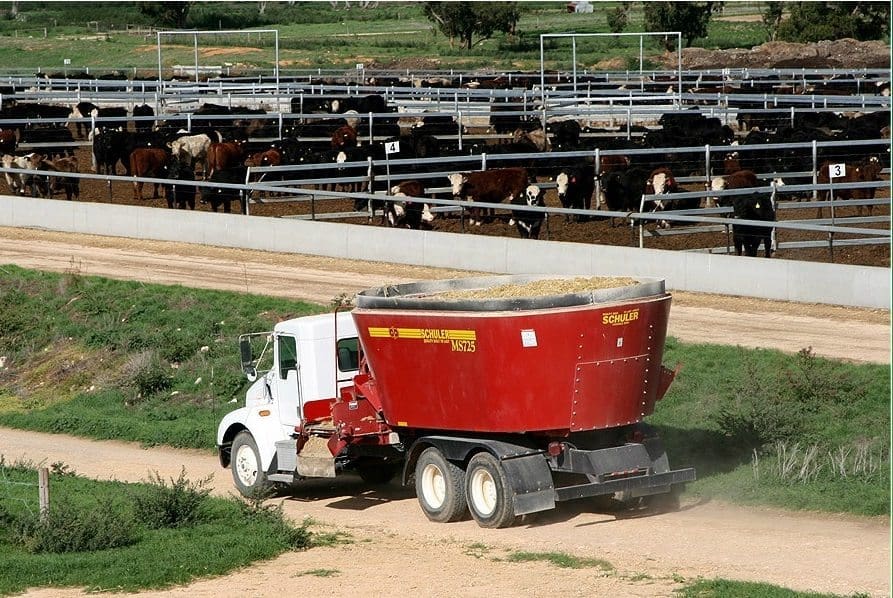 The expansion project makes Iranda by far the largest feedyard in South Australia, and would rank the business sixteenth largest in Australia on Beef Central's earlier Top 25 Lotfeeders list.
The expansion project at Iranda Beef was driven in part by parallel expansion at TFI's flagship Murray Bridge processing plant (see earlier story), which now has daily throughput capacity of around 1200 cattle in a single shift.
A much larger grainfed output from the expanded Iranda Beef feedlot helps underpin livestock supply to the Murray Bridge plant. Iranda's expansion has not displaced TFI's demand for grainfed cattle from other suppliers, however, as it is part of overall throughput growth at the plant.
The Iranda feedlot project has involved a lot more than simply 'adding pens', with new grain processing infrastructure installed about 18 months ago in the first stage of the process. A new tempering and rolling grain processing system supplied by Ahrens uses two 70 tonne tempering silos and roller equipment.
Most of the feed wheat and barley requirements are sourced locally, through the upper southeast of SA, or across to western districts/Mallee in Victoria. While the site currently has storage capacity for only about 1000t of grain, Iranda Beef has leased a local Viterra silo, only 15km away on a rail line, providing an additional 11,000t storage if required.
A second, new cattle induction facility, receival yards and load-out ramp has only been completed in the past five weeks, using Thompson Longhorn crush and other hardware.
Having two cattle handling facilities has delivered much greater flexibility in processing and handling cattle movements, both inbound and outbound, general manager Paul Vogt said.
At times both sheds are operating at the same time. During intakes from recent southern weaner sales, the dual facilities allowed induction of close to 1200 head in a day.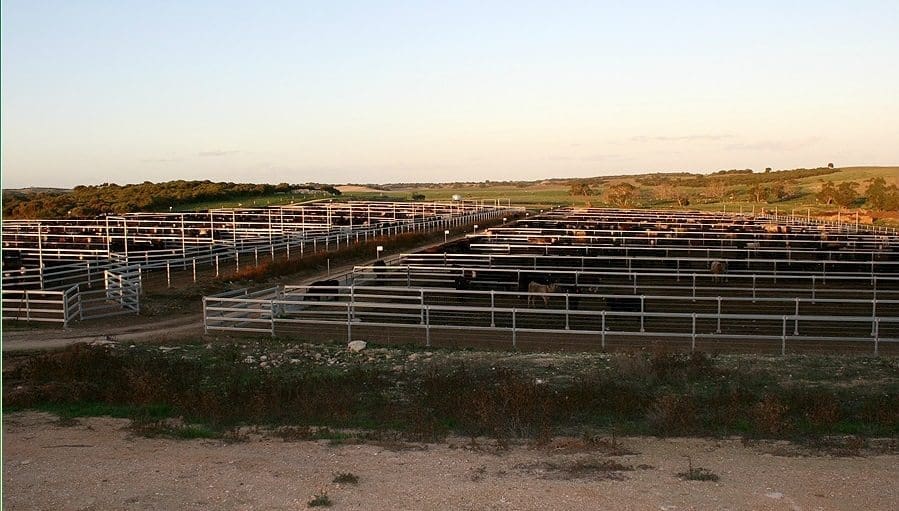 Earthworks for the pen expansion part of the project involved excavating about 300,000 cubic metres of dirt. New pens are typically 40m x 50m in size, giving a capacity of about 175 head at a density of 13sq m/beast.
The yard's much larger cattle intake is now about 65pc export-weight cattle, including some EU grainfeds, with the balance domestic feeding for a Woolworths contract and the local supermarket retail trade.
Cattle intake is mostly British and British crosses, being Angus-dominant, with a big intake recently to fill the new pens arriving out of the traditional southern summer weaner sales. Just three weeks ago, Iranda picked up 800 weaners out of the Naracoorte annual weaner sale, some of which are being backgrounded in about 1800ha of country including irrigation in surrounding grass paddocks.
Finished cattle turnoff is now between 1000 and 1200 head per week, depending on export/domestic mix.
Full time employee numbers are now above 15, providing a good source of new local employment.
Managing director Paul Vogt said while cattle procurement was 'always a challenge' in the feedlot industry, the recent feedlot expansion would inevitably make it more difficult to fill the pens on a week-to-week basis.
"But fortunately we have the advantage of having a good network of TFI cattle buyers across the sourcing region, who will purchase feeder cattle for Iranda as well as the slaughter cattle requirements for Murray Bridge," he said.
"At times it may mean we have to pull them from further away," he said, "But through that southeast area of South Australia and across the border into Victoria, there are a lot of good black cattle available. It's just something that will need to be worked on, to build those relationships," he said.
No figures have been disclosed in relation to the cost of Iranda expansion project, but using a 'rule of thumb' industry figure of around $850/beast area for feedlot development like this, the project is likely to have left little change out of $10 million.
Appointed feedlot operations manager late last year as part of the new expansion was Tom Green, who spent the previous five years working at the Teys Jindalee feedlot near Temora NSW.