A SMALL, but well-designed and equipped commercial feedlot on Queensland's southern Darling Downs has sold for a price slightly above $4.5 million, in another indication of the focus on grainfed production systems in Australia at present.
The 2280 Standard Cattle Unit Glen Gowrie feedlot near Allora was marketed under an expressions of interest campaign by CBRE.
The asset attracted strong interest, with 15 inspections from a variety of sources, Beef Central was told. Operators of other local feedlots was one source of investor interest – indeed the successful buyer, Cliff Shelley, owns and operates the Freestone feedlot not that far away near Warwick.
Other interest came from cattle producers, both NSW and Queensland based, looking to diversify and vertically-integrate their operations; and still further inspection inquiry came from local southern downs farmers interested in the property's cultivation and irrigation potential.
Despite the general decline in national cattle herd and rates of slaughter over the past two years due to drought, numbers of cattle on feed across Australia have never been higher, reaching just short of one million head in the March quarter.
Another large feedlot not far from Glen Gowrie sold recently, when Gina Rinehart bought the 8800 head Maydan feedlot outside Warwick for a reported $22 million.
The Glen Gowrie feedlot was developed from scratch in 2009 by North Queensland beef producers Robyn and Benn Brown, as a finishing and drought mitigation tool for cattle bred on their Hughenden district breeding property, Bogunda. Prior to its construction, the Browns were regular users of custom-feeding services on the downs.
In the past the feedlot finished up to 2500 head of Bogunda cattle per year for the Brown family, mostly under 100-day programs, but also including adding weight to cull cows. Over the past eight years the feedlot has also provided custom-feeding services intermittently for other cattle producers, with clients stretching from Julia Creek and Winton to Cunnamulla, Roma, Hughenden and Rockhampton. Recent drought in the Hughenden area has limited supply from the Browns' own breeding herd.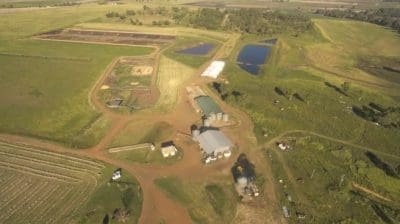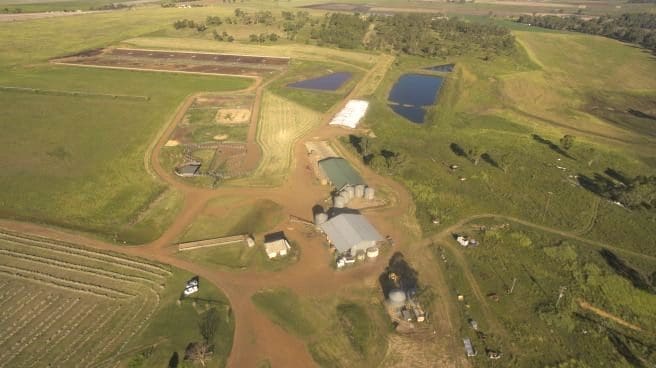 The feedlot and surrounding 350ha of country, features irrigated and dryland cropping areas, as well as a secure and reliable water allocation.
The feedlot infrastructure is first-class in its design and construction, and the property included a three-bedroom homestead overlooking the Condamine River. Additional improvements include a two-bedroom cottage, work sheds, weigh-bridge, grain silos and grain storage.
CBRE's Simon Cudmore, who managed the sale process with colleague Thomas Warriner, said the property's sought-after position underpinned strong buyer interest.
"This property was strongly contested during the sale process, with five formal expressions of interest and three groups vying to secure it during the final, second round of offers," Mr Cudmore said.
He said the incoming purchaser had a strong track record within the feedlot industry, with the Glen Gowrie property would complement his existing operations.
Glen Gowrie is located in close proximity to major meat processing facilities and the Darling Downs grain belt. The property offers future growth opportunities, including further development of dryland areas to centre pivot irrigation, as well as expansion of the feedlot and acquisition of neighbouring properties to increase the footprint. The cultivation has previously grown oats, barley, lucerne, corn and wheat, mostly for silage for the feedlot.
The sale included ample on-farm water storage, with a 470ML water allocation for feedlot and irrigation purposes pumped from bore and river sources. The holding has a 4km frontage to the Condamine River.
The feedlot and yards are connected to a gravity-fed water tank. The yards facility adjoins the feedlot via a laneway system and contains a pneumatic lane draft, covered vet crush and scales, and numerous holding pens with connected water.
Last September, Beef Central reported a surge in feedlot property assets being placed on the market, as the cattle market hit its 2016 high-point. The sale trend, which started in 2015, followed a lengthy period when very few feedlot assets changed hands across eastern Australia.