CALL IT coincidence, response to rising farmland prices, or strategic marketing decisions at the high-point in the slaughter cattle market, but it's extremely rare to see four substantial Australian commercial feedyards on the market at the same time.
That's happening this month, with marketing agency Colliers International listing four substantial commercial yards across three states, with total feeding capacity of more than about 32,000 head. Two are located in Queensland, one in NSW, and one in South Australia.
Coincidentally, all four yards are fairly similar in size, ranging from 5000 to 10,000 Standard Cattle Units.
Circumstances leading to decisions to sell are different in each case, but as often occurs, family succession is playing a part in at least some of the listings.
Some of the feedlots on offer are part of substantial grain farming landholdings, while others are limited more specifically to the feedlot assets themselves, with only limited land-area.
While profitability in lotfeeding is currently not at its high-point in the cycle, investors looking at the assets so far were looking beyond the immediate profitability cycles to a long-term horizon, agency feedback told Beef Central.
"With the changing fortunes of the beef industry late in 2015 and through 2016, there has been an increased interest in investment in feedlots recently, driven not only by growing international beef demand but also the general uplift in the beef industry," one of the marketing agents involved said.
Beef Central has done a bit of digging to find out what's behind the trend, and the reasons for the sale listings:
Wanderribby Feedlot, Meningie, SA
Licensed 8000 head SCU
Wanderribby Feedlot was purchased by the Gunner family in 1990, and has been one of the foundations of the family's successful vertically-integrated beef business.
Perry Gunner, who is now winding back his cattle industry activities, and son Richard control a supply chain starting from seedstock and commercial cattle production to lotfeeding, the award-winning Coorong Angus Beef brand, and a successful wholesale/retail meat operation trading in several states as Richard Gunner Fine Meats.
The feedlot itself is surrounded by 2700ha of quality grazing land, located south of the Coorong Lakes near the township of Meningie in South Australia.
The yard is located in an area of abundant grain and cattle supply, with favourable climatic conditions for feedlot operations. About 1000ha of country is established to lucerne, with a similar area of native and improved pasture.
Wanderribby has quality operating infrastructure and is licenced to feed 8000 Standard Cattle Units. The yard has fed cattle for a range of large clients and feeding regimes including EU, domestic grainfed, 100-day Jap Ox and CAAB, for more than 20 years.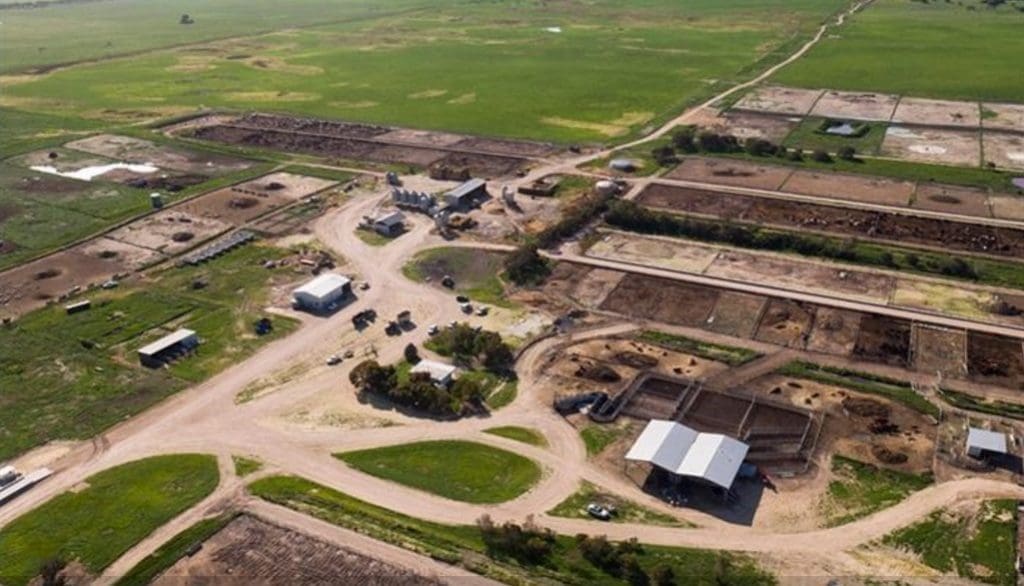 "The facility has achieved MSA scores that put it in the top 5pc of performers within the nations' feedlot operators, and we're excited at the prospect of presenting such a highly regarded feedlot facility with substantial and high quality land assets to the market during a period of significant international interest in the Australian beef industry," Colliers' Tim Altschwager said.
He said the yard had expansion potential, was close to major meat processing facilities at Murray Bridge and Naracoorte, and sat in a large catchment area for high quality cattle coming out of the South East of SA and Victoria's Western District.
"There is a significant trend towards higher slaughter weights in Australia to increase beef output and one of the best ways the Australian industry is going to keep up with the demand is to put greater numbers of cattle through feedlots," he said.
Colliers' Jesse Manuel and Tim Altschwager are handling the sale, listed under expressions of interest.
Vandyke feedlot, Springsure QLD
Licensed 8640 head SCU
The Iker family has decided to sell their Vandyke feedlot and surrounding farming grazing country near Springsure in Central Queensland.
The feedlot infrastructure is modern and efficient, by typical feedlot standards, having been built as a greenfield site about ten years ago. Bunks are all slipform concrete and there is a large well-equipped commodities and ration preparation shed, weighbridge and office complex, and effluent management system.
The vendors have other grazing assets around Springsure, and primarily use the feedlot to finish their own cattle. The yard, located on the all-weather bitumen Dawson Development road 25km from town, has fed for supermarket contracts for many years.
An area of about 300ha is currently cultivated, with further farming potential, and the asset includes irrigation and intensive stock water licenses for extracting up to 125ML from six bores, and an 8ML dam. There are also two proposed dam sites equating to 70ML of additional storage.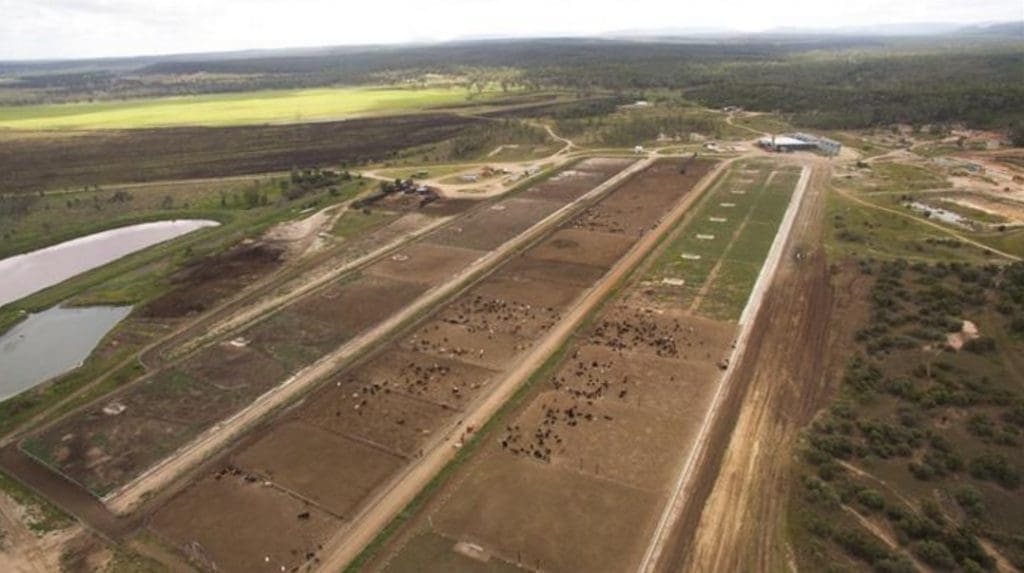 The asset includes 2230ha of surrounding farming and grazing country, a mix of creek flats for cultivation, flooded coolibah country, pulled brigalow scrub country and forest ridges.
The yard has wound-back numbers on feed recently in anticipation of an earlier 'off-market' sale deal to a local grazier, which ultimately did not go ahead – hence the decision to put the asset to market now.
Vandyke would make an ideal "bullock paddock alternative" for a substantial cattle breeder looking to expand finishing capacity in a safe, well-located area, with access to a number of Central and southern Queensland beef plants.
Interstate investment interest has also been shown in the asset, from stakeholders sizing-up feedlot infrastructure in different states, for geographic and climatic spread.
Colliers' Ben Forrest is handling the sale, by expressions of interest closing 24 October.
Kia Ora feedlot, Walgett, NSW
Built capacity for 5000 head, potential for 10,000 with approvals
The Kia Ora feedlot is part of a large 17,300ha grazing and farming aggregation near Walgett in Central NSW, owned and operated by the Swain family, who are now in family succession.
Up to 4500ha of the open blacksoil plains are cultivated on the Narran lakebed, mostly to winter barley with the remaining 29,800ha for grazing, mostly Mitchell grass, giving a carrying capacity of around 1500 head.
The feedyard itself, located on a red ridge for good drainage, has fed a mix of domestic and export cattle, including regular weekly supermarket supply contracts. The site is built for 5000 head capacity, and includes 26 pens, mostly around 200 head each with a couple larger; feed mill complex using two 30-inch roller mills; five 200-tonne grain storage silos and grain shed; weighbridge; hay shed and commodities shed; integrated steel yards including covered induction and processing area; and hospital and receival area.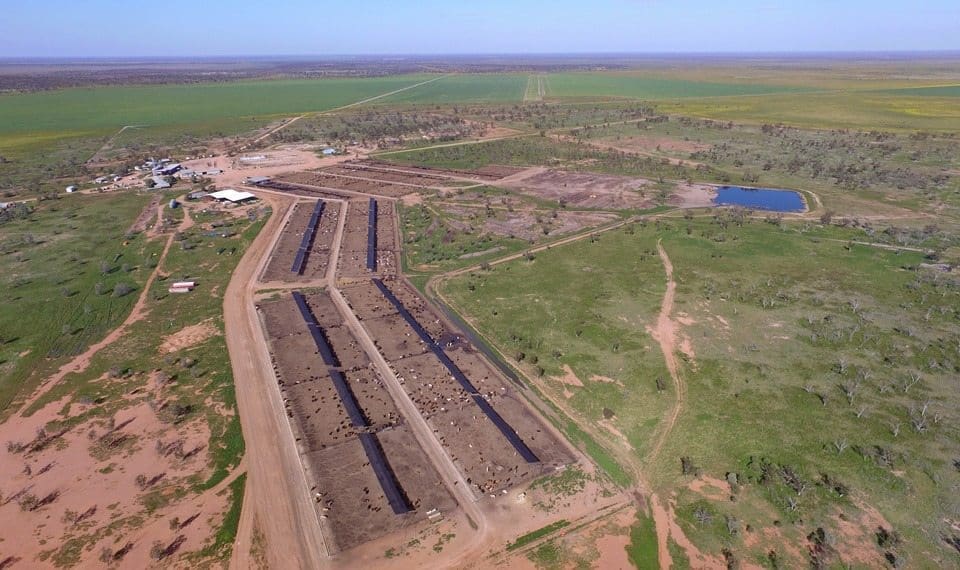 The holding has frontage to the Barwon River, pumping back to tanks and reticulated troughs in the feedlot and grazing paddocks. The water allocation of 130ML is assisted with annual carryover.
The Kia Ora asset has been on the market for some time, attracting mostly Chinese interest to this point, but not yet translating into a sale.
Drought over the past three years has been a limiting factor in interest, before the latest dramatic seasonal turnaround. The current winter cereal crop is described as 'phenomenal,' and the local area is also capable of growing sorghum in summer.
Colliers' Richard Royle is handling the listing.
Kimalo Feedlot, Dimbulah, Far North QLD
Capacity 10,000 head SCU
Kimalo was built as an ambitious greenfield feedlot site 12 years ago, funded principally by a wealthy European investor who focussed on emerging global agribusiness opportunities. The site stands as easily the most northerly feedlot in Queensland, on the dry edge of the fertile Atherton Tablelands.
The original vision was to use corn and silage from the nearby Atherton region to add weight to cattle out of the Gulf, Cape York and Far North Queensland for slaughter, either as grainfed or non-designated. The project failed within 12 months of establishment, but the facility itself was of a very high standard.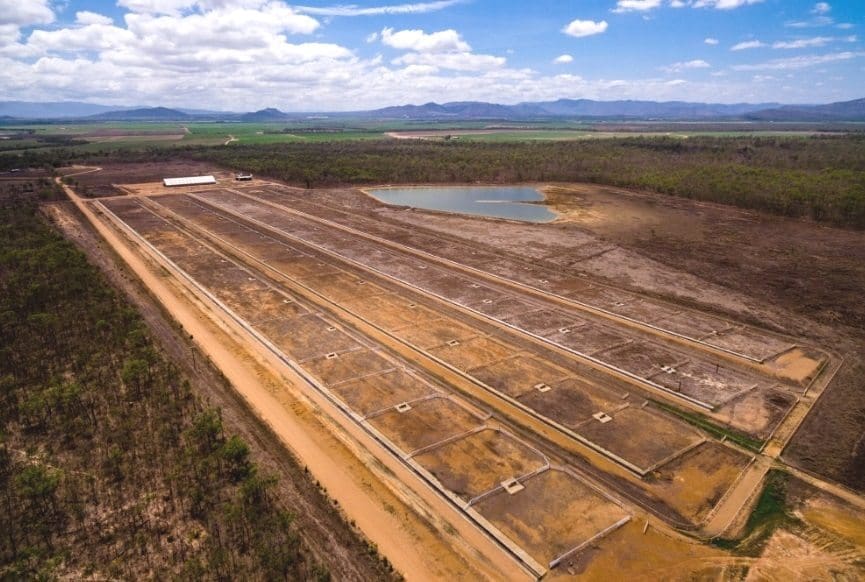 The yard was built to NFAS standards with a capacity for 10,000 head, with 64 feeding pens and modern slipform bunks, but it has approvals for up to 20,000 head. The site includes extensive storage sheds, yards and cattle handling facilities, weighbridge, silage pits, extensive water storage and effluent ponds.  There is a water allocation for 150 ML.
The disused site and surrounding farming land was later sold to MSF Sugar, which converted the surrounding land to sugarcane production. MSF now wants to sell off the remaining feedlot infrastructure, and surrounding 220ha of land.
Beef Central understands the asset is currently under offer from an investor, and is likely to be 're-purposed' as a live export depot, possibly to link with the little-used Mourilyan live export port south of Cairns.
Colliers' Rawdon Briggs is managing the sale process.