See Bahasa Indonesia translation
94th Edition : September 2021.
Key Points
14,000 Brazilian bulls arrive safely in Vietnam in the last week of September.
Revitalised Darwin buffalo exports augur well for trade's future
Covid rates are improving across Asia but persistently high cattle prices in Australia continue to suppress the trade.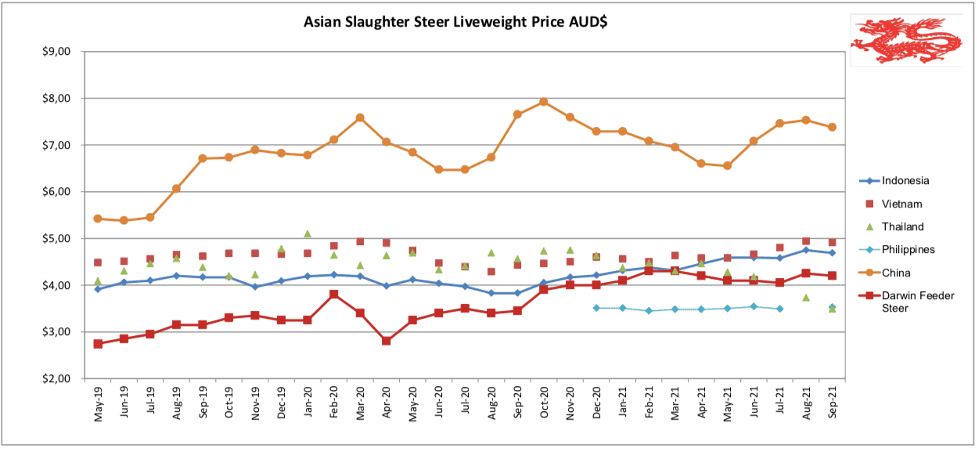 Indonesia : Slaughter Steers AUD $4.69/kg live weight (Rp10,450 = $1AUD)
Slaughter steer prices have eased slightly along with demand which has ensured that excessive numbers of overfat cattle remain in feedlots losing their importers even more money. The indicator rate for steers has slipped from Rp49,500 to 49,000 with a range of prices for steers from Rp48k to Rp52,000 per kg live. Fat cow prices ranged from Rp44,000 per kg live to Rp48,000 for the very best types.
With feeder cattle prices out of Australia likely to remain extremely high for the next six months at the very least, the only good news for Indonesian beef importers and consumers is that their pandemic situation is improving rapidly.
Daily case reports have fallen from around 50,000 per day in July to 2,000 per day at the end of September. While this might be partly associated with reduced testing numbers it is also likely to be influenced by the rapidly rising vaccination rates across the nation. At the end of September 40% of eligible Indonesians (over 12 years) had received their first dose while 23% had been double vaccinated. Supplies of vaccine appear to be reasonable so the fully vaccinated group should continue to expand quickly. Bali has been a special focus for the government vaccination program in order to get tourism back on its feet as quickly as possible. Vaccination rates across Bali are 75% with a single vaccination and 60% with a double shot. The government is already planning to open up the country to foreign travellers in the very near future and I am certainly planning to return to live in Bali at the end of December.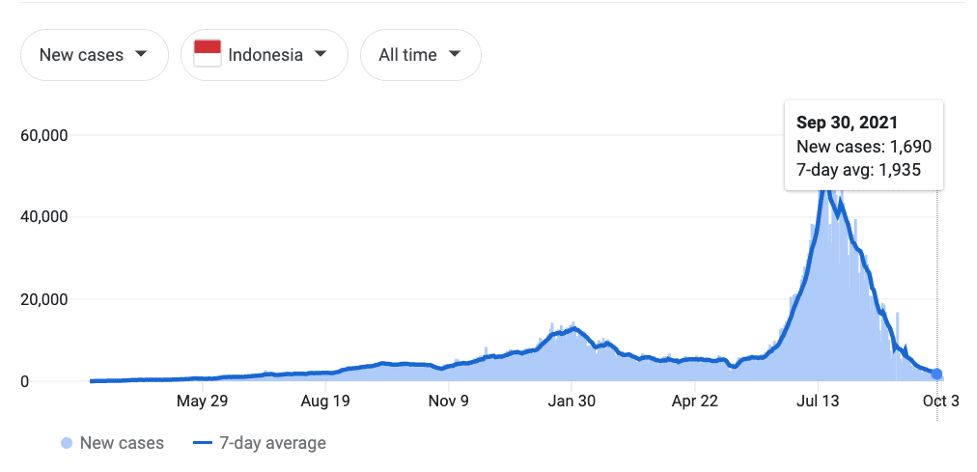 Johns Hopkins University statistics.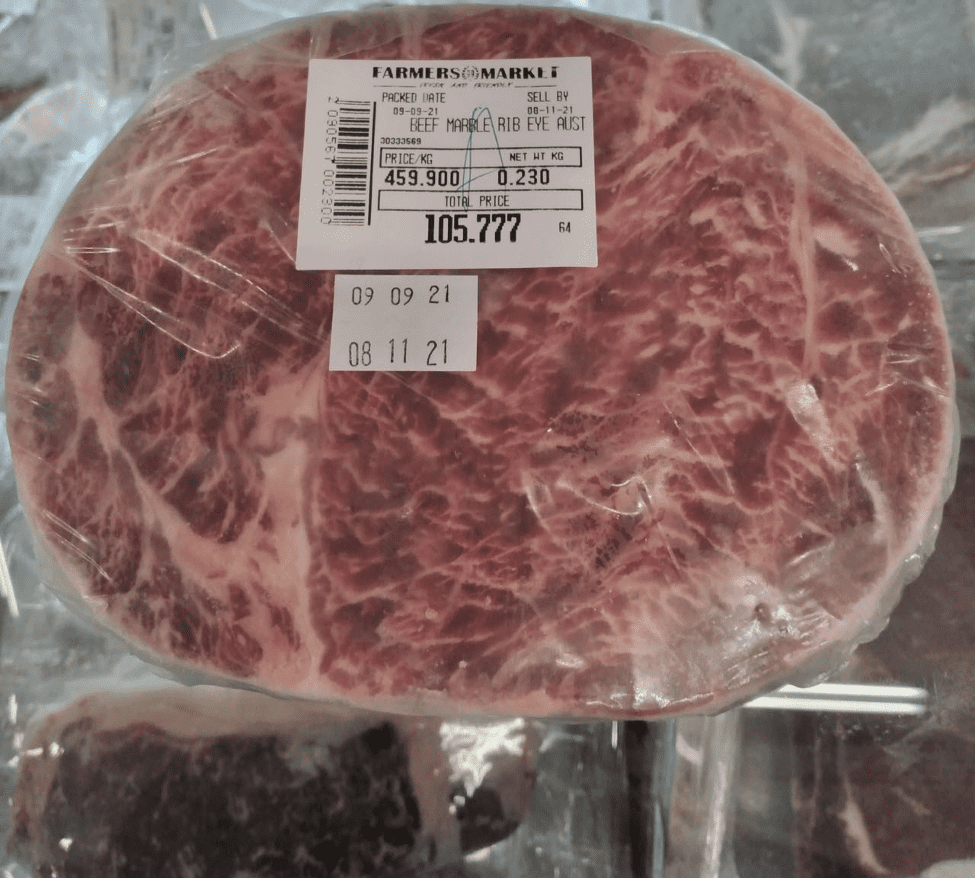 Frozen Australian rib eye selling for AUD$44.00 per kg. Not very appealing.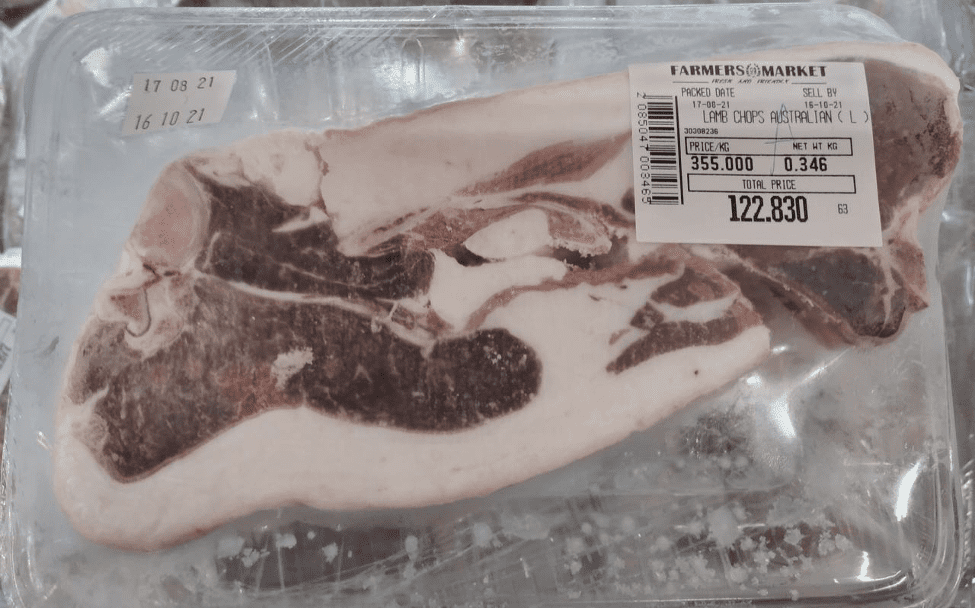 This photo is from the Farmers Market supermarket in Jakarta. Not very attractive frozen Australian lamb chops for AUD$33.90 per kg. No thanks.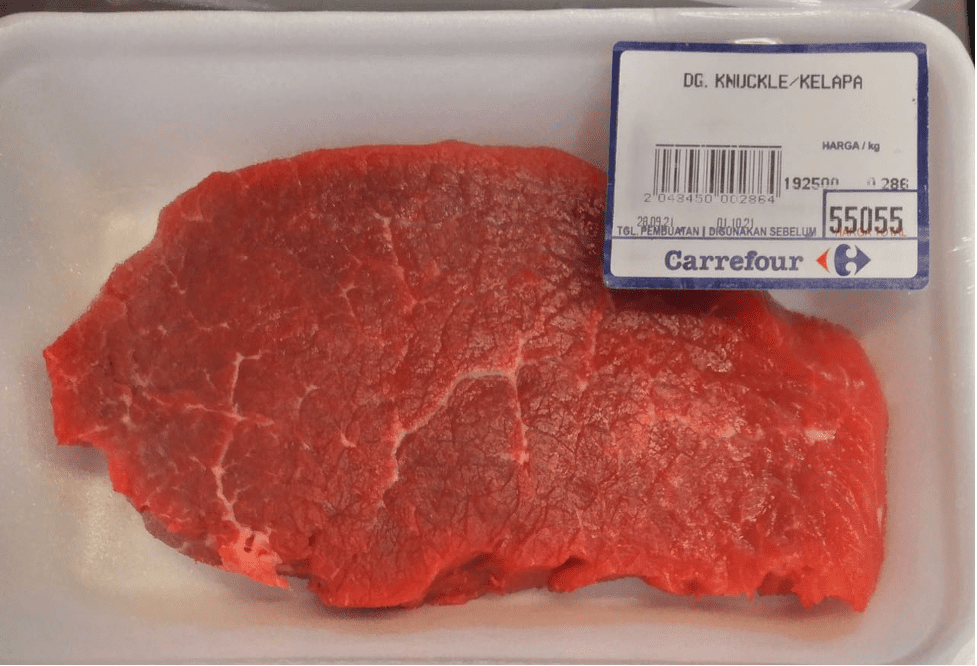 The fresh knuckle above is selling for AUD$18.42 per kg. The difference between the frozen products above and this fresh beef from Australian cattle fattened and slaughtered in Indonesia is enormous. Once you also consider that the locally slaughtered fresh product is selling for about half the price of frozen imports then there really is no competition.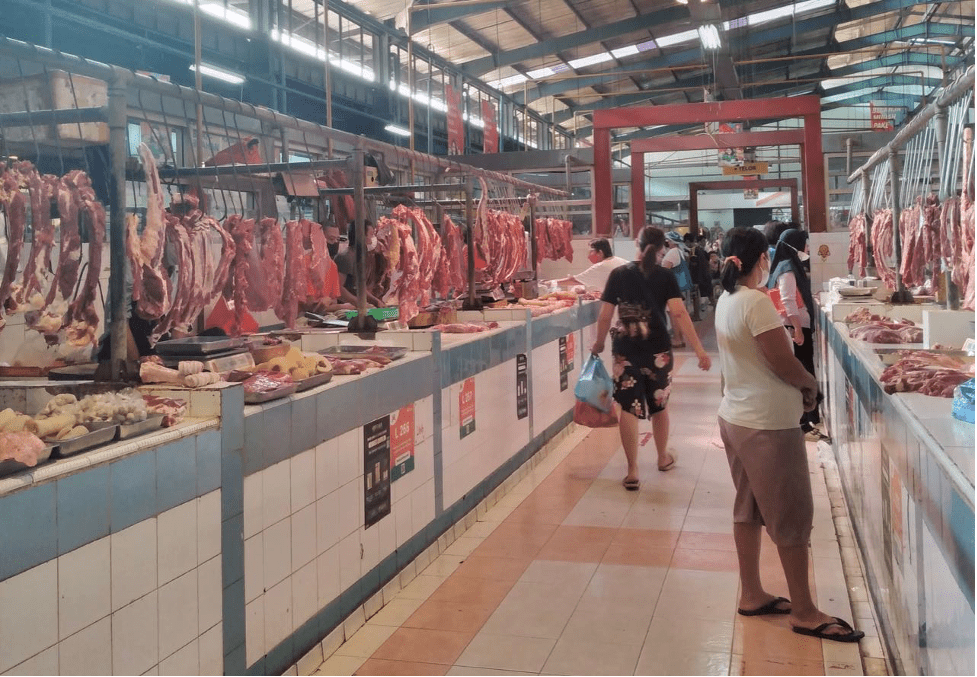 Then consider that if you buy the locally produced beef at this wet market the price is even lower. Knuckle sold here at the end of September for AUD$14.35 per kg. I would buy my meat here every time. The only qualification is that it is unsafe to store in the refrigerator so you must buy it in the morning and cook it  the same evening at the very latest.
My agent in Jakarta reports that they were once again unable to find any Indian buffalo meat (IBM) in the supermarkets they visited.
Another positive feature of the Indonesian trade was a recent importation of live feeder buffalo from Darwin. 1229 head were successfully shipped by Austrex, a Brisbane based exporter, during September with zero mortalities. Feeder buffalo (up to 400kg) prices in Darwin are in the order of $2.20 per kg live for bulls and $2.00 for heifers. Clearly a huge discount over feeder cattle at $4.20 for steers and $4.00 for heifers.
This result augers well for the future of this trade offering a sustainable business for buffalo producers and catchers in the Northern Territory as well as some pricing relief for importers. This price discount is not directly translated into the same level of profit as buffalo require a lot more space on ships due to the size of their horns so this adds quite a bit to their delivery cost. I have travelled with a number of shipments of buffalo. In my experience, feeder buffalo actually settle down even more quickly than feeder cattle once onboard the ship. They are very hardy, eat and drink well and are easy to care for.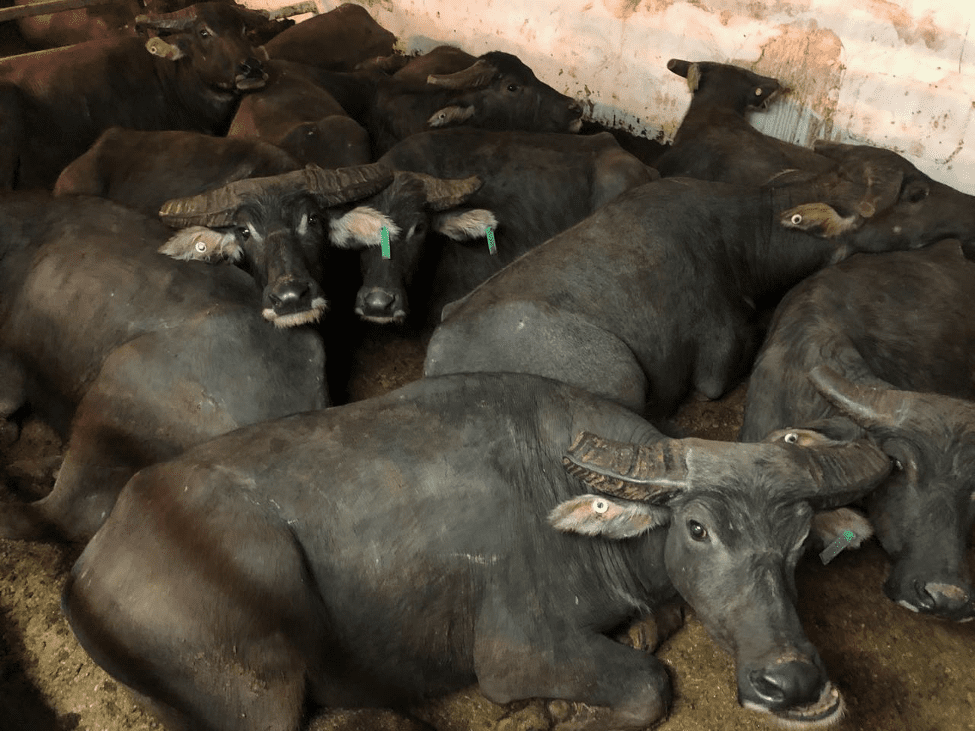 One of my photos from a shipment last year. After only a short time onboard they become so quite they will often try to lick your hand, presumably to get the salty sweat from your skin.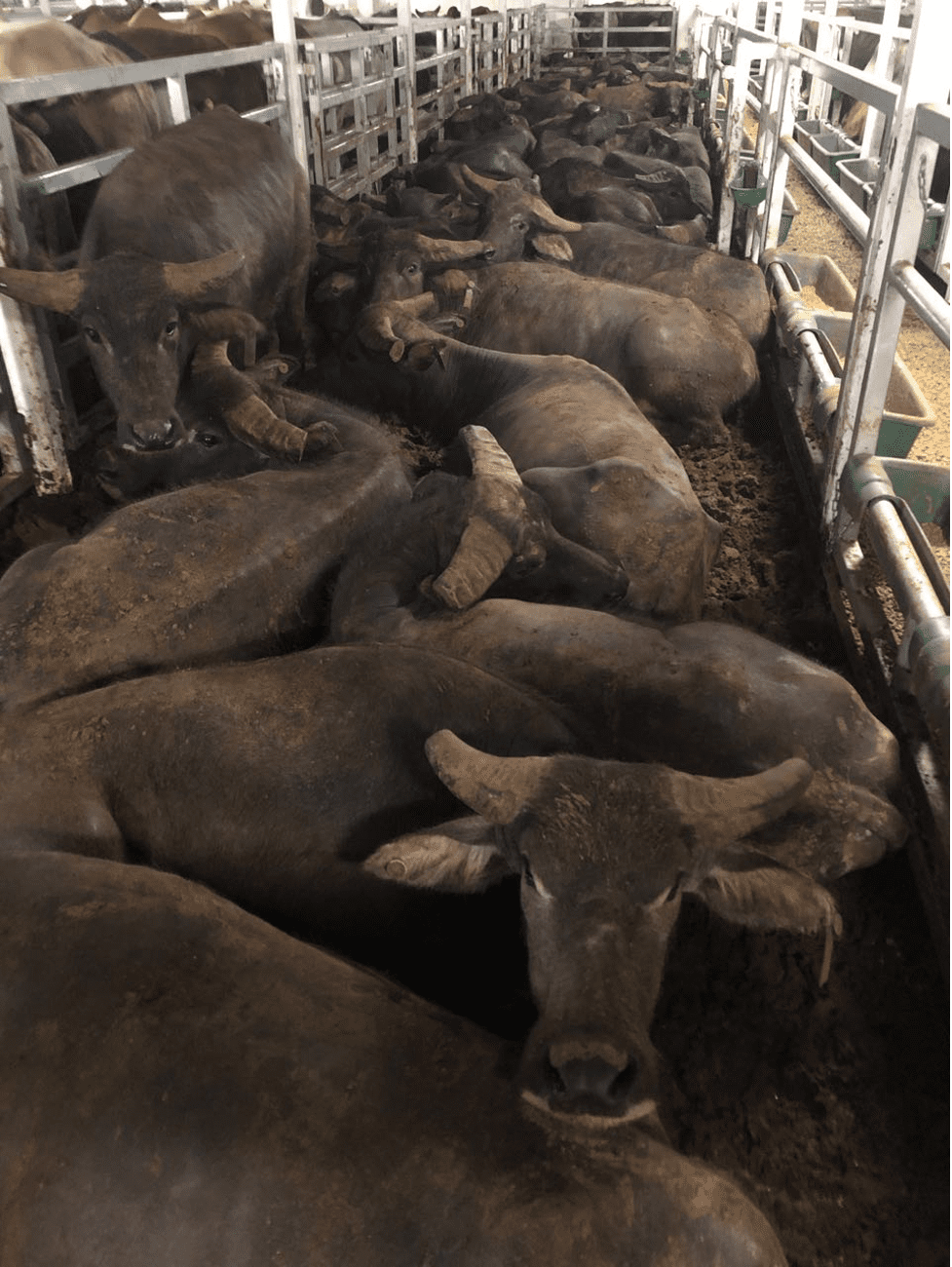 Buffalo get plenty of space and like to lay down a lot more than cattle. This photo is also one of mine from a voyage during 2020.
Official September export figures are not available yet but the numbers for August show a total of 32,300 head of feeder cattle were exported from Australia to Indonesia. 22,990 from Darwin, 3,047 from Broome and 6,290 from Wyndham. Year on year comparisons with 2020 indicate that this year's exports to Indonesia are about 25% down on last year.
Indonesia released permits for the importation of 20,000 tons of Brazilian beef earlier this year. While 12,355 tons has been ordered, only 6,915 has been delivered. I understand that further importations are on hold until the recent BSE cases in Brazil are thoroughly investigated.
The government of Indonesia is progressing its policy of increasing the national breeder herd through integration of cattle under oil palms in south Kalimantan. One of the most successful palm integration projects anywhere in Asia has been developed in this region and is ideally placed to transfer this proven management model to other palm plantations. The program is supported by the Indonesia Australia Red Meat Partnership which was established specifically for this type of project. I understand that Australian breeders will be imported early in 2022 to commence pilot projects on a number of plantations.
Darwin feeder steer prices remained steady during September with a rate of AUD$4.20 quoted for the end of the month although a small number of quotes were reported as high as $4.35. Considering that the mustering season is ending in the north of Australia and the first monsoonal rains are expected at any time, it seems likely that prices will stay at this historically high level until at least May 2022 when the mustering season is once again in full swing and feeder cattle numbers should be plentiful.
Vietnam: Slaughter Steers AUD $4.91 / kg (VND16,700 to $1AUD)
Slaughter rates remain the same at an average of Dong 82,000 per kg live weight for steers. Bulls are always a little more expensive at Dong 84k. The big news for September was of course the arrival of the Brazilian shipment of 14,000 bulls.  In expectation of this shipment the total exported from Townsville during September was zero. This followed a total for August imports of about 22,300 from a number of Australian ports. Considering that Brazilian cattle will be cheaper than similar Australian cattle for at least the next six months then imports from Australia are likely to continue to stay at very low levels well into 2022.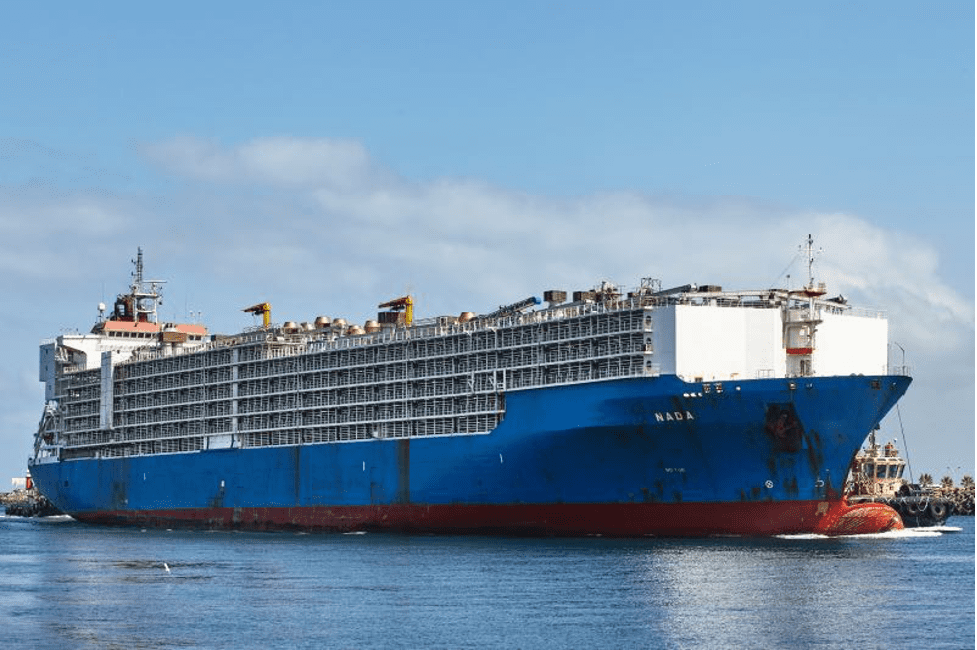 The MV Nada delivered its load of 14,000 Brazilian bulls during the last week of September. All reports suggest an extremely successful voyage.
 As with Indonesia, Vietnam has also experienced an encouraging improvement in its pandemic situation as shown in the Johns Hopkins University graph below.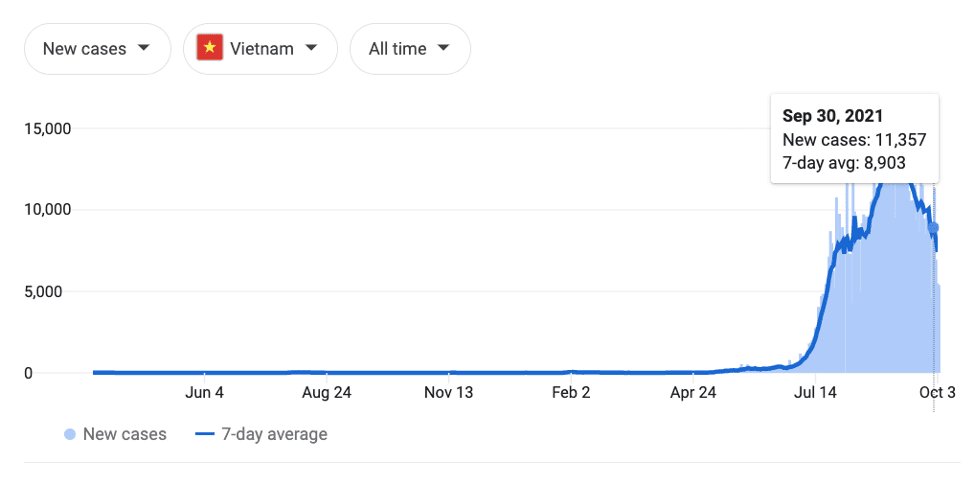 New cases down from a 15,000 per day at peak to 9000 at the end of September.
By contrast, the Lumpy Skin Disease (LSD) situation is showing no signs of slowing down with the disease raging across the country. In response, the government has imported a further 1.8 million doses of LSD vaccine to bring the total number of doses imported to 9 million. The map below shows how LSD moved from Africa to Europe in 2012 then began spreading through Asia during 2019.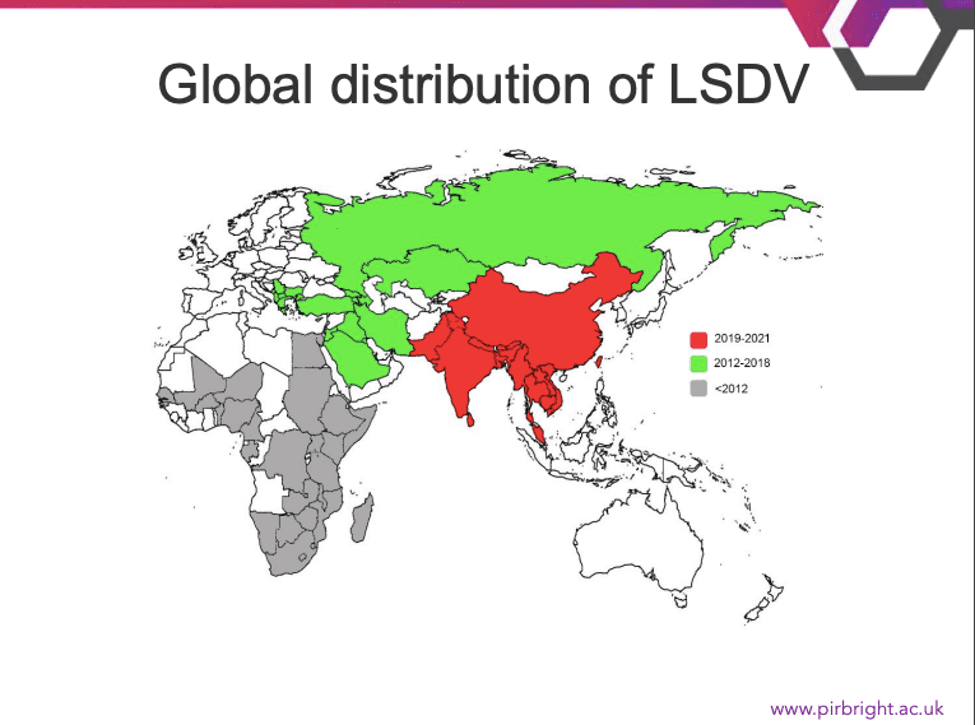 The FAO graph below shows how live pig prices have generally declined across China and S E Asia during the last 12 months as a result of the African Swine Fever (ASF) epidemic. In Vietnam, this price decline is most likely to be a result of high numbers of animals sent for emergency slaughter during eradication efforts.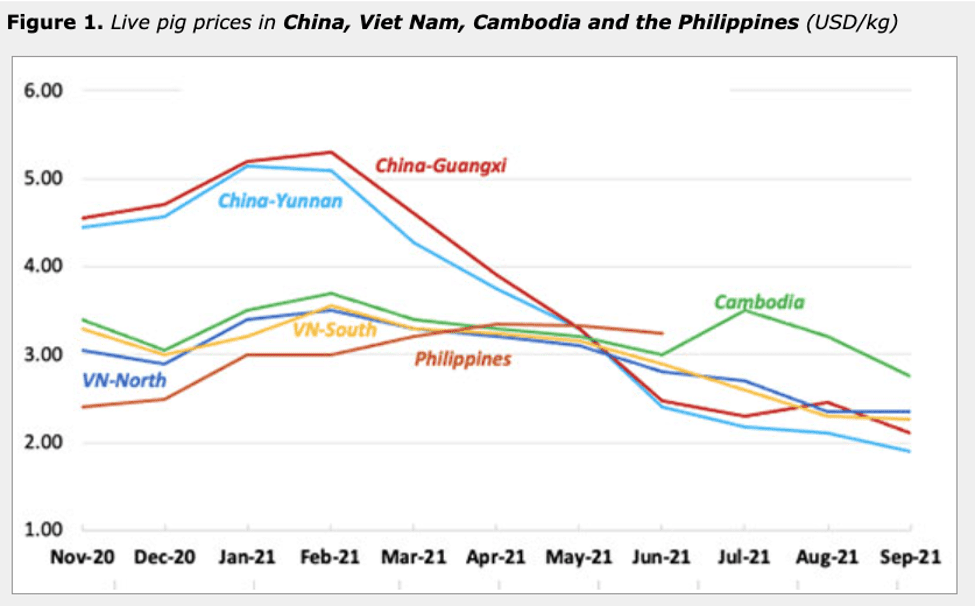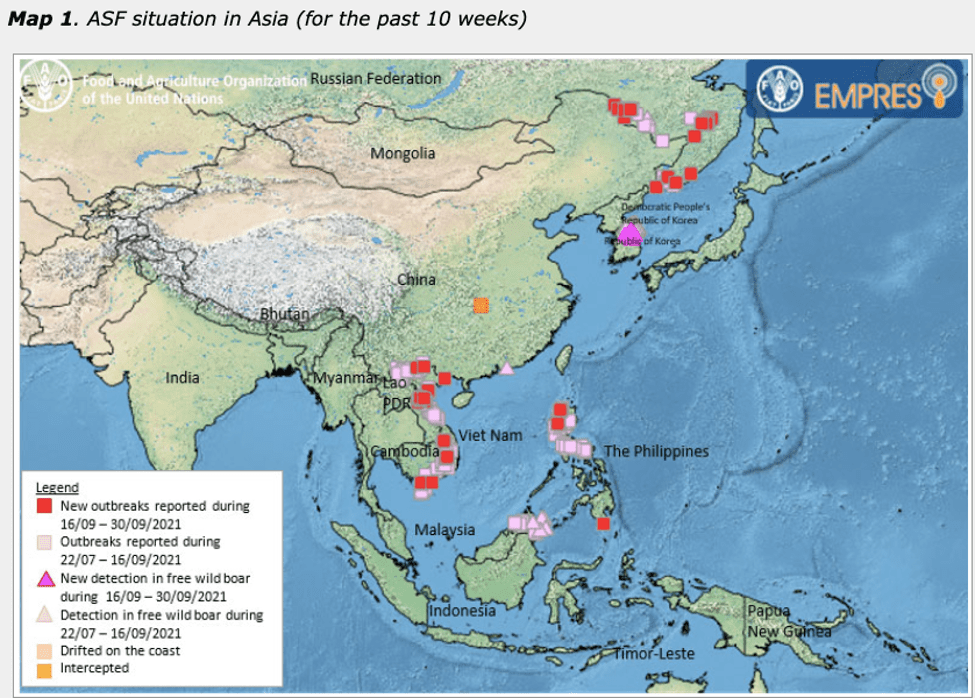 Plenty of new outbreaks across Vietnam during August and September.
My market reporter who lives in Ho Chi Minh city has just confirmed that the public is now permitted to leave home to personally shop at wet and supermarkets as of the 30th of September although she has advised that, for the moment, she will continue to shop online as a personal safety measure.
China: Slaughter Cattle AUD $7.38 / kg live weight (RMB 4.73 = AUD$)
Slaughter cattle prices have remained steady in Shanghai while declining a little in Beijing from Y35.6 to Y34.6 per kg live weight.
Brazilian frozen beef imports are still on hold pending the resolution of the Atypical BSE cases but it appears that Argentine frozen beef exports might be about to recommence.  My sources advise that as there is plenty of cheap pork in the market and that this has taken the edge off beef demand as Chinese generally choose pork as their most popular meat. Although they didn't appear to notice that the withdrawal of beef from Brazil or Argentina had any noticeable effect on the markets they follow.
The major news out of China this month has been associated with energy shortages and real estate collapses, neither of which will improve the capacity of consumers to buy expensive beef during the coming winter months so pork might capture even more of the market into the future.
US beef exports to China have increased to 83,000 tons during the first eight months of 2021, a year-on-year increase of 900% from 2020.
Philippines:  Slaughter Cattle AUD $3.53 / kg (Peso 36.8 to AUD$1)
My agent is back in action this month after a communications failure. As with most other parts of Asia, the pandemic impact is reducing although not as fast as in some other neighbouring countries. He reports that business is still feeling the pinch of the pandemic which is now compounded by higher fuel prices which always have a serious impact on the Philippine economy as they have no significant supplies of their own and must import everything at the mercy of the global market and exchange rates.
During August, the Philippines imported a small shipment of feeder cattle from Darwin which is quite an impressive feat considering the high Australian prices.
After finishing my week of hotel quarantine and testing in Manila I was required to leave the country as I had entered as a seaman rather than a tourist or normal visa holder. As it was very difficult to find a way to return to Australia and then have the prospect of spending another 2 weeks in hotel quarantine I decided to fly to the USA and visit my daughter and son in-law who are working there.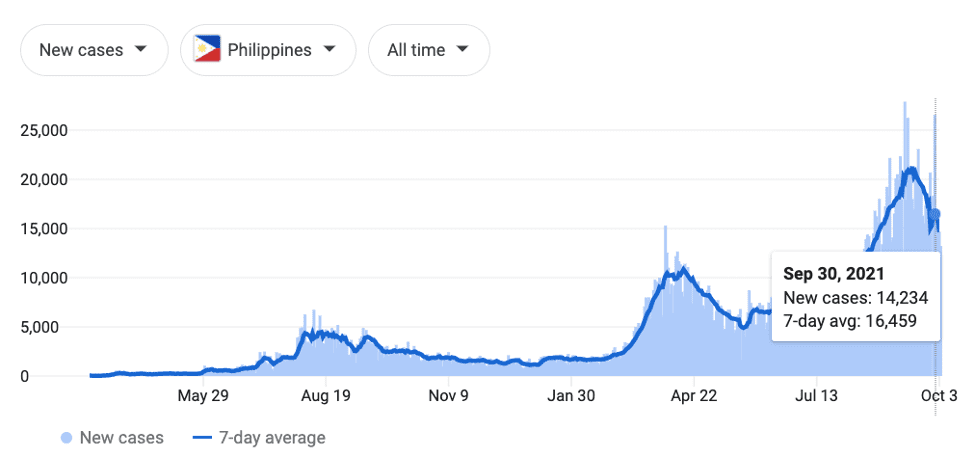 The pandemic situation is improving but only just.
Thailand: Slaughter Steers AUD $3.49 / kg (Baht 24.1 to $1AUD)
Slaughter cattle prices declined further during September as the pandemic continues to reduce efficient cattle and beef supply chain logistics and demand. Producers and lot feeders have expressed concern over the Brazilian shipment as it has the potential to reduce demand for live cattle exports from Thailand to Vietnam which, under non-pandemic conditions, are an important part of their normal fat cattle demand.
My agent advises that his movements are still restricted so he was unable to visit the wet markets this month.
Aussie exporters have been having some success looking for alternative markets to the usual Indonesian and Vietnamese destinations with another shipment of 2060 feeders during August from Broome to Thailand.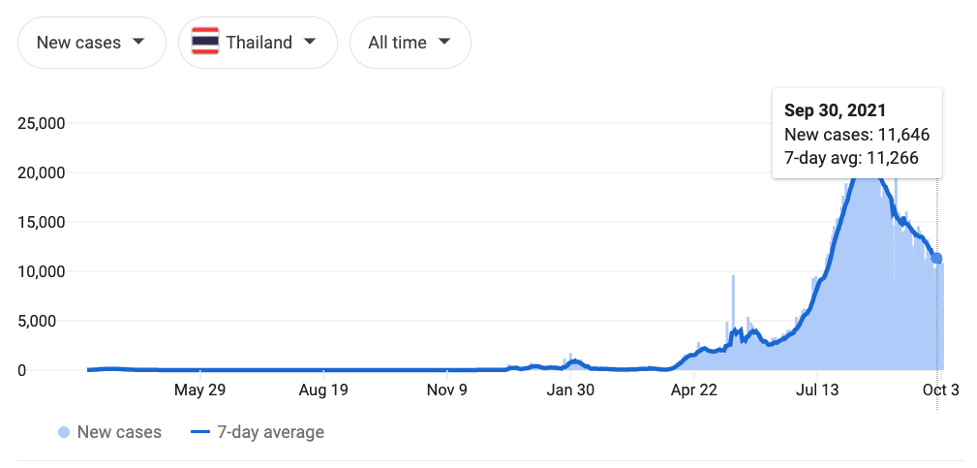 0
Down from a peak of 21,000 per day in August
Hi Y'all from Atlanta Georgia
I am currently in Atlanta staying with my son in-law who is working here for six months. Apart from being required to wear masks in shops, public transport and aircraft, life appears to be otherwise normal with only a very small number of people wearing masks outside. No lockdown, everything is open.
Unfortunately, almost everything costs more than it does in Australia in actual dollar terms so when that figure is converted to AUD using an exchange rate of 73 AUD cents to a USD then prices are generally very high. There are some exceptions however including the beef below which is not too far above Australian rates while the chicken is also very cheap.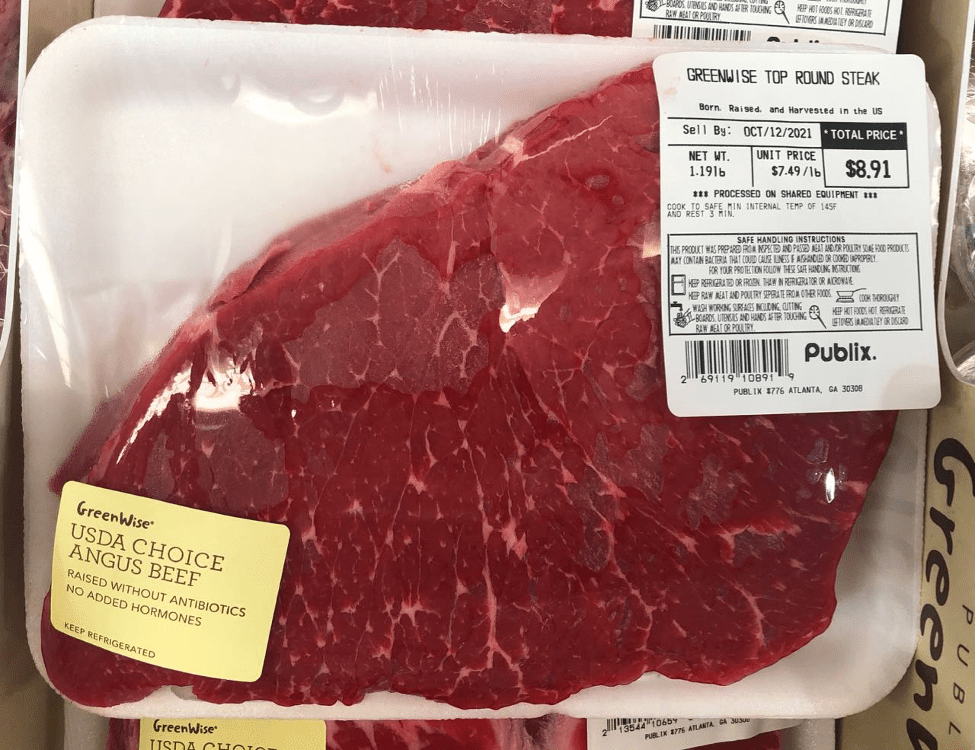 Knuckle in this major US supermarket chain is AUD$22.60 per kg. (using a conversion rate of AUD73cents) Jakarta supermarket knuckle is AUD$15.12 per kg.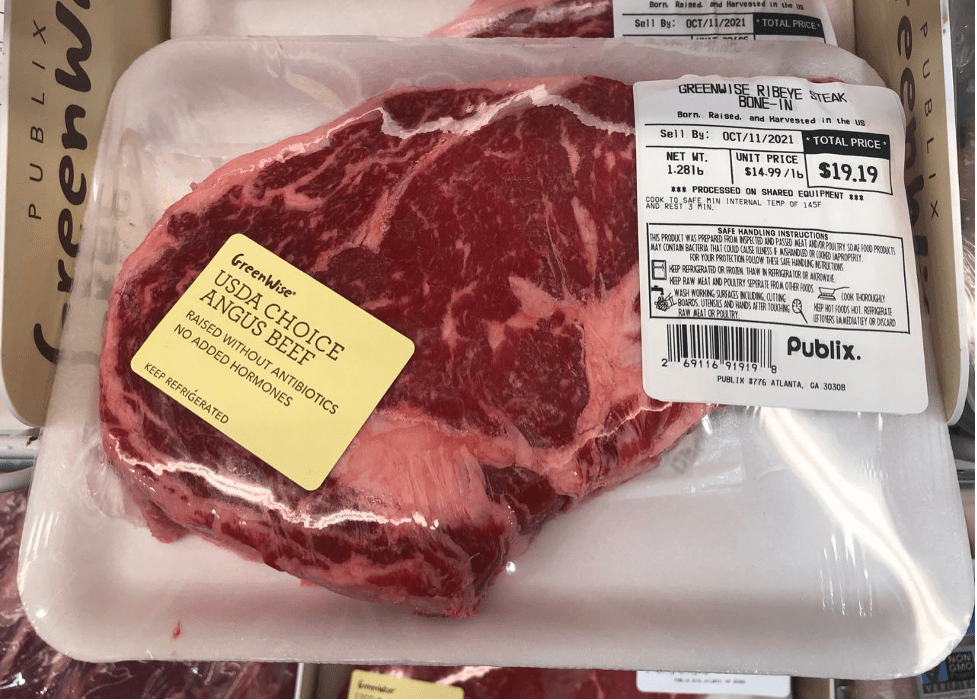 Choice grade Angus bone-in ribeye AUD$45.2. I have already tried this and it is excellent.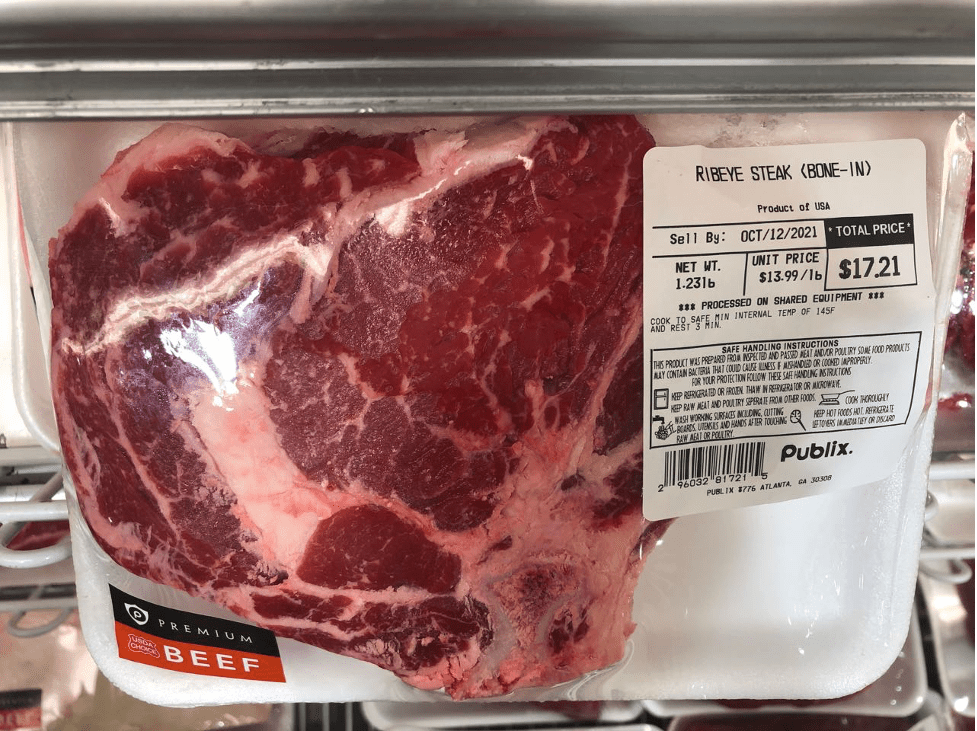 Premium grade ribeye bone-in AUD$42.21per kg.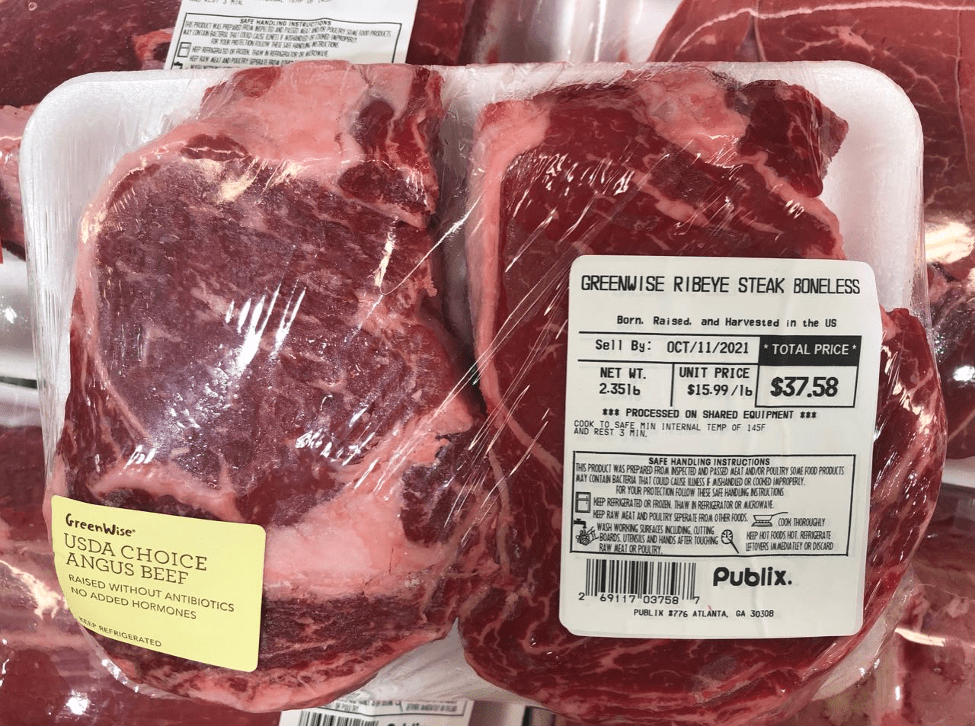 Boneless Angus choice ribeye AUD$48.25 per kg.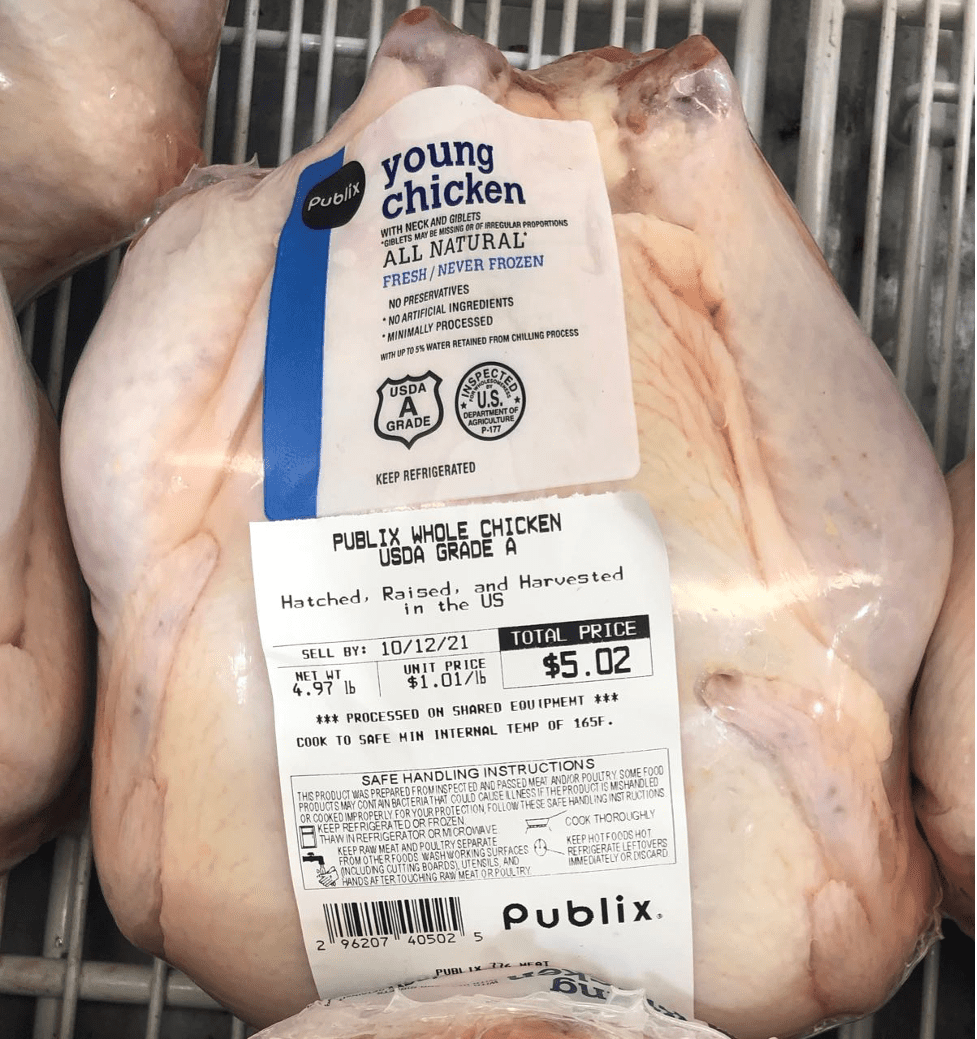 Very cheap fresh broiler chicken for AUD$3.05 per kg. Jakarta fresh chicken is AUD$3.44 per kg.

September 2021 prices
These figures are converted to AUD$ from their respective currencies which are changing every day so the actual prices here are corrupted slightly by constant foreign exchange fluctuations. The AUD$ figures presented below should be regarded as reliable trends rather than exact individual prices. Where possible the meat cut used for pricing in the wet and supermarket is Knuckle / Round.
Location
Date
Wet Market

AUD$/kg

Super market

$/kg

Broiler chicken

$/kg

Live Steer

Slaughter Wt

AUD$/kg

Indonesia
April 21
12.95
12.67 B7.14
4.02
4.46
Rp11,100
May 21
14.41
14.23 B8.55
3.60
4.59
Rp10,900
June 21
14.22
14.50 B7.80
3.67
4.59
Rp10,800
July 21
14.07
14.63 B11.11
3.52
4.58
Rp10,400
August 21
14.42
14.04
3.85
4.75
Rp10,450
Sept 21
14.35
15..12
3.44
4.69
Philippines
April 21
13.67
14.48
4.42
3.48
P37.1
May 21
13.75
14.56
4.72
3.50
P37.1
June 21
13.90
14.71
4.63
3.54
P37.2
July 21
13.71
14.52
3.63
3.49
P36.6
August 21
P36.8
Sept 21
13.86
14.67
3.26
3.53
Thailand
April 21
9.58
NA
2.92
4.46
THB 24.3
May 21
9.47
NA
2.88
4.28
THB 23.9
June 21
9.62
NA
2.93
4.18
THB 24.2
July 21
NA
NA
NA
3.72
THB 24.1
August 21
9.13
NA
3.11
3.73
THB 24.1
Sept 21
NA
NA
NA
3.49
Vietnam
April 21
17.32
17.54
4.47
4.58
D17,900
May 21
17.32
18.43
5.25
4.58
D17,900
June 21
17.61
18.75
4.60
4.66
D17,100
July 21
NA
16.32
6.43
4.80
D16,600
August 21
NA
18.37
6.63
4.94
D16,700
Sept 21
NA
21.08
6.59
4.91
China Beijing
April 21
17.10
18.29
3.54
6.52
Y4.95
May 21
16.57
18.59
3.60
6.46
Y4.86
June 21
16.38
16.87
3.62
7.12
Y4.81
July 21
15.80
17.05
3.61
7.52
Y4.70
August 21
16.60
19.70
3.74
7.57
Y4.73
Sept 21
16.87
20.00
3.72
7.32
Shanghai
April 21
17.89
22.66
3.54
6.68
Pork per kg
May 21
17.78
22.22
3.60
6.63
Beijing Y23.6
June 21
18.93
24.30
3.74
7.03
ShanghaiY23.6
July 21
19.75
24.53
3.83
7.40
August 21
20.60
24.68
3.91
7.49
Sept 21
20.42
24.10
3.85
7.44
Darwin Feeder Steer
June 19

$2.90

July 19

$3.00

August 19

$3.15

Sept 19

$3.15

October 19

$3.30

Nov 19

$3.35

Dec 19

$3.25

January 2020

$3.25

Feb 2020 $3.80
March 2020

$3.40

April 20

$2.80

May 20

$3.25

June 2020

$3.40

July 2020

$3.50

August 2020

$3.40

Sept 2020

$3.45

October 2020

$3.90

Nov 2020

$4.00

Dec 2020

$4.00

Jan 21

$4.10

Feb 21

$4.30

March 21

$4.30

April 21

$4.20

May 21

$4.10

June 21

$4.10

July 21

$4.05

August 21

$4.25

September 21

$4.20