THE level demand for crossbred cattle in Indonesia and Vietnam was a front-of-mind question for producers at the LIVEXchange 2019 conference in Townsville last week.
Producers often hear that crossbred and composite cattle are welcomed by customers in Indonesia or Vietnam, provided they retain Brahman content to handle the tropical conditions.
However, during a panel session focusing on in-market insights, Northern Territory cattle producer David Warriner commented on the difficulty he had recently experienced trying to sell crossbred cattle to live export buyers.
"We're hearing the importers in the market really want them but it is certainly difficult.
"I just had 1000 heifers, Droughtmaster sort of heifers, and it took me about three months to move them.
"I don't know what happened, but there seems to be a disconnect between the consumer, the importer and the exporter."
Northern cattle producer Dan Lynch agreed that "the market signals are not getting back".
"It is obvious, and it is not only in Australian feedlots but the well run South East Asian feedlots, that composite cattle are going to do marginally, if not more than marginally, better in growth rates than our Brahman animals.
"The customers want them, that is the customers at the retail level, the feedlotters want them, but the exporters are not giving us those signals," he said.
Mr Lynch said producers were not necessarily expecting a premium but would produce more crossbred or composite cattle if it was clear there was demand for them, and improved their ability to sell cattle during periods of adequate supply.
"There is no such thing as a premium but all we'd like is the demand for them and then there would be the signal then to supply them, but we're not getting those signals as David just said," Mr Lynch said.
"If it gets to the point where they're worth a few cents a kilogram then of course we would swap as producers to producing a crossbred animal, and in northern Australia you can, quite successfully, provided you don't go over 50 percent (non-Brahman content).
"A crossbred animal will survive in northern Australia, there is no problem with that, even in that tough Katherine environment and above."
Cattle exporter Tony Gooden from Frontier International explained that importers in South East Asia have to balance the feedlot performance of the type of cattle they import, based on average daily weight gain and feed conversation ratios, with what their customers want.
"They are selling cattle to the butcher or slaughter abattoir on a liveweight basis, so the feedback they get from their butcher customers is that they want an animal that is reasonably fine boned that is going to yield well.
"That is the secret for them, the beef yield compared to bone, skin, offal ratio.
"I know for producers obviously fertility is a key driver for their profitability, so therefore anecdotally some crosses perform better on fertility, but the customer ultimately, the overwhelming demand that we experience, is for a high grade content cattle, high content preferably Brahman with some Euro cross, which produces a lean carcase, not too big framed, and relatively thin skinned.
"I am not sure that the market signals are being confused by the exporter, the market is the market, the importers demand what they want and it is up to us as exporters to supply what they want.
"When we're buying cattle and we're doing a shipment just about every week overwhelmingly the safest animal is a high grade, high content bos Indicus animal with a fair bit of content that can handle those hot, humid conditions.
"Now it varies from customer to customer, and area to area, but overwhelmingly that is the core demand that we have."
Panel moderator Greg Pankhurst, who has been feeding cattle in Indonesia for more than 20 years, said demand for crossbred cattle varied between Indonesian or Vietnamese feedlots based on time of year, what they were feeding and where they were located.
Feedlots in humid locations were more likely to want high content bos indicus cattle while feedlots located in less humid areas happy to take crossbreds.
Indonesian customers seeking smaller animal
Asked specifically what customers in Indonesia are seeking, panellist Brooke Barkla from CPC's Juang Jaya feedlot near Lampung said customers in Indonesia had moved towards a smaller animal out of the feedlot, typically 480-520kg (which compares to a desired weight of about 550kg in Vietnam, which import slaughter-weight cattle).
Ms Barkla said composite cattle were also coming through.
"We're seeing higher weight-gain animals, higher carcase yield, which is really what our customers want, high carcase yield and lean as well without putting too much fat on.
"Crossbred and composite cattle, as long as they have enough Brahman content in them, are very welcome in Indonesia."
Feedback to live export producers
Discussion also turned to whether feedlots and abattoirs in Indonesia are tracking data on cattle, and whether that feedback can be delivered back to producers in a way that is useful for their own breeding and management programs.
Ms Barkla said average daily weight gains of steers from the same station could vary from 1.4kg per day to 2kg per day.
"It is something I have worked a lot on over the last three years to try and trace that back, and I am sure all of the feedlots in Indonesia and probably Vietnam as well will know which cattle they are going to get better performance out of and where they're from," she explained.
"As far as getting that back to the producer, that is probably something we could work more on, but ensuring that at the same time we're working with the importers to make sure they get benefit out of sharing that data as well."
Dan Lynch said traceability systems now in place supported the provision of better feedback to producers.
"With the standard of traceability now, providing the feedlot has some physical presence from the exporter here, I don't see why the data couldn't be collected and then given back to producers," he said.
"Getting feedback, it could be done, but we would need a physical presence in most of these feedlot facilities to get that data, because it is difficult to get accurate data unless you have a presence there."
MLA managing director Jason Strong noted at the end of the forum that finding ways to improve performance feedback to producers on cattle sold into live export was an ongoing question for industry support programs.
Feedback and carcase information was something producers now expect on cattle they sell over the hooks in Australia, but don't have that same connection to the supply chain through live exports, which is Australia's fourth largest export market.
"If we are trying to solve the feedback or supply and demand question, think of all the work we have done over the last 30 or 40 years through Ausmeat feedback trials, through MSA trials, through yield trials, quality trials, consumer work," he said.
"We have got all the basic information which would allow us to say from everything we know about everything we do with the other 90 percent of our sales, this could be constructive about the sorts of things that might help us on the live export side.
"We don't currently have the connections through the system and that is something we're working on with over the next round of identification and verification systems, but these are the sorts of things that have to come out of our research program discussions about what can we leverage of the investments we have already made to add value to the export program."
'I have seen quality of cattle improve dramatically'
In other snapshots from the panel session, Greg Pankhurst observed how much has changed in his time in Indonesia.
"I have seen quality of cattle improve dramatically," he said. "Quality of facilities has improved dramatically and with improved facilities comes improved cattle comfort.
"And that is what we're all about, because happy cattle, comfortable cattle, are profitable cattle."
Mr Pankhurst said in his time in Indonesia, average daily weight gains in imported cattle in Indonesia have risen from 0.9kg per day in the 1990s to up to 2kg per day now.
"We're seeing a weight gain difference because of genetics, because of facilities, because of feeding, gone from 0.9 to 2kg per day, and you talk about 100 days.
"That is putting an extra 100kg of weight on an animal."
Dan Lynch said he was surprised by the "very high standard" of abattoirs he saw during a trip to Vietnam earlier this year.
"They were quite successfully value adding the product from those kill facilities," he said.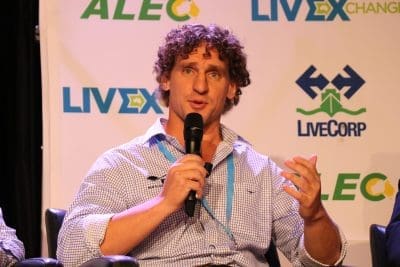 "That to me was very encouraging, they obviously have an extensive wet market but they could value-add produce, so therefore we have got the potential to value add and sell a higher priced product."
MLA's livestock export manager in South East Asia, Michael Patching, urged industry members to take a "whole of supply chain" approach when dealing with South East Asia.
"These markets are changing rapidly and there are opportunities throughout the supply chain, but we need to have a full supply chain approach," he said.
"For producers it is understanding you are one element of the supply chain but you are an important element of the supply chain."