THERE is an old saying that the value of a beast is 90 percent nutrition and 10 percent genetics.
Results from Cohort Four of the Angus Sire Benchmarking Program (ASBP) would challenge that assertion.
In this program, about 35 young Angus bulls are used by AI in commercial herds each year and the steer progeny are then backgrounded together before being fed for 100 days in the Tullimba Research Feedlot at Armidale, where feedlot performance including Net Feed Efficiency is measured.
The steers are then fed for a further 200 days at the Rangers Valley feedlot before slaughter at John Dee Abattoirs near Warwick, where extensive carcase measurements are undertaken including laboratory measurement of tenderness, moisture loss and intramuscular fat percentage.
All carcases are Meat Standards Australia graded.
Each young sire is randomly mated to the available females in each progeny test herd and adjustments are made for variation in the number of steer progeny in each herd. The steers are then treated as a single mob during backgrounding and lotfeeding and all slaughtered on the same day, so the differences in measured carcase traits are due entirely to genetic differences between the sires.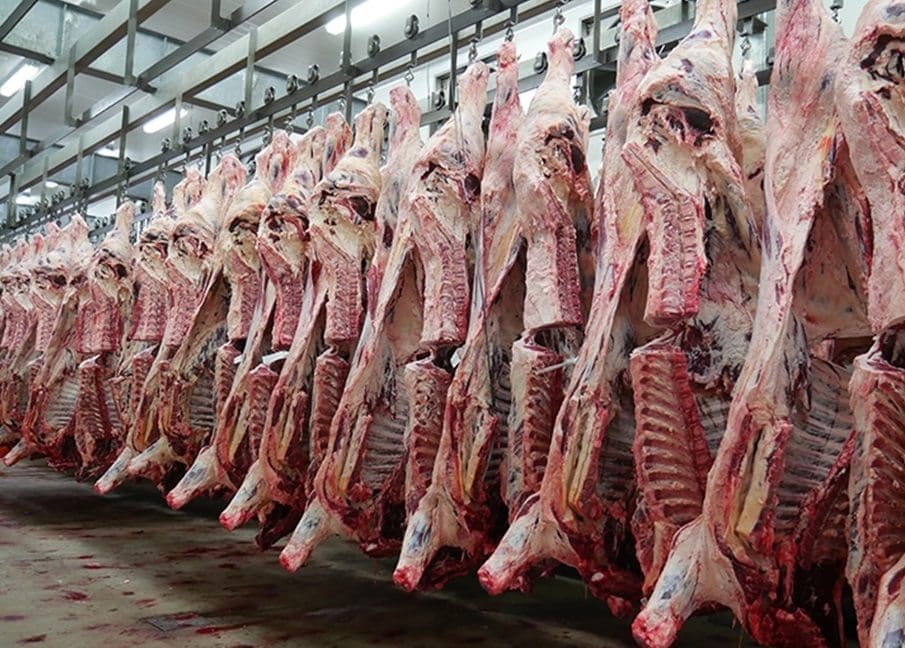 In Cohort four, only 21 young sires were used, but the variation between the average value of progeny of the best and worst performing sires in Cohort four was $619.
On an individual carcase basis, the difference between the highest and lowest valued carcase was $2076.
The progeny average carcase values were derived by applying current day industry based parameters to each of the 283 steer carcases from Cohort 4 of the ASBP. The parameters are based on a general long-fed production system (200+ days) with the aim of producing and selling high quality Angus beef products. The specific parameters applied were:
$8/kg carcase weight for a AusMeat marbling score 3 carcase
Add 40c/kg carcase weight per Ausmeat marbling score above 3.
subtract 80c/kg carcase weight per Ausmeat marbling score below 3
Subtract 10c/kg carcase weight if >25 mm but less than 30 mm p8 (i.e rump) fat
Subtract 15c/kg carcase weight if 30 mm of p8 (i.e rump) fat or greater
Additionally, progeny average values, including Carcase Value ($), are calculated using a least squares means (LSM) model, which takes into account herd and other contemporary group effects.
As expected, the sires with the highest carcase value progeny averages had progeny with higher carcase weights, coupled with higher marbling scores and rump fat in the optimum range. For example, the sire ranked first with a carcase value progeny average of $3511 had an average carcase weight of 423kg, an average MSA Marbling Score of 581 and an average Rump Fat of 15.4 mm.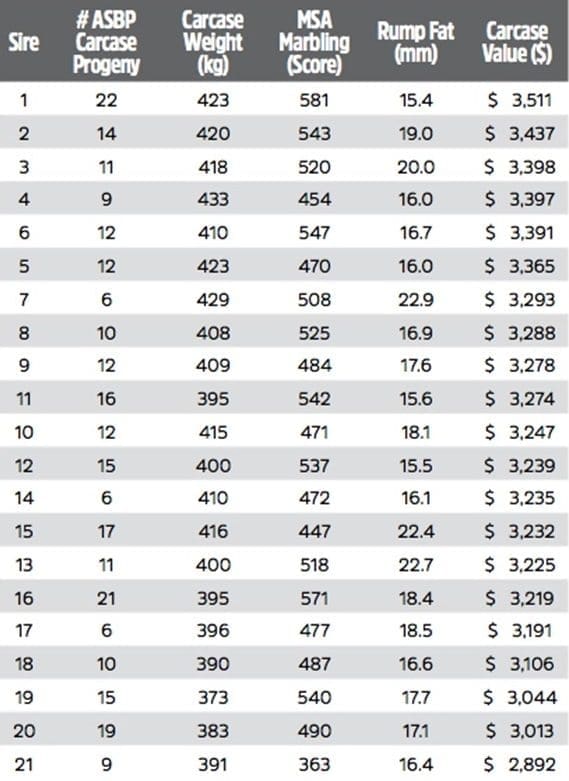 Table 1 – Progeny Average Values for the Cohort 4 ASBP Sires Sorted in descending order by Carcase Value ($)
What is the ASBP?
The Angus Sire Benchmarking Program (ASBP) is a major Research &Development initiative of Angus Australia with support from MLA and industry partners such as Vetoquinol, Rangers Valley feedlot and John Dee abattoir. The objectives of the ASBP are:
To generate progeny test data on modern Angus bulls, particularly for hard to measure traits such as feed efficiency, abattoir carcase measurement, meat quality attributes & female reproduction.
To generate data for the validation & refinement of Angus BREEDPLAN.
Build a comprehensive phenotype & genotype database on Australian Angus for genomic technology validation, research & development.
The time from selecting the young sires (which are identified as potentially high performing sires based on their EBVs and Indexes) until slaughter is approximately three years. While Cohort 4 has now been completed with the slaughter of the steer progeny, 35 sires for Cohort 8 of the ASBP has now commenced.
More information about the ASBP can be found on the Angus Australia website www.angusaustralia.com.au by clicking on "Benchmarking"
See today's accompanying article: How well do EBVs of young bulls predict the differences in performance of their progeny?