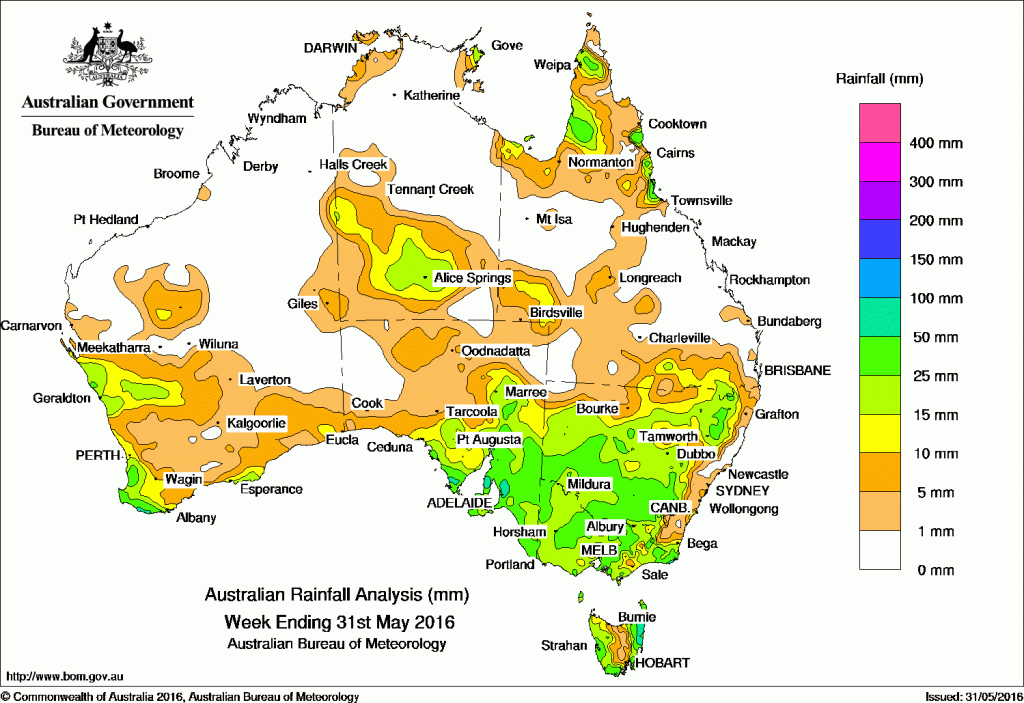 A cold front which swept across the south of the continent in the early part of the week and associated rain band generated moderate and widespread falls in western parts of the South West Land Division and southeast coast of Western Australia. Widespread, light falls were also recorded across the southern parts of South Australia.
As the cold front moved across the southeast of Australia, an extensive cloudband produced moderate falls in central and eastern parts of South Australia, western and central New South Wales, and much of the western half of Victoria. Embedded thunderstorms formed over parts of northern New South Wales, with moderate falls recorded in parts of southern Queensland and northeastern New South Wales. As the cold front continued to track eastwards, a low pressure system deepened in the Tasman Sea, bringing moderate falls to eastern parts of Victoria and Tasmania.
By mid-week, a low pressure system and surface trough extended across southern New South Wales and Victoria. Moderate falls were recorded in the Mount Lofty Ranges, the Eyre and Yorke Peninsulas in South Australia; also in parts of western Victoria and southern New South Wales. Another cold front crossed the southwest, bringing light to moderate rainfall totals to the tip of southwest Western Australia
In the last part of the week, a trough extended from central Australia down through eastern South Australia to a low over the Great Australian Bight. Light falls were recorded in central Northern Territory, southern and eastern parts of South Australia, and some parts of New South Wales. A surface trough extended over eastern Queensland, generating a moist onshore flow producing moderate rainfall totals along the north tropical coast at the end of the week.
Rainfall totals between 50 mm and 100 mm were recorded in the far southwest of Western Australia; about the Mount Lofty Ranges and the Eyre and Yorke Peninsulas in South Australia; East Gippsland in Victoria, northeast Tasmania and the north tropical coast of Queensland. The highest weekly total was 96 mm at Mutarnee Store and the Victoria Sugar Mill, both in northern Queensland.
Rainfall totals between 10 mm and 50 mm were recorded along the west and south coasts of Western Australia, and the southern Gascoyne, a small area in northeastern Arnhem Land, parts of the Gulf Country and the Cape York Peninsula. Similar totals were recorded on the north tropical coast and along the southern border of Queensland, most of New South Wales away from the east coast, most of Victoria, and much of Tasmania's west and east.
Most of central and northern Western Australia; much of the Northern Territory except away from the central interior and its far north; western, central and southern Queensland, and northern and western parts of South Australia recorded little or no rainfall this week.
Highest weekly totals by state and territory
New South Wales and Australian Capital Territory
53 mm Ulladulla AWS, Orange Agricultural Institute
45 mm Mathoura (Mathoura Station)
Victoria
74 mm Point Hicks (Lighthouse)
64 mm Haines Junction (Mount Sabine)
60 mm Gabo Island Lighthouse, Mallacoota
Queensland
96 mm Victoria Sugar Mill, Mutarnee Store
71 mm Gairloch
Western Australia
60 mm Northcliffe
50 mm Shannon
48 mm Walpole
South Australia
81 mm Ashton, Uraidla
78 mm Piccadilly (Woodhouse)
Tasmania
68 mm St Helens Aerodrome, Gladstone (Old Post Office)
59 mm Friendly Beaches
Northern Territory
26 mm Arltunga
24 mm Gove Airport
21 mm Gemtree Park
More weekly rainfall totals:
Source: BOM