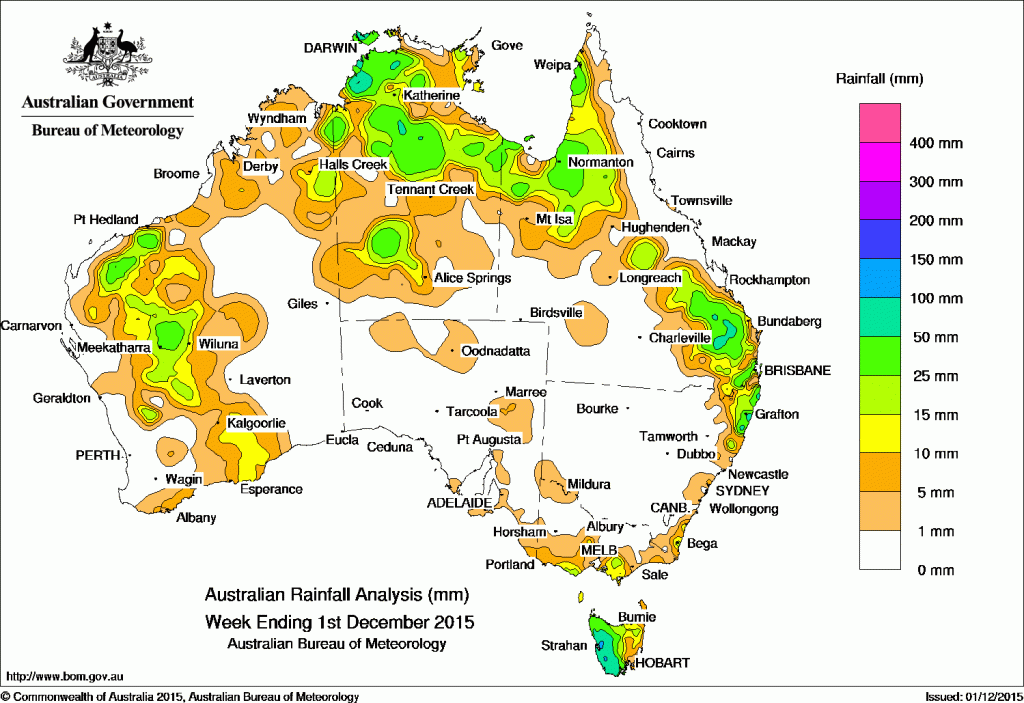 At the beginning of the week, a surface- and upper-level trough over central parts of Western Australia produced a cloudband with embedded thunderstorms that generated widespread, light rainfall across parts of the Kimberley, Gascoyne, Goldfields and South East Coastal districts in Western Australia. Areas of rainfall were also recorded in the northern half of the Northern Territory and parts of the Cape York Peninsula as thunderstorms developed along a trough located across northern Australia. Moderate falls were recorded in parts of the Pilbara, Gascoyne, South West Land Division, and western Top End as the trough developed into a broad area of low pressure extending from the Pilbara, across the central Northern Territory and through western Queensland to the northern New South Wales coast, with thunderstorms forming along the trough.
A series of cold fronts produced a moist, westerly airstream over Tasmania, and generated moderate rainfall totals in western Tasmania, and light rainfall across southern Victoria.
In the latter part of the week, the surface trough lingered in northern Australia, with low pressure centres over the central Northern Territory; at times the trough extended along the east coast well into New South Wales. Thunderstorms and showers were trigged in the resulting humid, unstable airmass. Moderate to heavy rainfall was recorded along the line of the trough, including areas in the Top End, central parts of the Northern Territory, the Cape York Peninsula, Gulf Country, and parts of central and southeast Queensland, extending into northeastern New South Wales late in the week.
An active surface trough extended over southeastern Australia, and aligned with cold fronts tracking over Tasmania at the end of the week, bringing moderate rainfall to the west coast of Tasmania.
Rainfall totals between 50 mm and 100 mm were recorded in the Wide Bay and Burnett district in Queensland, an area of the Darwin–Daly district in the western Top End, pockets of the northeast coast of New South Wales and across western Tasmania. Isolated totals in excess of 100 mm were recorded in areas of Tasmania's west coast, and in the Darwin–Daly district of the Northern Territory. The highest weekly total was 135 mm at Mango Farm in the Northern Territory.
Rainfall totals between 10 mm and 50 mm were recorded in the Pilbara, Gascoyne and Goldfields districts in Western Australia and along the eastern border of the Kimberley. Similar totals were also recorded in the central Alice Springs district and the northern half of the Northern Territory; much of the Gulf Country and western Cape York Peninsula; and central and southeastern Queensland. Areas of Victoria around the Otways and South Gippsland and northeastern Tasmania observed totals of 10 to 25 mm, as did part of the South East Coastal district of Western Australia.
Remaining parts of Western Australia, the Northern Territory, western and northeastern Queensland, New South Wales, northern Victoria and most of South Australia recorded little or no rainfall this week.
New South Wales and Australian Capital Territory
97 mm Minnie Water (Pump Shed)
83 mm Pillar Valley
75 mm Kalang
Victoria
31 mm Wickliffe
30 mm Haines Junction
25 mm Castlemaine Prison
Queensland
100 mm Mundubbera
88 mm Wateranga
84 mm Normanton Airport
Western Australia
43 mm Emu Creek Station
40 mm Liveringa Station
39 mm Doolgunna
South Australia
7 mm Mount Gambier Aero
6 mm Leigh Creek Airport
Tasmania
127 mm Mount Read
108 mm Lake Margaret
89 mm Warra
Northern Territory
135 mm Mango Farm
108 mm Pirlangimpi Airport
89 mm Pinelands
More weekly rainfall totals:
Source: BOM