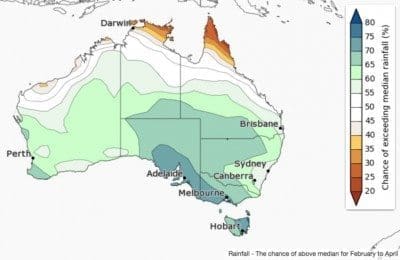 Above average rainfall is favoured in February to April for central and southern Australia, while the far north is expected to be drier than average, according to the Bureau of Meteorology's latest three monthly seasonal climate outlook statement released today.
The February outlook indicates rainfall is more likely to be above average in parts of eastern Australia, but below average in WA's Pilbara and northwest coastline.
For February to April, rainfall is more likely to be above average across much of the southern half of Australia with the strongest probabilities in the southeast. The tropical north however is favoured to have a drier than average period.
The current outlook reflects a combination of influences – a strong El Niño now in decline, record-warm Indian Ocean temperatures and warm localised sea surface temperatures, particularly around Tasmania.
Historical outlook accuracy for February to April rainfall is somewhat patchy with moderate skill over most of the country, but low skill in inland parts of the NT extending along the WA border, as well as in small patches in Queensland, western NSW, and along the border of NSW and Victoria.
Note: while the above average February to April rainfall forecast for the southeast of the country is likely to be welcome particularly in areas suffering from mid- to long-term rainfall deficiencies, recovery is likely to require a significant period of above average rainfall.
Temperature outlook
February is favoured to be cooler than average across much of NSW and southern Queensland for both daytime and overnight temperatures, while in the far north, west and south of the country, temperatures are more likely to be above average.
For the three-month period, daytime temperatures are favoured to be below average over inland areas, but higher than average in the far south and far north of the country. Nights are favoured to be warmer than average in the north, as well as in western and southern coastal regions, while inland areas show no trend towards warmer or cooler than average nights.
Maximum temperature accuracy is moderate to high over most of Australia. Minimum temperature accuracy is very-low to low in parts of the east and the NT, but moderate for much of WA, southern SA and Tasmania.
Source: Bureau of Meteorology