A WELL known cattle producing family, a close knit rural community and a vast network of friends and colleagues in the Australian beef industry have been left devasted by a tragic on-farm accident this week that claimed the life of respected young industry achiever, innovator and leader Lachlan Hughes.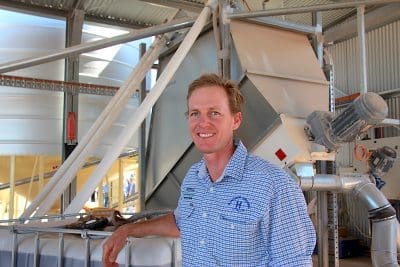 The 36-year-old cattle producer was working with a grain auger on his family property near Dulacca when the tragedy occurred early on Wednesday afternoon.
Workplace Health and Safety Queensland said it is investigating the accident and, as with all workplace fatalities, is preparing a report for the Coroner.
With his wife Anna, parents Phillip and Adele and brother Allister, Mr Hughes played an integral role in the development and running of his family's unique integrated cattle and beef supply chain. The family operation breeds cattle on two properties in Central Queensland, grows them out on grass and grain on properties at Dulacca, and processes and sells beef through its retail brand Rangeland Quality Meats.
Mr Hughes and his wife Anna have two young children and were expecting their third.
Mr Hughes took an active interest in industry affairs at a young age, winning election to the AgForce Queensland Cattle board, on which he served as vice-president. In 2016 Lachlan and Anna were one of six young farming families around Australia to compete in the inaugural the Meat & Livestock Australia Challenge, which rewards improvements to on-farm productivity.
Last year Mr Hughes and his family hosted an AgForce organised field day on their properties Dulacca Downs and Heatherlea to demonstrate their unique approach to grain feeding cattle in paddocks and producing branded beef for retail
AgForce said today it was mourning the loss of one of the cattle industry's leaders and previous AgForce cattle board member.
"Lachlan Hughes served the industry tirelessly through his time on the cattle board, promoting the Grazing BMP program, hosting research and development days at his family's property and will be extremely missed.
"Our thoughts are with all of his family at this sad time."
The Queensland Polocrosse Association also paid tribute to Mr Hughes on Facebook.
"Lachlan was the son of past Queensland Polocrosse President Philip Hughes and wife Adele, brother to Alister, husband to Anna and father to their 2 beautiful children William and Georgia.
"Our thoughts and prayers are with all of his family at this very sad time."