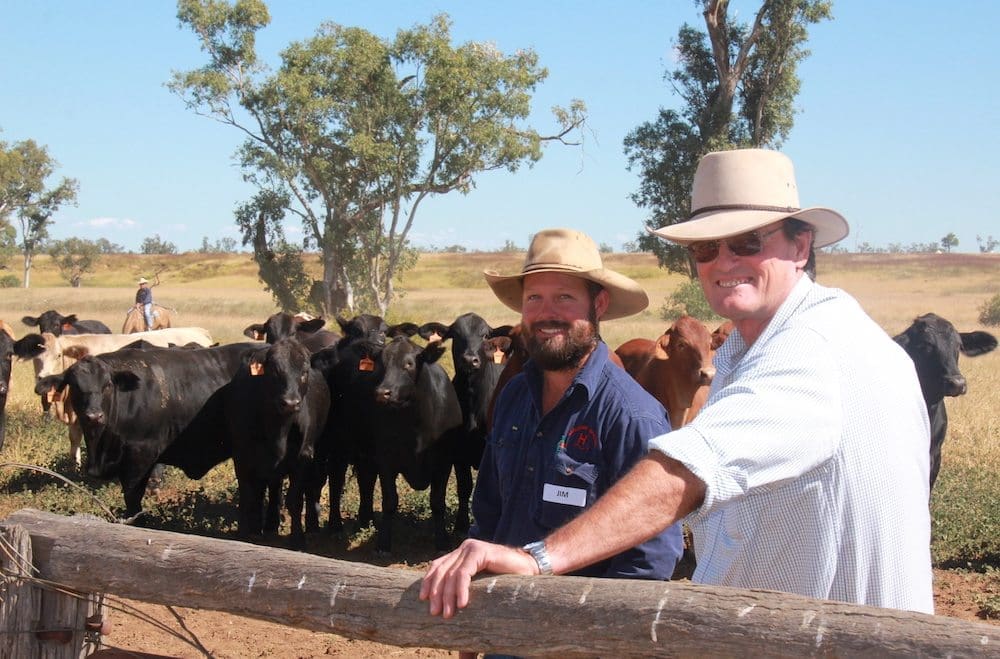 Jim Lomas and Philip Hughes
A cattle producing family has shared the story of their journey from a conventional breeding and growing operation several years ago into a fully integrated paddock to plate supply chain, with their own feed mill, grain-assisted paddock finishing system and retail beef brand.
Philip and Adele Hughes, their son Lachlan and his wife Anna, and son Alister, have a breeding property near Clermont, a leased backgrounding property at Capella in central Queensland, and two backgrounding/finishing properties near Dulacca in southern Queensland.
Their business has reached its current position largely through a process of evolution, and by taking an open-minded approach to problem solving and accessing outside mentors and expertise, and in particular by starting to measure every part of their business.
'Once you start measuring, you start thinking'
"Once you start measuring, you start thinking," Philip Hughes told Beef Central on Monday during at an AgForce organised field day showcasing their cattle finishing operation near Dulacca.
"The two priorities of our business are people number one, and then measuring number two."
Taking on the challenge of finishing cattle on-farm by investing in grain milling and paddock feeders and launching their own retail beef brand Rangeland Quality Meats has been, by their own admission, a massive learning curve, and one that has taught them many lessons which have dramatically reshaped how they view production efficiency at farm level.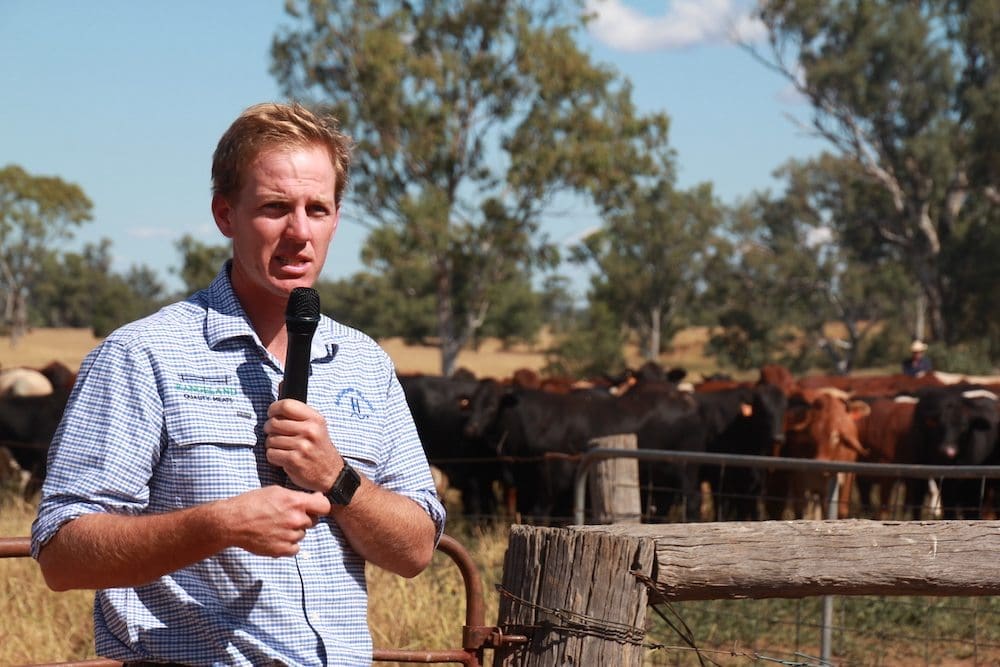 Lachlan Hughes
Like many producers, Lachlan Hughes said, an initial motivation to further integrate was a somewhat idyllic view to sell to the customer, to cut out the middle man and to "find out where all the money was".
"Sadly we couldn't find all the money," he said with a laugh.
"What Rangeland Quality Meats taught us in a very, very short time frame was how inefficient we were back here (on the farm).
"When you are selling meat, you are up against fish, poultry, everything else in the supermarket, but we didn't know the actual production costs of every animal that was leaving the place.
"Now when we are working out the rate that we get, we understand the efficiencies in our cattle.
"It is like widgets on the shelf. Harvey Norman knows what his TVs have cost, and what they are going to sell them for, and for us it was really important to be able to know that as well.
The fundamental principal underpinning the Hughes' approach to beef production has been to "never compromise on quality".
They have stuck to that mantra and six years later their brand Rangeland Quality Meats has established a hard-earned and valuable network of retail outlets from Melbourne to Townsville, as well as a growing network of direct online customers via their website (More on the meat side of the business below).
It all started with the soil
It was the family's expansion into the two properties near Dulacca that provided the impetus that led to where they have evolved to now.
In fact, Lachlan explains, it really all started with the soil.
At the time the Hughes' were inner-circle suppliers of cattle to the Coles' feedlot program.
'The only way it works is to get that water back into the ground'
Matching production requirements with the regeneration rate they were getting from their Dulacca properties was proving difficult.
In their first 10 years there the properties were de-stocked three times for up to three months at a time. Water-shedding was also a massive problem on the sloping and lightly-timbered country.
Something had to change if the family operation was to be sustainable in the long term.
"Somehow we had to slow it down and get that water back in the soil," Philip explained.
"Evaporation here is probably 2 to 2.5 metres per year. What is our rainfall? About 620mm per year. Those numbers don't work, do they?"
"The only way it works is if you get that water back into the ground."
Many different techniques were trialed – shallow ripping, seeding, disc ploughing, direct-drilling legumes, spraying compost teas, spreading manure, applying mineral blend composts, and no shortage of soil testing
Paddock feeding to repair pasture
They ultimately found the best results could be achieved through paddock feeding to take pressure off pastures, repair soils and move the fertiliser spread by grazing cattle strategically around their paddocks.
"There are a lot of different strategies on how to grow grass and how to improve your soils, but to have mass production while you are doing that and not suffering in cash flow, that is why paddock feeding is vitally important to what we do," Lachlan explained.
Initial feeding strategies involved feeding out dry licks and cotton seed (the labour components of which tended to negate the benefits in their situation) and then deliveries of pellets and ration mixes into steel feeders.
Steel feed bins soon rusted out so they have since switched to round plastic feed bins supplied by Roswell Ag Cattle Feeders, which have proven durable and have the advantage of being much easier to transport around paddocks.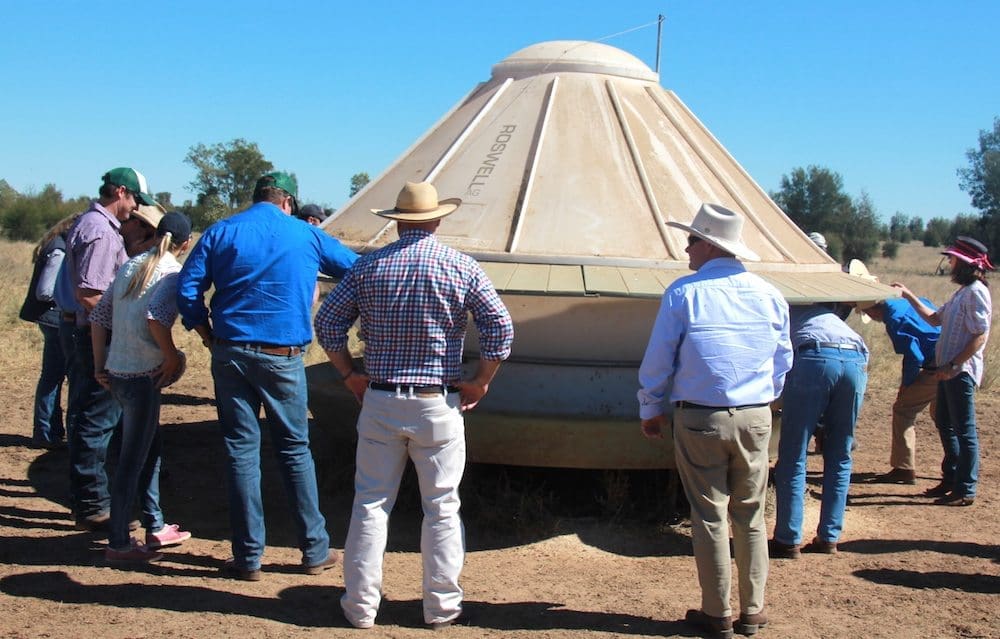 Field day participants inspect a Roswell feeder at Heatherlea.
Investment in fully automated feed mill
The fine-tuning process led the family to invest in an on-farm, fully automated disc feed mill. At the push of a button it pulls raw product from different silos to process everything from starter to finisher rations, breeder protein mixes and horse and chook feed, with the ability to measure down to 0.5kg.
The finished ration is then pushed into a silo outside the feed shed where it is loaded into a chaser bin for delivery to paddock feeders. The exact volumes fed out and consumed are recorded down to intake per head.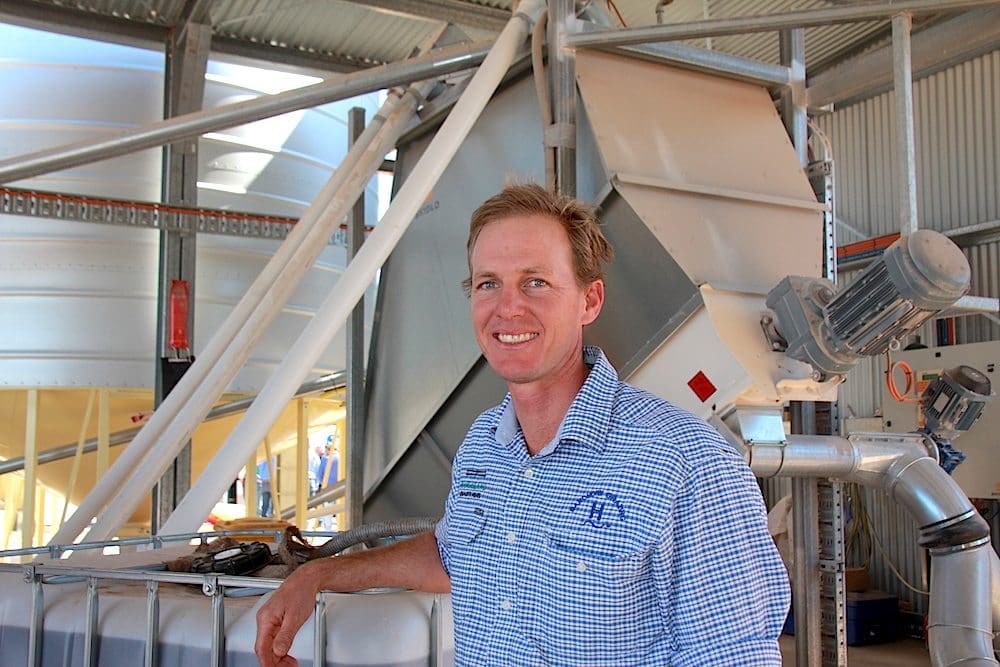 Lachlan Hughes with the fully automated feed mill.
The mill was originally used to background cattle to feedlot entry weights, but it is now becoming a logical progression to paddock feed the cattle to finishing weights for the RQM brand.
The vast majority of cattle fattened at Dulacca Downs and Heatherlea for the RQM brand are bred at Banchory, with the balance bought as backgrounders from Roma, Dalby or direct out of the paddock.
On induction all cattle receive natural additives to improve the rumen microbes to enhance weight gain.
The move into meat processing has made the Hughes far more adept at finishing cattle and how they view efficiency, and in turn far more ruthless in how they would treat non-performers. As soon as joined heifers are detected to be not in calf they are directed into the finishing program, freeing up feed for cows in calf or bought-in weaners.
Lachlan said the performance they can achieve with paddock feeding means he is happy to buy weaners with a lower body condition score. "Within a short time we can turn him around into an improving animal on a rising weight gain and we're away," Lachlan explained.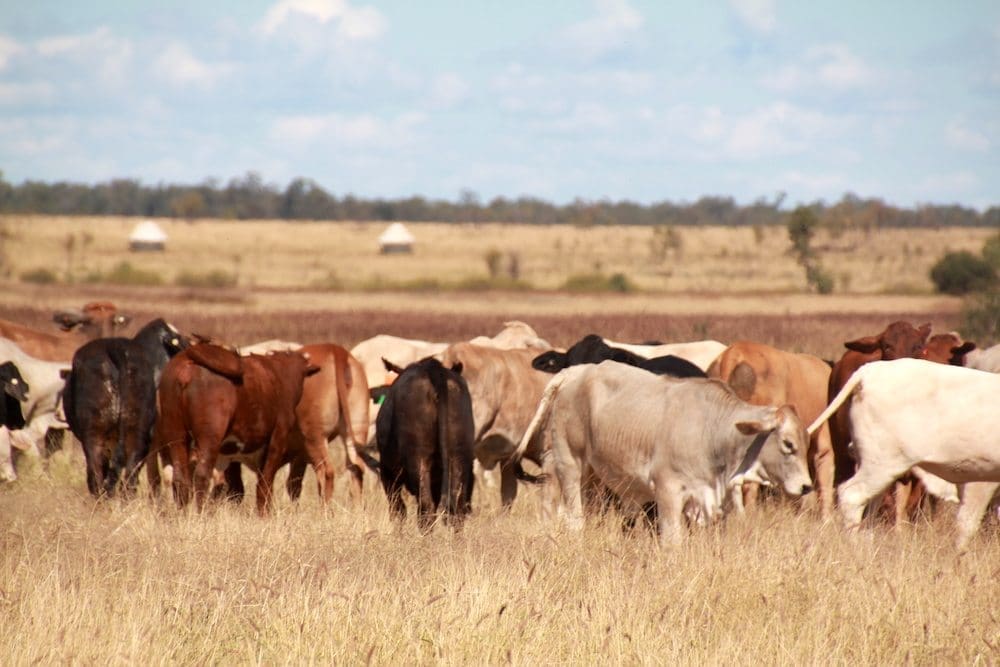 The cattle on feed consume from four to eight kilograms per day (usually barley based) depending on the season and time of year, and consistently achieve daily growth rates of 1.3 -1.4 kilograms for heifers and 1.5 -1.7kg for steers.
Average daily intakes are recorded and used for grass budgeting. Once daily grain intake reaches a certain threshold cattle are moved to the next paddock.
This strategy prevents overgrazing. Through this process of reducing herd impacts and resting paddocks, the coverage of palatable grasses has increased.
It takes four months for steers with access to paddock feeders to reach the mid-400kg weight range for the RQM program.
"For parts of our system a grain based diet to wean our cattle onto is absolutely amazing.
"But remember though that once you start those little fellas you have to have an end goal, if you are going to make a decision to have a go at this, you have to make sure you carry it out."
Retailing beef 'not for the faint-hearted'
After fine-tuning their feeding program to the point they could consistently produce a quality article year in, year out, it then became a natural progression to develop their own brand program.
Six years later Philip has a clear message for anyone thinking about embarking on a journey to produce their own branded beef: "It is not for the faint hearted."
"If you are going to do it and do it properly, there are a hell of a lot of skeletons in the table drain down there I can tell you.
"There's a lot of people who had a go and failed."
In a market place dominated by wholesalers and suppliers with vast experience there is much for graziers 'looking for the pot of gold under the tree' to learn.
"In the early days we thought this was the answer, if we could get into the supermarkets that was where the money was.
"I can tell you there is not much money when you move from a wholesale product to retail ready.
"But eventually we understood how to measure things, which has come back to this side (production) of the operation.
"We physically sell the product to Rangeland Quality Meat and Alister has to market it and make it pay, so when you are actually buying something and selling something every week, you soon work out how good a trader you are. You can't hide anywhere.
"It has been a great learning experience for us, and it is something we are really passionate about. We have done the hard yards, and we have a bit of a beachhead there now, we sell into Melbourne, and up as far as Townsville and some locally here, and everywhere in the middle."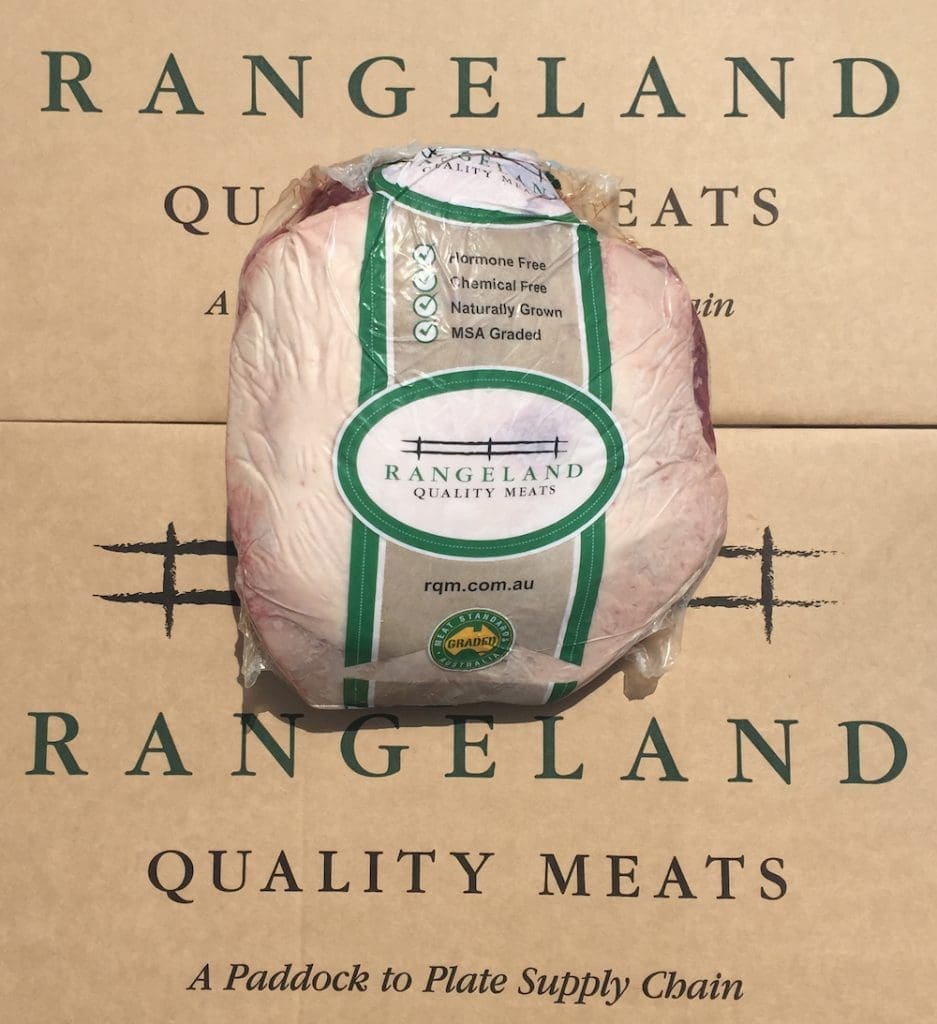 One observation Phillip shared was the extent to which all parts of the supply chain operate in relative isolation to each other. "You talk to producers and they will tell you the next bloke up the line is ripping them off. But I can tell you what, we have been right through the full system, and you can go and talk to butchers down there and they will say to you: 'well look at all those graziers, driving around in $80,000 motor cars, tell me where all the money is?' But a lot of those guys have never been to a meat works and have never seen a beast cut up and a lot of producers haven't either. A lot of this industry works in isolation all the way down the line".
He stressed that providing a consistent quality product has been the key to gaining market acceptance for their brand. This is harder than it seems, because as live animals become more expensive, there is always the temptation to take shortcuts and sacrifice quality to make the numbers work. "The temptation is always there, but we have always had the view we will never compromise our quality."
The development of their own supply chain has de-risked the marketing of their cattle, given them more commercial feedback and control over their entire operation, and should also mean that as profit margins move up and down the supply chain, they should continue to capture that value.
It all comes down to measurement
Ultimately, Philip and Lachlan explained, everything comes down to using measurement to improve efficiency.
"To survive down there you have to measure everything," Philip said.
"We build our own yield sheets, we know how much of each product we process every week, and we know what we have to be selling it for."
"There is all that data you need to do, and then you start to look back down from the front end and when you look backwards, you realise there are a few inefficiencies in what we do on farm."
Measurement is now at the heart of everything that happens at the farm level -consumptions, conversions, kilograms, dry matter, calving percentages, feed intakes, weight gains, soil tests, animal production costs.
"The important thing for us is that we take this information we are recording and we use it to make decisions," Lachlan said.
"It is really important to make sure the measuring happens and that decisions are made from it."
Technology including cloud based apps that synchronise with the farm's computer system such as Xero, Figured, AgriWebb and Stocktake all now play a central role in recording and managing their livestock movements and conversions.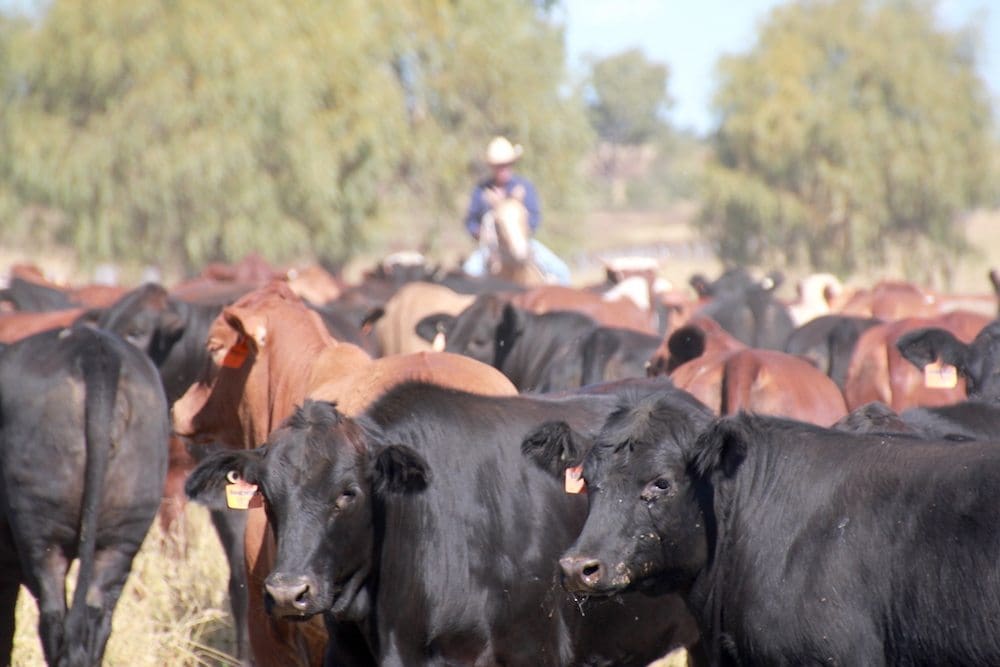 More details on the Hughes' operation:
Banchory, 40,000 acres just west of Clermont is the breeding property and Crescendo, a leased 18,000 acres near Capella, are managed by Jim Lomas.
Backgrounding/finishing properties are Dulacca Downs and Heatherlea, combined 13,000 acres near Dulacca, managed by Philip and Adele and Lachlan and Anna Hughes.
Rangeland Quality Meats based in Brisbane, managed by Alister Hughes.
Banchory breeding program based on controlled mating using Angus bulls over a herd of approximately 3,500 Brahman/Brangus cross cows.
Bulls semen tested prior to purchase and every two years thereafter.
Heifers joined at 12-14 months. When weaned any heifers under 200kg go onto a supplementary ration to help them to reach target weight of 320kg on day of joining.
Six weeks after bulls come out, repro scan used to pregnancy test heifers, those not in calf go into backgrounding/finishing system at Dulacca.
This year conception rates for yearlings mated is 82 percent.
Heifers are calved down in smaller mobs of 100-150, which helps with handling and mothering up.
All first calf heifers are fed a specially modified calving supplement two weeks prior and throughout calving to reduce calving difficulties.
Calving mortality rate from 700 first calf heifers last spring with zero human intervention was less than 1 percent.
Weaning age is usually six months, but depending on condition and season first-calf heifers will sometimes be weaned earlier.
"We have found if the cows get below score 2.5 you can't get them back into the right shape before calving next time and they will fall out of the system," Mr Lomas explained.
Paddocks are rotationally grazed, with up to 50 percent of the properties spelled at any one time.
The regular moving and handling also helps in the weaning process and educating cattle for the feeding process at Dulacca.
An Artificial Insemination (AI) trial will be used at joining this year to test its effectiveness at speeding up genetic improvement.
300-400 cattle trucked from Dulacca Downs each month.
Scroll through more pictures from Monday's field organised by AgForce below