LARGE Sydney-based food service meat supplier and value-adding company Andrews Meat Industries has taken a majority shareholding in export meat business White Stripe Foods, expanding the company's footprint in Asia and the Middle East.
The investment comes after a significant period of growth for Andrews Meat Industries since JBS Australia became the majority shareholder in the company in 2014.

Operating out of its facility at French's Forest in Sydney, White Stripe Foods supplies quality beef and lamb meat products to the international hospitality market including hotels, restaurants, food service providers, retailers and caterers. The company has dedicated operations in Bangkok, Beijing, Hong Kong, Shanghai and Seoul, with future operations opening in other countries.
The company has developed its own dedicated brands including White Stripe Lamb, White Ranges Beef (grassfed yearling and prime steer) and Red Hill veal, and works with a series of other branded beef supply chains including Barcoo and Grainge Angus, Cape Grim and Tajima and Robbins Island Wagyu.
White Stripe is a substantial meat business by any standards. Its targeted revenue this year is around $100 million. The business was launched about ten years ago by Matt Lyon and Sean Cowan.
Andrews Meats chief executive Peter Andrews said the investment in White Stripe would enhance and expand on AMI's distribution capabilities into new and existing export markets.
"White Stripe Foods has significant market strengths with long-standing clients in more than 30 countries, predominantly in Asia and the Middle East, and in some cases, providing local representation which has scope for growth," Mr Andrews said.
"The company has a successful business model, which we can tap into as AMI builds distribution into the export markets. With AMI's capabilities increasing rapidly, and increased revenue in our core business sectors, this was the perfect opportunity to expand our scope and offering," Mr Andrews said.
White Stripe Foods managing director Matt Lyne, said his company had a strong history of managing supply relationships in its core markets.
"When combined with AMI's experience in production, food service and value-added cooked product, this transaction ensures we can offer enhanced quality product and our leading service to the market," Mr Lyne said.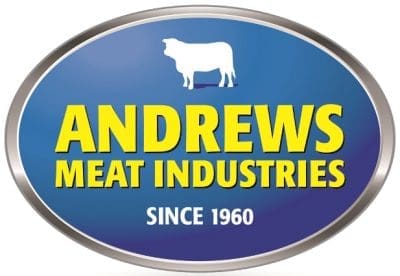 In 2014, the Andrews family sold a majority shareholding in AMI to JBS, forming a partnership. The Andrews family continues to manage operations of Andrews Meats.
Likewise, White Stripe Foods will continue to trade under its own name in the international markets, with White Stripe Foods continuing to manage operations.
JBS Australia's chief executive Brent Eastwood pointed to the growth of Andrews Meat Industries, especially since the opening of a new state-of-the-art facility in Sydney for portioning, cooking and sous vide meal solutions.
"The growth over the past four years has been very strong with both the Andrews family and JBS investing an additional $40 million in the rapidly growing business," Mr Eastwood said.
"AMI's significant food service and value-added production capabilities integrated with White Stripe Foods' extensive customer base and global network is a recipe for success, and we look forward to seeing the partnership grow."
About Andrews Meat Industries
Across its food service, value-added (cooked), and export divisions, Andrews Meat Industries services a wide customer base in the hospitality industry including restaurants, cafes, hotels, clubs, and resort groups, as well as servicing a number of other market segments including health and aged care, education, aviation, and sporting venues.
About White Stripe Foods
White Stripe Foods supplies branded high quality, centre-of-plate protein to leading hotels, restaurants, food service distributors, retailers, caterers and manufacturers within its core markets of Asia and the Middle East. The company services north and southeast Asian, Middle Eastern and North African, European and Mediterranean and North American markets on a daily basis.