Using the analogy of a playing strategy popular in basketball, independent meat and livestock analyst Simon Quilty says if the US 'Full court press' trade negotiation tactics are successful, the outcome for Australian beef exports could be devastating in terms of losing the market advantages we once enjoyed, both in price and volume.
In this report, Mr Quilty gives a market-by-market snapshot of US trade negotiations around the world, and what they mean for Australian beef …
EVEN with concessions agreed to during the G20 meetings in Osaka this week, from an Australian perspective little has changed: the United States remains an aggressive competitor to Australian beef in many markets, while ironically remaining an important beef customer at the same time.
I do not agree with President Trump's comments last week, when asked if his trade policies had strained traditional alliances. Mr Trump insisted that Australia had "Done well on trade under his administration," but I could not disagree more with his statement.
The term 'Full court press' is a basketball tactic that puts pressure on the opposition, across the entire length of the court. Each player goes man-on-man with an opponent and turns basketball's traditional half-court zone defence into a more attacking full-court strategy. The effect sees a change in the tempo of the game, often becoming a much faster game that can take the opposition off balance. It can produce sometimes devastating results in the game's outcome.
This, to me, best explains how US trade negotiations around the world are being conducted at the moment, and their possible impact on beef trade.
I see the Trump Administration trade negotiation tactics in the beef trade as no different to applying the 'Full court press' on Australia. The pressure 'across the full length of the court' is, to me, no different to the pressure of simultaneous negotiations in Japan, the EU, China, Korea, the Philippines and Taiwan, which are all the key beef export markets shared with Australia.
Similarly, the tempo of trade negotiations is much faster than I believe we have seen before, with President Trump's willingness to use tariffs as leverage catching many countries off guard.
And if we were to glance at the scoreboard, the US is winning this game easily.
I think if the US 'Full court press' trade negotiation tactics are successful, then the outcome for Australian beef exports could be devastating in terms of losing the market advantages we once enjoyed, both in price and volume. Below, I outline the various stages the US is at with each of these countries, and the potential consequences for Australia.
What's interesting to note is that Australia has not been singled-out by the US for any additional tariffs, and we were fortunate to be exempt from the tariffs on steel and aluminium exports in 2018. The main reason we have been spared is that Australia is one of the few trading partners with which the US maintains a trade surplus.
US negotiates a new bilateral agreement with Japan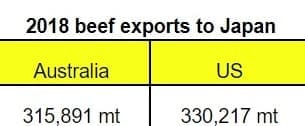 At the moment, Australia's beef exporters and other members of CPTPP (Comprehensive and Progressive Agreement for Trans-Pacific Partnership), enjoy a 13.5pc tariff advantage over the US beef imports into Japan. However in recent weeks, Japan has indicated a willingness to lower tariffs on US agricultural goods to the same level as agreed to for CPTPP countries, under a new bilateral US/Japan trade agreement – thereby, creating a once again, an even playing field.
This is designed to prevent Trump from introducing auto-related tariffs on Japanese cars and parts exported to the US. As I understand, these talks are well advanced with both sides agreeing to, in principle, the changes needed.
The other key component of negotiations is Japan's beef global safeguard from which Australia is exempted under JAEPA. This safeguard is triggered when either US frozen or chilled beef exports exceed a threshold, causing the tariff for all US frozen or chilled beef (depending on what was triggered) to increase to 50pc for the balance of the financial year (Japans fiscal year is April-June).
It should be noted that this is on the back of last month's Japan abolishing the 30-month age restriction rule on US cattle at time of slaughter, a leftover import requirement since the US BSE disease case in 2003. The impact is likely to see an increase of 7-10pc of beef items into Japan, with items such as tongues and tripe from older animals now being allowed in. I have also heard that US cow short plate and chuck eye roll are also in the mix of new import items for Japan.
As stated in my previous report, Australia's competitiveness in Japan has struggled for some time with US beef increasing in value at both the wholesale and retail levels by 10pc since 2016 compared with Australian prices remaining stagnant and, in some instances, falling in that period.
What is crucial is that Japan importers can pass the cost of the US tariff forward to consumers who are willing to pay for it and buy more. If the US should be on an equal playing field, tariff-wise, I can see further displacement of Australian beef out of the Japan market.
US market share in 2009 was 20pc and today, their share sits at 51pc. Should the drought break in Australia and beef supply falls, and US tariffs are lowered, I can see the US market share in Japan reaching 60pc or greater within the next 3-5 years, as import prices become more competitive under lower tariffs.
US (35,000t) and Mercosur (99,000t) negotiate a larger beef quota allocation into the EU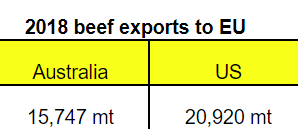 In the last month, the US has struck an in-principle deal with the EU whereby the US will be allocated country specific allocation of 35,000t of high quality beef quota access. This will be taken out of the current 45,000t shared quota deal that Australia has been a part of, that once involved Australia, US, Argentina and Uruguay, effectively leaving only 10,000t of EU quota for Australia to fight over with Uruguay and Argentina. Australia's usage was 11,163t in 2018, so sharing a smaller allocation of 10,000t with two other countries, is a major step backwards.
In the past, the US share had been closer to 30pc only, of the 45,000t allocation. The new US deal is looked to be phased in over seven years, with an initial quota for the US of 18,500t in year one and rising gradually to 35,000t.
It should be noted that Australia still has the ability to export 7,150t of grainfed beef to the EU under the country specific Hilton beef quota. In 2018, Australia only utilised 4584t of the Hilton quota.
Australia is trying to negotiate a separate trade deal with the EU, as is South America's Mercosur trade bloc including Argentina, Brazil, Paraguay and Uruguay.
Last Friday Mercusor and EU came up with an agreed deal after nearly 20 years of talk. The EU – Mercosur agreement sees 92pc of import duties on Mercosur products removed ensuring 99,000t of beef access and 100,000t of chicken access into the EU, with both being introduced over five years.
This is a major setback for Australia, with little or nothing we can do. If Australia had protested to the WTO over this EU-US agreement, it would have jeopardised the remaining 10,000t access that we are still a part of (the EU talked of dissolution of the remaining quota all together if there was opposition). Equally, Australia did not want to jeopardise our own US FTA which is highly advantageous to Australia.
In June 2018 Australia commenced FTA negotiations with the EU, and the third round occurred in March this year, in Canberra. After reading the meeting's points of discussion, it seems to me that any quick resolution on an agreement is a long way off. Unfortunately, the longer this negotiation goes on, the more market share we lose. The announcement last Friday of a EU-Mercosur deal highlights how much Australia is behind the trade negotiation eight-ball, and it begs the question whether we are now left with the 10,000t of quota, or does this allocation simply no longer exist.
US-China trade discussions are steeped in tariffs

All eyes are on the US and China trade negotiations, and this week's G20 meeting in Japan. The US has been asking China to accept HGP beef, but to date, China has resisted. The key sticking points is China's ban on ractopamine, HGPs, and the lack of traceability in the US herd.
Ractopamine is a beta agonist that is used to increase weightgain, feed efficiency and leanness in pigs, cattle and turkeys. In the past, China has classified natural HGPs including estradiol, progesterone and testosterone as 'veterinary drugs' that are allowed for therapeutic use but must not be detected in animal-derived food.
The sensitivity around ractopamine is the biggest challenge for the US, and this week, China's ban on Canada meat exports, due to the detection of ractopamine in pork products, is a stark reminder that China is unlikely to back down on this strongly held policy.
The US has been trying to get China to accept the same terms as South Korea and Japan (and 24 other countries), with Codex global standards setting the maximum residue limit to 6 ppm. China, EU and Russia do not accept these levels and have zero tolerance, as we have seen in recent days.
It is estimated that only 50pc of the US hog inventory uses ractopamine, which makes the other 50pc eligible for China. In the cattle sector, the percentage of use is much higher with close to 98pc of US cattle being administered ractopamine or similar beta agonists, making the acceptability of beef more difficult.
The removal of the additional 25pc of duties by the US on China products and China's promise of greater purchases from the US of farm products is a step in the right direction, and to me, plays perfectly into the exemption program China has introduced on US food imports.
It paves the way for more US pork imports in coming months. The challenges for US beef though still remain significant with only 7pc of the US cattle herd eligible to meet China's requirements and given the reaction this week by China to Canada having found ractopamine traces in pork products, which has seen a complete ban on Canada meat exports, it seems unlikely that China will in the short term, move on this issue.
Traceability also seems difficult, with much opposition within the US on this matter. In terms of the least amount of US competitive threat to an Australian beef market, China is the standout.
It should be noted that as the impact of African Swine Fever increases in China, and the need for food imports gets greater to fill the protein void, these policies may change as necessity takes over from principles.
US and UK trade agreement (post Brexit)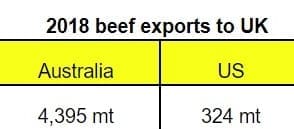 Given the chaos of Brexit and the recent departure of the British Prime Minister, Theresa May, due to Brexit, this is a challenging subject matter. Even with the backdrop of uncertainty, the UK and US have to date engaged in preparatory and exploratory work on an FTA under a Joint US–UK Working Group on Trade and Investment whereby information has exchanged on trade policy related issues between the USTR (US Trade Representative) and the UK Department for International Trade (DIT).
Currently, a number of TRQ's exist under the old EU system between the US and the UK, and the challenge is determining how to allocate these TRQs post Brexit.
Another important matter to address will be the standard terms of trade and whether the UK will adopt the old EU rules or look to develop their own. In February this year, the US released its negotiating objectives for the UK FTA, with key areas of meats, grains and biotechnology being put on the table as being priorities in the trade negotiations for the US.
The announcement on Friday that Mercosur South American countries have gained 99,000 tonnes of access into the EU means to me that Irish beef will be displaced from the EU into the UK, making Australia's ability to gain a foothold in this market even harder.
Until a new UK prime minister is elected (the announcement will be on July 22), any progress on this market is highly unlikely. The two candidates are Boris Johnson, who has pledged to leave the EU by the end of October and effectively, for the UK to 'go it alone', and the second popular candidate is Jeremy Hunt, who is wanting to strike a deal with the EU and still exit.
Meat imports make up 26pc of total supply in the UK – beef making up nearly half of these imports, pork accounting for just over a third and lamb around 20pc. The Republic of Ireland is the largest supplier of beef into the UK – traditionally, Ireland has supplied 68pc of beef imports and Australia, only 3pc.
It's the breaking up of traditional trade channels, due to Brexit, that I was hoping may create the opportunity for Australia into the UK. It is for this reason that both the US and Australia have been watching intently and with news last week of Mercosur's greater access into the EU, this opportunity diminished, I believe.
US – Philippines Trade Agreement

The US has proposed a bilateral trade agreement with the Philippines,  but this – as far as I am aware – has not been approved of by US Congress due to the Philippines treatment of human rights.
The Philippines tariffs on agricultural products have been traditionally high, with duties on meat products averaging close to 20pc of the goods value, but has been as high as 45pc on certain items.
This is not a large market for either Australian or US beef, but it is one that may potentially grow significantly given the concerns on ASF in Asia and how quickly it is spreading. Should the disease ever come to the Philippines, it could see a shift towards imported beef, chicken and pork. The Philippines population of 105 million people currently average 15.8kg of pork per year, 13kg of poultry, 3.2kg of beef and 0.5kg of sheep meat. A shift in the future towards any other protein would see potentially big increases in import volumes.
US – Korea (KORUS)

Both Australia and the US have bilateral FTAs with Korea known as KAFTA, Korea-Australia Free Trade Agreement, and KORUS, the US Korea Free Trade Agreement. Australia and the US dominate supply together, with both accounting for more than 94pc of total Korean beef imports.
The US has a 5.4pc tariff advantage over Australia due to the US entering into this agreement two years before Australia and therefore, started to receive the benefits earlier. US tariffs in 2019 are at 18.6pc while Australia's rate is 24pc.
In addition, Australian beef is subject to stricter safeguard measures than the US which has seen Australia regularly trigger the safeguard tariff. This year, it is set at 170,673t for all beef products and should it be triggered, then tariff rates will go to 40pc for the balance of the shipping year.
In contrast, the US has a much greater safeguard of 320,000t which has never been triggered.
Even though this deal is done, it is a good example of a market in which the US has a significant trade advantage over Australia.
In recent times, we have seen US beef prices increase over Australian beef prices in Korea. This price difference has ballooned out to 25pc, with March US average export prices at US$3.32/lb compared to Australia's US$2.61/lb.
So the 5.4pc additional duty cost is only part of the 25pc price difference. The displacement of Australian beef, both in terms of volume and price by US beef, has been the bigger reason for the growing price spread – US shipments are up 32pc in volume since 2016 and Australian exports are down 5pc.
The key difference to me, between Japan and Korea, is that the majority of the US/Australian price difference has been borne by discounting the Australian exporter, more so, than passing it forward to the consumer as has been the case in Japan.
US – Taiwan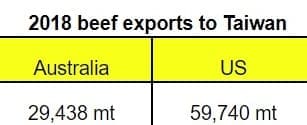 US pork, containing ractopamine, is banned into Taiwan – and in recent times, the US has requested to lift this ban but Taiwan has refused.  However they have admitted that, should both countries enter into FTA negotiations, they would consider looking at changing this policy. The US has repeatedly asked that Taiwan adopt international norms on ractopamine acceptable residue levels.
There is no FTA yet between Taiwan and the US, but what is interesting is that Taiwan is keen to have one put in place, and is pushing this hard with the US. This is in part related to the desire of Taiwan's authorities to move away from their economic dependence on China – their largest trading partner – and the need to diversify trading partners and align itself with the 'other' economic powerhouse, the US.
US looks to introduce a currency clause
In recent discussions with Japan, China, Canada and Mexico, the US trade negotiators have started to talk about the need for a currency clause in an attempt to prevent competitive devaluations from occurring in exports. The inference is that US trade partners, in the past, have purposely devalued currencies to help boost trade by making the cost of their goods more competitive.
Japan has been a strong opponent to this clause, believing that it will tie the Bank of Japan's hands claiming that currency moves and export volumes don't correlate. The US Department of Commerce said it is considering placing tariffs on trading partners that devalue their currency, treating such practices as subsidies.
The introduction of a currency clause I believe, is fraught with danger as most currencies are impacted by many variables and to imply that a government can influence this is often hard to prove. The only exception are fixed exchange rates. So, the real challenge is defining what currency manipulation is and secondly, if proven, how do you set controls in place to prevent this from happening.
A secret RCEP trade deal that excludes the US
The Regional Comprehensive Economic Partnership agreement includes 16 members: Thailand, Indonesia, Malaysia, Singapore, Philippines, Vietnam, Brunei, Myanmar, Cambodia, Laos, India, Australia, China, Japan, South Korea and New Zealand.

Last week, RCEP representatives have met in Melbourne, including 10 ASEAN member states and their partners; plus China, Japan, South Korea, Australia and New Zealand to discuss a trade deal.
The Australian press, in recent days, has described the RCEP negotiations as 'secret' as there has been almost no detail given to the public on the content of any deals.
This is being done purposely, so as not to show participant's bargaining hands to the US. The purpose is to try to negate any fallout from the US-China trade war, and the unilateral tariff measures the US has imposed on other trading nations.
The RCEP trade deal is not new – it was first commenced back in 2012 with a combined membership population of 3.4 billion people, making it the largest economic bloc in the world. What is interesting is that the US is not a part of these discussions.
The meeting last week is seen as an important step to advancing the deal with many, hoping that it will be finalised by the end of 2019. I am told that to further complicate matters, India, Australia and NZ are wanting to see the details of the deal before committing themselves, suggesting that they may join at a later date, resulting in a potential truncated 13-member RCEP to go ahead.
RCEP is the most positive response yet to the 'full court press' tactics of the US.
This, to me, says that Australia is not alone in feeling the impact of these aggressive US trade tactics and as a result, has brought together, key trading partners outside of the US to try to find a way to negate the negative outcomes of the US FTA agreements that are being put in place globally.
It's important to note that RCEP represents 40pc of the global GDP and therefore, it's important. What is also important to note is that, Australia currently exports more beef to RCEP countries than the US does, and therefore, any tariff reductions or quota advantages that Australia will have will be significant gains for Australia.
Conclusion
When a 'Full court press' is used in basketball, it makes it difficult for the opposition to play their natural game and often prevents the opposition from scoring.
It's no different to preventing trading competitors from out-competing the US in the markets like I have outlined above. The ultimate aim for US negotiators is for competitors to lose market share, lose any strategic advantage like lower tariffs, and ensure that US beef remains dominant in that market.
I have said in the past that market share is not what we should measure ourselves by. Instead, attributes like quality, environmentally friendly produced products, food safety and traceability are crucial to build a good brand and chase 'niche' markets. This though, gets hard when you are on the wrong side of tariffs and quota allocations as we have seen in recent times, in Korea and the EU.
Last Friday's EU-Mercosur agreement saw the EU allocate 99,000t of beef access to the South American countries, and has shown us that our South American neighbours are just as capable of using the same 'Full court press' tactics as the US, with the only difference being that the US is applying these tactics simultaneously across many markets – not just one or two.
Ideally, as beef exporters, Australia wants an even playing field and a fair trading environment where we are all on an equal footing, but this might be regarded as a naive and impossible outcome and hence, the importance of RCEP to try to regain the lost ground and even up the scoreboard.
Given Australia has a much larger presence among RCEP members than the US, this might be the only silver lining on the trading horizon.