WEEKEND discussions between US president Donald Trump and China's visiting president Xi Jinping have apparently increased prospects of US beef entering China some time soon.
China has agreed once more to permit US beef exports, ending a ban that took effect in 2003 following the discovery of BSE in a beast in the US.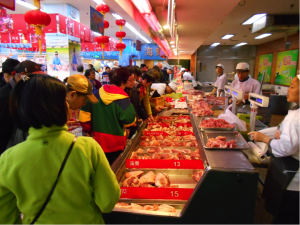 A deal over beef access was struck over the weekend, according to a report in the Financial Times.
Any access breakthrough by the US, which is rapidly expanding beef exports this year in response to herd rebuilding, would add another level of competition for Australian beef, currently coming under considerable competitive pressure in China from exports from Brazil.
US analyst Farha Aslam from Stephens Inc cautioned in a note to investors, however, that China had twice before agreed to grant market access to US beef, but regulatory hurdles had prevented any trade taking place.
A similar announcement was made last September (see Beef Central's earlier report) that China would end its 13-year ban on US beef. At the time the US Meat Export Federation cautioned that while it was a good first step, USDA and its Chinese counterparts still had to negotiate conditions for access.
Since then, US beef industry groups and some Congress Senators have been calling on the Trump Administration to take action on the issue. Details were not immediately available on how the new agreement will move the issue forward from the September agreement, meatingPlace reported.
Access to China would have considerable limitations for the US production system however. China's no HGP policy would mean the vast majority of US fed cattle would be ineligible. The US produces only relatively small volumes of HGP-free fed beef – some estimates say as few as three percent of cattle entering US feedlots do so without the use of implants.
That would limit supply to China primarily to non-fed cattle, principally beef and dairy cows, and bulls. That could push mostly manufacturing type beef, rather than chilled cuts to China, in the event of a full market access occurring, analysts say.