Bilateral free trade agreements with India and Britain have been passed by the Australian Parliament this week.
It is now up to the parliaments of both nations to ratify the deals for the agreements to take effect.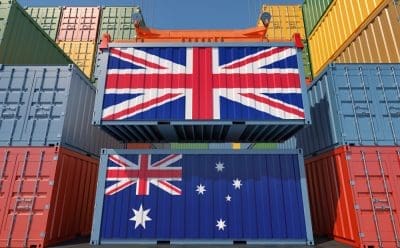 Australian Trade and Tourism Don Farrell announced the passage of the implementing legislation through the Parliament today.
Australia is now in a position to implement both free trade agreements before the end of 2022 if both partner nations ratify their legislation soon, but there is no firm timeline indicating whether that is likely to happen.
The Australia-India Economic Cooperation and Trade Agreement (ECTA) will open up new markets to reach around 1.4 billion consumers in the world's fastest growing major economy, Mr Farrell said.
Related article: Australia awaits UK FTA ratification as political turmoil disrupts Britain
The Australia-United Kingdom Free Trade Agreement (A-UKFTA) is the first full trade agreement the UK negotiated from scratch following Brexit.
Mr Farrell said the A-UKFTA will deepen Australia's already strong economic relationship with the UK and offer greater opportunities for our businesses to diversify their trade markets.
The ECTA and A-UKFTA will enter into force 30 days (or another mutually agreed time) after the respective parties have confirmed in writing that they have completed their domestic requirements.
Prime Minister, Anthony Albanese said the new trade agreements with India and the UK would strengthen Australia's existing trade and economic relationships.
"The new agreements will create new opportunities for trade diversification and great outcomes for Australian business and Australian families."
"Today's passage of legislation demonstrates Australia's commitment to free trade and the rules-based trading system. It is an acknowledgement of the centrality of trade to our economic resilience and ongoing prosperity."
Minister Farrell said the agreements will offer support for Australian businesses to grow, offer more employment opportunities, and give Australian consumers more choice at the checkout.
"We are ready to implement these deals and will continue working closely with the UK and Indian Governments to implement the trade agreements as soon as possible."
Source: Minister for Trade