SHORT supply of beef out of Australia and New Zealand is helping maintain prices for imported lean grinding beef in the US well above equivalent domestic supply.
The combination of wet weather during March and early April (in part influenced in both countries by Cyclone Debbie), public holiday-shorted killing weeks in both countries and the drought impact on herd size in Australia has greatly reduced inflows of Australian and NZ beef to the US in April.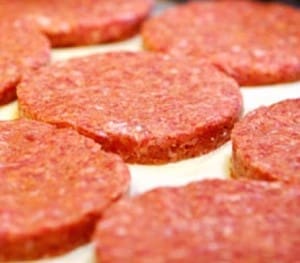 One estimate this week suggests total Australian shipments in April might struggle to reach 12,000t, the lowest level since January, about half of what Australia shipped to the US in 2016, and a fraction of shipments for the month in 2014 and 2015.
Imported 90CL prices in the US last week edged 1c higher to A614¢/kg, continuing the general upward trajectory seen since the beginning of 2017.
Steiner Consulting's imported beef market report last week suggested that US market participants were finding it increasingly difficult to bridge the gap between US bids and Australian offering prices. Some of the offers from Australia remained outside the high-end of the range of prices suggested in reporting.
"Slaughter in Australia has been limited by a number of holidays and this has significantly reduced beef availability from this market," Steiner's weekly report said.
The level of volume shipped from Australia, lack meaningful supplies into the US yet from new export player, Brazil and the lower than expected supply shipped from NZ had created a very tight supply situation in the US imported lean grinding beef market, Steiner's report said.
"Near-term supplies are tighter than many expected," last week's report said.
The result is continued firm prices for lean grinding beef and imported beef trading at a premium to domestic prices.
US cow and bull slaughter has been running about eight percent above year ago levels in March and early April, but the pace of slaughter should slow down modestly in May, Steiner said.
Moisture conditions in many parts of the US have improved and higher feeder cattle prices have bolstered demand for calves and could slow down the flow of cull cows into the US slaughter market, the report said.
"Fed beef prices also remain very firm at this point thanks to robust demand but also very current supplies of cattle on feed. Most US cattle coming to market spend time in a feedlot. When feedlots fall behind in their marketings, this tends to increase the weight of cattle relative to where they normally should be for the time of year."
The weight of US fed steers so far this year is running significantly below year ago and approaching the five year average, Steiner said.
"Front end supplies, i.e. the supply of cattle that are market-ready, is down as much as 15pc from a year ago, which has bolstered US beef prices overall, including the price of beef fat trimmings. US feedlots placed more cattle on feed in March but the pace of marketings was strong enough to have more than offset the placement numbers."
US beef prices today are about 15-20pc higher than what futures were indicating earlier in the year, Steiner said last week.
NZ supply looking tight
Much of the conversation in the market recently had revolved around availability and pricing of New Zealand cow meat.
"While indications are that cow slaughter in NZ has now increased, it is unclear as to how much NZ packers/producers will be able to make up the shortfall that was created in February and March. The assumption in discussions with market participants is that NZ will have fewer cows to sell during the auturmn cow run, but not to the degree we have seen so far."
"Consider that New Zealand cow slaughter for the six weeks to March 25 was 131,127 head, down 71,152 head or 35pc compared to the previous year."
"If cow slaughter in NZ is expected to be say, down 15pc year-on-year, this would imply that cow slaughter during the peak slaughter period (late April – early June) could be about the same as a year ago," Steiner said.
"Last year cow slaughter during this period averaged around 46,800/week compared to slaughter in February and March averaging 20-21,000. All this is making the assumption that NZ producers will eventually send the cows to slaughter."
However, feed conditions in New Zealand have been quite good through much of the late summer and early autumn, while dairy prices have recovered substantially compared to a year ago. Some market participants also think culling of cows in NZ in the last two years has been quite significant and it is likely that the culling rate this year will be much lower than during a normal year.
The reduction in New Zealand supplies has been quite significant and it has compounded the impact of limited supplies from Australia.
Interestingly, while the market for imported lean cow-beef in the US has been rising this year, prices remain below the extraordinary highs of 2015, when there were periods that they exceeded A700c/kg.
Looking forward, three factors are likely to underpin grinding beef prices in the US over coming months.
Good moisture conditions and higher calf prices could reduce US domestic cow slaughter in May and June, meaning that when combined with the Australian and NZ situation over the coming months, it is likely the tight supply situation will remain.
US retailers and food service operators are in full swing, preparing for the usual seasonal demand improvement that comes with warmer weather.
On the back of consumer disposable income growth returning to pre-recession levels, US consumer confidence is at the highest level it has been in almost a decade.