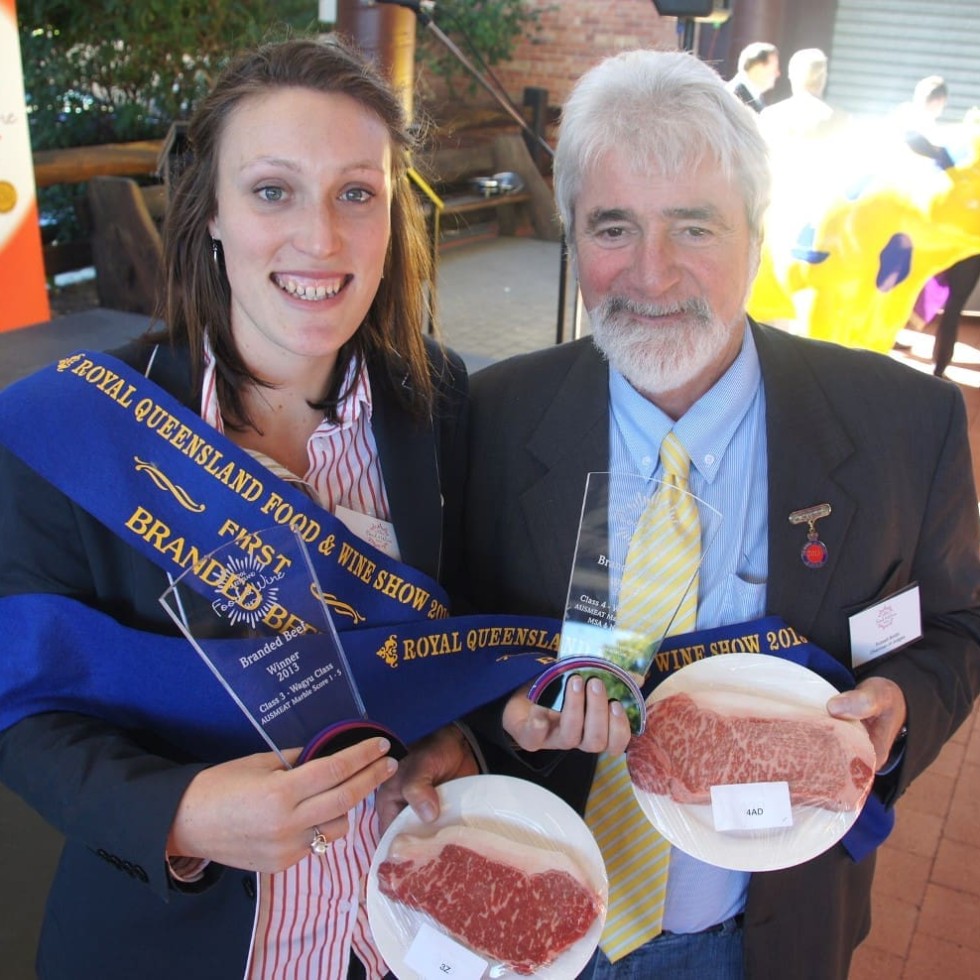 Sydney-based wholesaler, exporter and supply chain manager Andrews Meat Industries had the best possible exposure for its new brand strategy when its separate programs for fullblood and crossbred Wagyu cattle both won classes in Friday's showcase Brisbane Show branded beef competition.
The high quality beef programs developed by Andrews are proving to be consistent performers in taste-test based branded beef competitions, having earned the show's overall Grand Champion of Show award last year.
This year, the company entered its Tajima brand crossbred program in the Wagyu class for marbling scores 1-5, and its premium Shiro Kin Fullblood program in the Wagyu class for marbling scores 6+, claiming first places for both.
Andrews export department supply chain coordinator Kylie Schuller, who was on hand to collect the awards, said the company launched separate brand programs around this time last year. Previously, both fullblood and crossbreds were packed under the same brand, Tajima.
Andrews has developed collaborative contract breeding programs for its crossbred business, with a lot of the calves bred out of Holstein dairy herds in southern Victoria, using supplied Tajima-strain Wagyu semen.
It's these cattle, together with some contract-bred AI calves out of Angus dams, that make up the backbone of Andrews' Tajima brand program, fed under custom-feeding arrangements (minimum 400 days) at either Elders Killara feedlot (NSW), ICM Peechelba (Vic) or Macquarie Downs near Leyburn (southern Qld).
In total, about 250 crossbreds per month are slaughtered, producing carcase weights 400-420kg and marbling scores ranging from 4 to 9+. The carcases are broken up and sold on a parts basis into a wide range of markets, including Korea, China, the US and southeast Asia.
A few selected loin cuts are used in the domestic food service market, with customers like Crown Casino in Melbourne using the product in four sites within the complex. Hamilton Island resort in the Whitsundays and Sydney's Chop steakhouse are other prominent committed end-users.
The parallel Shiro Kin (meaning white gold) fullblood program, focusses only on marbling scores 8+ product, fed 500 days minimum at Macquarie Downs feedlot in southern Queensland, to produce carcase weights +450kg.
Many of the fullblood feeder calves are also bred on Japanese-owned Macquarie Downs, which has had a long history of successful Wagyu
breeding using elite genetics. Some fullblood calves are also sourced from other breeders.
Currently the program is 'quality' focussed, rather than 'quantity', producing about 30 bodies each month. Once production systems are bedded-down, focus will turn to increasing volume, mostly through outsourcing fullblood feeder calves.
Shimane, Kedaka and Tajima strains are used in combination to optimise marbling, while also increasing growth rate and carcase weight.
The end-point for the fullblood Shiro Kin product is the extreme upper end of the hotel and restaurant market, with Taiwan being a significant export destination for large proportions of the carcase, not just single cuts.
Despite the flatness in the global economy, and the cautious approach to spending among many consumers both in Australia and overseas, demand remained high, Miss Schuller said.
"Demand for the fullblood product tends to be very consistent, whereas the Tajima program does tend to go a little more in waves," she said.
"Once you have people interested in an elite level product like this, they tend to stay very committed."
"We've had a really good response to the Shiro Kin fullblood product since its launch 12 months ago, and awards like this one are only going to help reinforce the brand message," she said.
Placed second in the Brisbane branded beef competition's Wagyu class for marbling scores 5 and less was the Australian Agricultural Co's Kobe Cuisine crossbred program – probably Australia's single largest Wagyu beef brand, by volume – with Stanbroke Beef's Diamantina Wagyu third.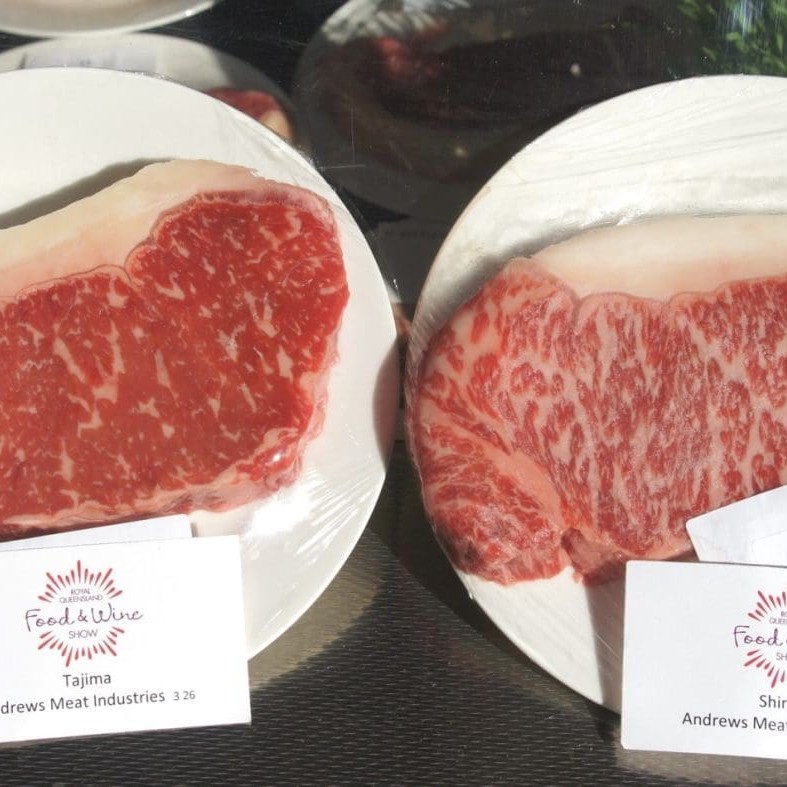 In the Wagyu class for entries carrying marbling scores 6 and higher, second place went to Stockyard Beef for its Stockyard Wagyu program.
Click here to read Beef Central's earlier profile on Andrew's Meat Industries' Wagyu brand strategies.