STATISTICALLY, females are responsible for a much greater proportion of shopping purchase decisions than males, so it was logical that a red meat brand manager would at some time build a brand identity targeted squarely at the fairer sex.
It's part of the strategy that's been built over the past 15 months by Sanger Australia in launching its very first lamb brand program, Mr Lamb.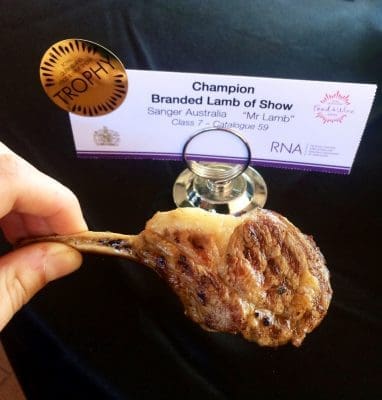 Launched at the important Gulf Foods Expo in the Middle East in February last year, Mr Lamb is used primarily by Sanger in export programs, but it gained an instant local profile when a sample was judged champion branded lamb during Brisbane's Royal Qld Food and Wine Show last week.
Mr Lamb's only real presence in the domestic market is through Sanger's own the Australian Meat Emporium wholesale butchery outlet in Sydney.
Instead, most of the turnoff is directed into the Middle East nations of Dubai, Qatar and Saudi, plus lesser quantities into Southeast Asia, China and the US.
The product is 100pc chilled, using quality, well-finished second-cross lambs sourced out of Victoria's western districts and processed at ALC Colac.
A range of carcase weights are accepted, primarily to suit different food service and retail customer specifications. Customers in Dubai and Saudi, for example, want a smaller carcase – typically 22kg or less, while bodies up towards 26kg are directed into the US business, with a maximum of 30kg.
"It's arguably a brand unlike anything that's been seen before in the meat industry"
In the Middle East, the brand is primarily directed into the retail market rather than food service, which has shaped some of the thinking during the brand development phase.
Previously product into the Middle East was being packed under the much more generic 'Sanger Australia' corporate identity.
"Mr Lamb is arguably a brand unlike anything that's been seen before in the meat industry," Sanger's head of sales, Nick Thompson said.
"From the colours to the graphics and the messaging, we purposely tailored it more towards the female shopping decision-maker," he said.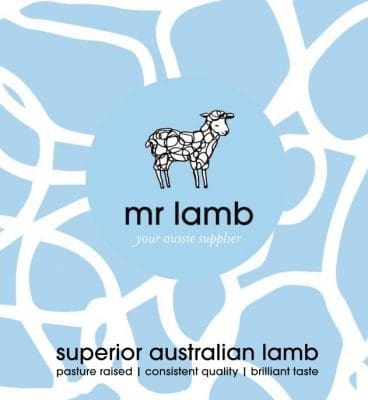 The distinctive 'squiggles' in the brand imagery are designed to reflect the lakes and meandering small river systems that characterise Victoria's western lakes districts, from where many of the lambs are sourced.
The messaging and brand story emphasises the pasture-raised background, ethical and sustainable production systems, free-range qualities, freedom from hormone and additives, and mild yet satisfying flavour.
All of the design and conceptual work was done in-house, using Sanger's own graphic design team.
"It had a somewhat slow start, perhaps partly due to the cartoon-like characteristics of the brand images, but it is mow starting to build a really strong reputation as a consumer brand, backed by strong marketing and collateral," Mr Thompson said.
The next step will be to further build on the story behind the brand, based on further research into issues of importance to female purchase decision-makers.
"It's still new – only 18 months old – so we feel there is still development room in this space," Mr Thompson said. "But already, it has been really successful in achieving its aims."
The lambs for the program are processed at Australian Lamb Company, Colac, all in vacuum packaged primal form. ALC's livestock team is responsible for all the livestock sourcing for the program, under a long-standing relationship with Sanger.
"The Mr Lamb brand typifies what we're progressively trying to do with our beef brands, also," Mr Thompson said.
"Too often brands are interpreted as simply a colourful logo on a carton lid. We're trying to make all of our red meat brands much more consumer-related, going past the wholesaler, direct to the end-user customer on a chilled cabinet shelf or on the menu. That's designed to create pull-through for the product."
Gold medal winner at Brisbane
Sanger's Mr Lamb export brand was named Champion Branded Lamb of Show, earning a gold medal at Brisbane's Royal Queensland Food and Wine Show last week.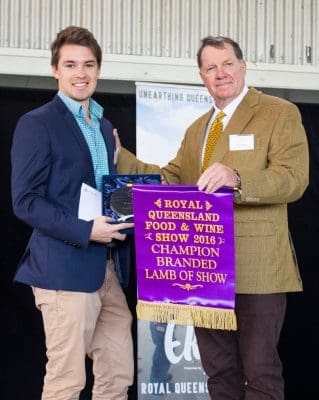 The awards were judged by a team of experts including top chefs from award-winning restaurants, butchers and food consultants.
Chief Judge Elaine Millar said the Mr Lamb product featured layers of sweet, creamy and earthy flavours and met all expectations.
Collecting the award on Sanger's behalf was meat sales representative, Fin Blacket, pictured at right receiving the trophy from RNA councillor Angus Adnam.
Today: AMPC and CSIRO host the "Growing value: Innovation opportunities in meat" seminar in Brisbane. Stand by for reports in coming days on Beef Central.