IT SHOULD come as no surprise, given the intense focus placed on Australia's rate of beef kill during the past 18 months, but it's now official: Australia has set an all-time record for beef and veal exports in 2014.
Full calendar year export data released this morning by the Department of Agriculture shows chilled and frozen beef and veal exports to all countries in 2014 reached just over 1.287 million tonnes – almost 190,000t or 17 percent higher than the previous record set the year before.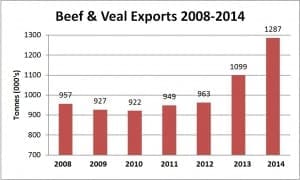 As Beef Central has described countless times over the past year, the dramatic rate of turnoff has been driven by continental-scale drought across the eastern half of Australia, that started to take hold in the second half of 2013 and has not let up since.
The drought event – classified as the worst in history in large parts of Queensland, the nation's largest beef producing state – has led to unprecedented rates of slaughter last year (to access Beef Central's recent article on herd decline and outlook for 2015, click here).
And far from edging past the previous 2013 record annual total of just less than 1.1 million tonnes, the old figure has been absolutely smashed, as strong international demand coupled with the extreme drought pressure on producers to sell-down their breeding herds has forced record numbers of cattle to market.
What has set the most recent drought and high turnoff episode apart from earlier ones has been the remarkable resilience of cattle and meat prices. In the 1977-78 Beef Slump era, when cattle turnoff went close to that seen in 2013-14, prices collapsed under supply pressure.
The difference today is market diversity, and unprecedented world demand for beef. In 1978, Australia was heavily reliant on just the US, and to a much lesser extent, Japan, for its export beef trade. In 2014, Australia's four biggest customers still took 967,000t of beef and veal, but on top of that there were another nine markets across the world taking between 10,000-50,000t of beef for the year.
Further fuelling the unprecedented export volumes last year was the strength in international demand for Australian beef, and an increasingly favourable exchange rate as the year wore on. Australia's trading position has been assisted by the decline in value of the A$, which sat this morning at a fresh five-year low of US80.65c. That's down US13c in the past six months, and back from US89c this time a year ago.
While such export records always provide a sense of achievement, it is more a sad reflection of the desperately bad times experienced across the nation's beef heartland areas of Queensland, central and northern NSW and parts of Victoria this past year.
December's monthly export figures, also released this morning, followed the familiar pattern set earlier in the year, with a record 115,457t being shipped being shipped to export destinations. That was easily a record tonnage for the month, more than 17,000t higher than the previous December figure, which itself was a record.
So where did last year's record-setting export shipments go? Virtually everywhere it seems. Here's a brief market-by-market summary:
US re-asserts itself as key export customer, taking 397,000t
After a five-year slump which saw annual exports descend to as low as 167,000t in 2011, the US is now fully-restored as Australia's largest export market by volume and outright value.
Export trade last year reached 397,889 tonnes – just short of the all-time record volume of +398,000t recorded in 2001, when the Aussie dollar was worth just US55c, and export options were far fewer than what they are today.
Last year's result represents a dramatic 87pc rise in trade from the previous year, as the run-down in the US beef herd and lower domestic production, coupled with more favourable exchange rate, took effect.
December monthly exports to the US reached 40,815t, also a monthly record, and more than double the 17,700t exported this time a year earlier.
Australia's tariff-free quota for beef exports into the US for 2014 was 413,214t, meaning final shipments got uncomfortably close to triggering a tariff jump, by December 30.
US domestic beef production is forecast to drop a further 3.2pc in 2015, to 10.77mt, according to latest US Department of Agriculture estimates.
Japanese, Korean trades show modest rises
While lifting volume a little last year, Japan fell to second place among Australia's beef export customers, due to the dramatic rise in trade experienced to the US.
Total exports to Japan last year reached 293,778t, a 2pc rise on the previous year, but well-short of the previous five year average of +330,000t.
Mounting export competitive pressure from the US is a factor in that trade performance, with US shortribs and other in-demand single cuts continuing to flow into the Japanese market in heavier volumes.
Australia's monthly shipments to Japan for December reached 26,845t, a 17pc rise on the same period a year earlier.
Korea is now clearly re-established as Australia's third largest beef export market, responsible for 150,918t of chilled and frozen beef in calendar 2014. That represented a 5pc rise in trade on the previous year, despite the growing tariff differential burden being experienced in Korea, relative to US exports, over the past three years. Shipments to Korea last year reached their highest level since 2006, and the second highest on record.
Monthly shipments for December reached 16,200t, about 1100t better than November, and about 17pc better than December last year.
China eases, but still strong
If there was any disappointment among Australia's 'big four' beef export markets last year, it was in China, where the spectacular growth in exports took a check for the first time.
The awakening of the 'sleeping giant' was the beef export story of the year in 2013, when volumes reached 154,800t – up 370pc in volume on trade in 2012.
But volumes for the 2014 year just completed reached only 124,585t, a 19pc reduction on the previous year. The economic correction being experienced in the Chinese economy, and stronger bidding performance from US importers for manufacturing meat, partly explains the reduction in trade.
For the month of December just passed, exports to China reached 10,100t, down about 4000t on the same period a year earlier.
Almost 29pc of Australia's beef trade into the country in 2014 was made up of either carcase or bone-in beef, reflecting the shortage of domestic cattle to process in Chinese boning rooms.
There was some recovery seen in chilled exports following earlier suspensions, with the 3489t of chilled beef and veal representing about 3pc of the total. That is likely to grow further with full-year trading in 2015, and the prospect of more Australian plants being approved to supply chilled beef.
Middle East continues to strengthen
The Middle East region continues to perform strongly as a customer for Australian beef, taking 59,717t of Australian beef last year – just marginally below the record set a year earlier, and almost twice the size of exports seen back in 2012.
December trade remained strong at 4460t, about 10pc better than year-earlier trade.
EU growth down to grainfed
Australia's total export trade to the European Union last year reached 24,524t, another big leap of almost 5000t, or 24pc higher than the previous year, as the enlarged EU grainfed beef quota provided greater opportunity for Australian exports. December monthly shipments at 1741t were 14pc higher than the comparable period a year earlier.
Elsewhere, politics and trade access – some good, some bad – exerted influences on export performance in emerging markets.
Russia and the former CIS states all but disappeared as a significant export destination for Australian beef, accounting for only 2087t in 2014, a decline of 28,000t on the previous year, as a result of Vladimir Putin's trade sanctions in connection with Russia's invasion of the Ukraine. At its peak, Russia accounted for Australian exports above 60,000t in 2010 and 2011.
Indonesia sharply higher
Exports to Indonesia mounted a strong recovery during 2014, following two years of heavy restrictions on trade as part of the Indonesian Government's 'self-sufficiency' push in commodities including beef. Beef exports last year totalled 53,140t – a 35pc rise on the previous year, which itself was sharply higher. It's the best result seen since 2009, well before the recent access issues, when exports topped 52,000t.
The Philippines continues to be a solid performer for Australian beef, taking 2355t last month, and almost 34,400t for the calendar year, a 27pc rise over the 2013 year. Taiwan at 36,400t improved its volumes a little over the previous year, while Malaysia eased a little to 13,105t.
Another surprising growth market for Australia last year was Canada, taking almost 33,000t of Australian beef via its east and west coast ports last year – about double it intake from the previous 12 months.
Slipping in size was the Central and South American markets, where volumes (mostly picanha/rump caps and other specialised in-demand cuts) fell to 7466t, less than half of what they were in 2012, and down 2000t on last year.