AFTER two years of exaggerated drought, exactly how much has the current Australian beef herd contracted in size, and what bearing will that have on cattle turnoff, slaughter numbers and price in 2015?
They are questions which are increasingly coming into focus as the nation enters its final full slaughter week for the year, and attention starts to shift onto the outlook for the year ahead.
The tragedy surrounding the 2014 year, on top of another desperately dry season in many regions in 2013, is that the Australian beef industry is faced with unprecedented export beef market opportunity in coming years. At the same time, the beef herd is in a state of collapse, from which it will take years to recover.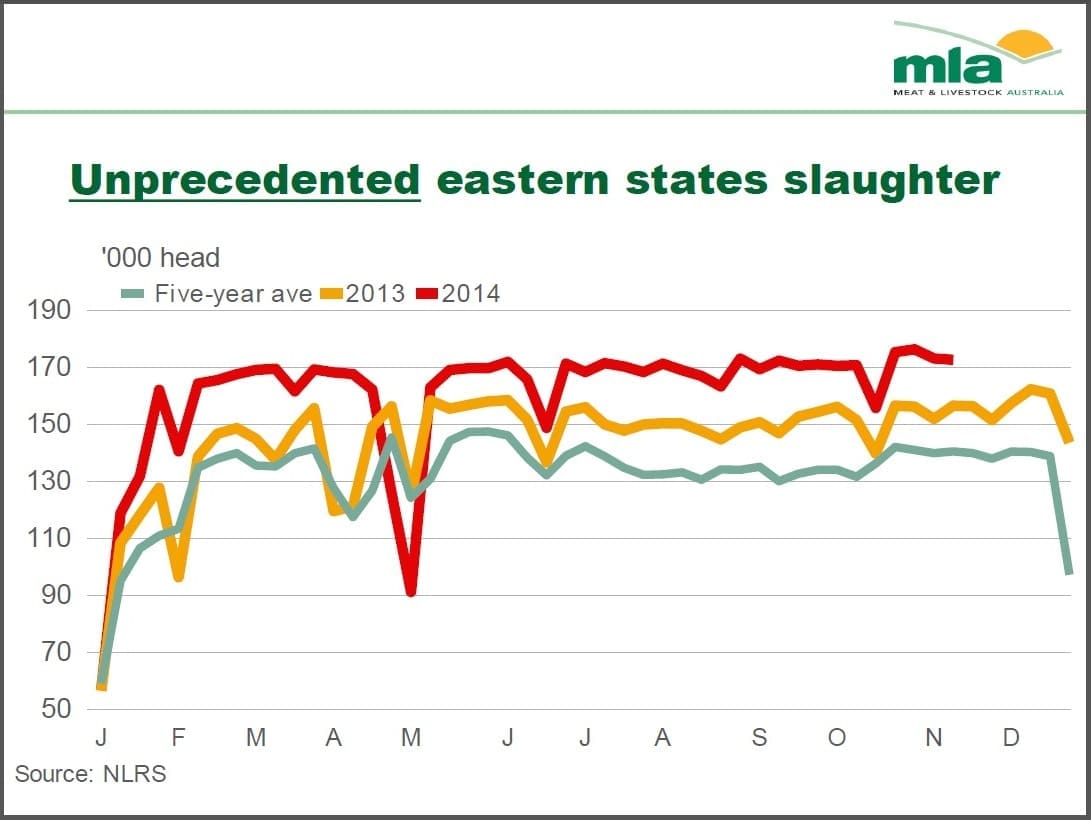 If current estimates are anywhere near correct, the beef herd is now at its lowest level in at least 20 years – possibly a lot longer, depending on which scenario you support.
Based on some figures Beef Central has pieced together, it appears that close to 19.5 million cattle have been turned off, either through slaughter or live export, during 2013 and 2014. That does not account for paddock mortalities, which have inevitably been elevated for the past two drought years.
If it proves correct, it will be one of the highest turnoffs in history for a two-year period.
Our assessment is based on the following collection of statistics:
Adult cattle slaughter for 2013 reached 8.36 million head – itself the highest figure since 1978 (ABS figures).
Live cattle exports in 2013 reached 820,000 head (ABS).
Combined, that represents a 2013 turnoff of 9.18 million cattle.
2014 live cattle exports for the ten months to October 31 reached 1.036 million (ABS), with the conservative prospect of at least another 100,000 by year's end, which would take the 2014 total to 1.136 million. That's also easily a record.
Adult cattle slaughter for 2014 may go close to 9.2 million head, in Beef Central's opinion. With this being the last full week of slaughter for 2015, we can now get pretty close to the final slaughter number for the year. Using the official ABS slaughter stats (which carry a lag factor), we know that 7.76m head of adult cattle were slaughtered nationwide for the ten months to the end of October. For November-December, at this stage we can rely only on the weekly Eastern States slaughter stats produced by MLA. The Eastern States kills for November and December to date, plus a likely kill for the final week, adds up to a further 1.286m head. Combine that with the Jan-October ABS figure, and it gives an approximate figure for the year of 9.046m. Add to that, the final eight weeks' worth of kills in WA (not covered in the weekly MLA stats), and those outlier plants that do not contribute to the MLA survey, and the final figure could go close to 9.2m.
That would mean 2014 slaughter plus live export tally could reach 10.4 million head – an all-time record turnoff. It's higher, even, than in the Beef Slump year of 1978, when the kill component was greater, but there was no live export to add to it.
One thing that is certain is that the extreme rates of turnoff (kill and live export) forced by drought over the past two years are not sustainable. Not only that, but they have done colossal damage to Australia's calf-getting capacity, as the female proportion of the kill has shot to record highs.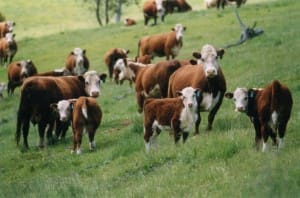 The female portion of the national kill last year went past 50pc for only the third time in history. It is likely to reach 52pc again for the 2014 year, but remember, that is as a proportion of a much larger overall kill.
MLA recently published data saying that cow and heifer slaughter for October reached 416,000 head, up 18pc year-on-year, and taking the year-to-October female number to just under 4 million head, 20pc higher than the same period last year. There have now been 27 consecutive months where female kill has been higher than the corresponding period the year before.
Believe it or not, the 2014 year is not likely to be a record for females killed, as there was some colossal female liquidation occurring in 1978 Beef Slump year, when the total kill reached 10.3 million head. That year, however, the beef national herd was coming off a high around 30 million.
While the impact of drought has been felt across Eastern Australia this year, there's no doubt that northern regions have copped it worse, and for longer. That's led to a suggestion that the balance of herds held in the northern region (Queensland, NT and northern parts of WA) and south (NSW, VIC, TAS, SA and southern WA) is again about to shift. Since 2007, there have been more cattle held in Australia's northern region, than southern, but the effects of drought, coupled with the exodus of cattle out of northern Australia after the live export market closure, is likely to see that change again next year, with the south again accounting for a larger share of the national herd. That's unlikely to change again any time soon.
Looking back to earlier forecasts…
Before looking forward to forecasts for 2015, it's perhaps worthwhile to look back at earlier herd forecasts.
Firstly MLA's industry projections for 2014 issued at the start of this year forecast the Australian cattle herd to decline to 27.5 million head by mid-year, and adult cattle slaughter for calendar 2014 to decline 9.1pc to 7.6m. Keep in mind, however, that MLA had no idea at that time how 2014 was to unfold, and based its assumptions on an 'average' seasonal year, including a 'normal' spring break.
By July's mid-year Projections update, as circumstances spiralled out of control, MLA changed its outlook significantly, suggesting the herd by June 30 2013 had declined 8.8pc to an estimated 26.7 million head – a drop of 800,000 more cattle than what was forecast just six months earlier.
On the reasonable assumption that there would be a normal spring break, slaughter was still expected to ease in the second half of this year, reaching 8.3 million for the full 2014 year (down 0.7pc year-on-year).
Herd coming off a high base
Recent industry discussion involving MLA and larger processor/producer stakeholders has focussed on where the herd size is currently up to.
Two distinct schools of thought are emerging:
The first is that following the extremely wet years of 2011 and 2012, the national beef herd in fact grew a whole lot more than forecasters had anticipated. That, in turn, provided a hidden 'buffer' that partly explains how Australia has managed to kill so many cattle, for so long, over the past two years, notwithstanding the dry conditions.
A second school of thought rejects this theory, saying that calving rates over the past two drought years have in fact been a lot lower than those calculated by forecasters, and in fact the herd is in considerably worse shape than what is currently suggested.
The official ABS figure for the peak of the national herd size was 29.3 million in June, 2012, before declining to 28.25m head in 2013 (as seasonal conditions turned), and further still to 27.8m by June this year. For June next year, a herd size of 26.2m has been suggested by some forecasters.
More recent estimates suggest that figure is highly optimistic, however.
ABARES' December report suggests that if seasonal conditions fail to improve in the major cattle producing regions over summer, high slaughter is expected to continue.
"Unfavourable seasonal conditions in coming months would result in a further weakening in carrying capacity, leading producers to continue liquidating their herds," it said.
Using fiscal year rather than calendar year cycles, ABARES' December report suggests that Australian cattle and calf slaughter will fall by only 1pc in 2014–15 to 9.4m head.
"Given the current seasonal outlook, high cattle slaughter is expected to continue at least to early 2015, particularly in QLD and NSW. Assuming seasonal conditions improve towards mid-2015, cattle slaughter is expected to fall after that time," the agency said.
Assuming a gradual improvement in seasonal conditions towards mid-2015, ABARES most recent forecast suggests the Australian beef cattle herd could fall to around 23.6m head at 30 June 2015, a contraction of 5pc compared with mid-year in 2014.
Summer season has big bearing
Almost regardless of whether it rains this summer or not, it will potentially have a big bearing on rates of turnoff seen next year.
If conditions stay very dry for a third year – god forbid – rates of slaughter next year are likely to persist at above average levels, but nowhere near as high as 2014, due to the sheer run-down in herd size. With the momentum in live exports as well, that scenario could see the national herd fall to 22 million or less, a contacted suggested.
If Eastern Australia gets even an average summer rainfall season, cattle turnoff will inevitably slump much further than ABARES suggests, as producers begin the rebuilding process. But the question is, how much?
More extreme industry views suggest the beef kill next year might decline 25 percent. Other say that isn't likely, but if it does occur, it would mean a 2015 kill around 6.8 million head. That would be the lowest figure since 1989.
Others have suggested a decline of 20 percent, which would mean a kill of 7.4 million, the lowest since 1995. Sources say MLA's own, very preliminary projection is for a more conservative 13pc decline in slaughter next year, to around 8 million head, with live exports declining 23pc to 950,000 for the year.
Regardless of where the figure goes next year, the industry can expect to see very low and even more depleted kills again in 2016 and 2017 – perhaps longer – as the 'echo effect' of female liquidation, poor calving rates and poor conception rates drifts on, especially in northern Australia.
Seven million slaughter cattle, and perhaps another million live export, might be as many as Australia can muster for turnoff until perhaps 2017, Beef Central has been told by reliable sources close to recent forecast discussions.
What lies ahead for cattle supply, slaughter and price in 2015?
For what it's worth, based on recent discussions Beef Central has had with a wide variety of stakeholders on the subject, here are some predictions for 2015:
Plant closures:
Perhaps more likely in 2016/17 rather than next year, abattoir closures may be on the cards, as the herd decline impact is felt. If an 85,000 head-per-week kill, as seen in Queensland for most of this year, suddenly becomes 60,000 head next year or the year after, competition for available cattle will become intense, to say the least. It's effectively one day out of a five-day killing week that no cattle are available.
Four years ago, during the height of the wet years when cattle numbers were tight, many plants in Queensland were dropping shifts to adjust to lower kill numbers, and it will happen again. The US has seen similar occurrences this year, with Cargill and others shuttering plants as US processing capacity falls out of kilter with a savagely reduced US herd size.
As cattle in Australian become scarce, the first item to go will be weekend kill shifts, which have been commonplace in 2014 where agreements allow them to be scheduled. That's likely to be followed by skipping weekday shifts, as the available cattle pool declines.
A fierce bidding war for available stock may see some smaller independent processors unable to compete for the meagre pool of stock, forcing them to close up shop for a period. For larger processors with more than one plant in a region, rationalisation (one plant closing for a period, in order to maintain higher throughput at another) is another prospect.
On the flip-side, however, cash reserves built up by processors during the 2014 year may mean processors are prepared to operate below optimum capacity for much longer than they otherwise would, over the next couple of years. But no processor likes to lose money, for any extended period.
"If a plant has made good money this year, the last thing they want to do is give it back," a trusted processor contact said. "Both for bigger and smaller processors, it becomes a question of how long they want to sustain a negative return for."
Feedlot activity declines:
While there are currently around 900,000 cattle on feed across Australia, fuelled in part by drought mitigation, that is likely to fall to longer-term averages around 750,000 head during the second half of next year, and possibly lower.
All that is predicated on an average summer season for the year ahead. If it stays dry, high occupancy levels will continue.
Expect to see few, if any spot-market 100-day grainfed cattle being fed next year, as every available 70 and 100-day grainfed beast is soaked-up in program business built around brands.
Live exports decline:
While demand for live export next year is likely to be unprecedented – with or without a protocol for China – numbers leaving these shores live are like to decline by at least 250,000 head next year, to less than one million head, due to availability issues.
Cattle price:
There is universal expectation that cattle prices next year will rise dramatically – it's just a matter of when and how much. Again, the outcome will be dependent on when/if it rains.
It's anybody's guess, but next year's cattle price level has been a constant topic of conversation over the past few months. At one recent gathering of industry heavyweights, when asked to nominate their feeder steer price prediction for 2015, there was an 80c/kg liveweight split between the 'optimists' and the 'pessimists.' A figure around 330c/kg was about the average for this time next year, given a decent season.
Given the range of views put to Beef Central in recent conversations, here's our tips for slaughter cattle pricing next year, once the cycle turns: 100-day Grainfed: +500c/kg dressed weight; best cow +400c/kg; grassfed four tooth heavy steer 460-490c.