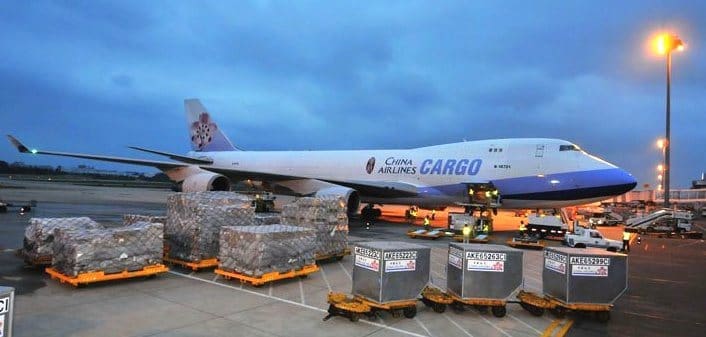 THE Federal government's decision to extend the airfreight assistance mechanism until the end of September this year has been welcomed by red meat processors.
The Australian Meat Industry Council commended the Government's announcement today that the International Freight Assistance Mechanism (IFAM) has been extended by three months, to 30 September.
During the height of the early COVID impacts on international aircraft movements in April last year, the Federal Government launched a $110 million package designed to get air freight exports of red meat, seafood and other perishable food commodities moving again. Beef Central first wrote about the emerging airfreight export crisis in this article published a fortnight before the initiative was launched.
For the 12 months to February 2021, Australian meat exports via IFAM included 40,000 tonnes of sheepmeat and 27,000t of beef, with total volume of produce valued at $4.9 billion.
"The IFAM extension provides the whole Australian red meat supply chain, including exporters, processors, lot feeders and farmers with a 'shot in the arm' at a critical time for the industry whilst it faces a range of key issues including worker shortages, a slow start to exports for 2021 and lack of livestock supply," AMIC chief executive Patrick Hutchinson said.
"The extension of IFAM provides ongoing recognition of the importance of airfreight supply chains in delivering highly valuable, and perishable, protein to international markets," he said.
Mr Hutchinson said AMIC had been working closely with the IFAM team on behalf of the whole red meat and pork supply chain, and the positive outcome was a reflection of the ongoing collaborative and consultative nature of the program.
Underwriting air freight services during COVID
The IFAM project was designed to underwrite freight aircraft services into key export markets in Asia and the Middle East, helping restore key freight routes for perishable export items like red meat until commercial capacity could be restored.
Trade Minister Simon Birmingham said at the time of the program's launch that COVID had led to major air freight shortages and had disrupted supply chains around the world.
"This temporary action will help Australian producers to protect the jobs of those who rely upon Australia's export of safe, quality food into the world," he said.
"Getting our export sector back on its feet is crucial to reduce job losses through the crisis and a critical part of the ultimate economic recovery. By getting flights off the ground, full of Australian produce, we're supporting our farmers and fishers who have been hit hard by this crisis."
The initiative focussed on high-demand agricultural and fisheries exports which have been hit hard by the COVID crisis.
The International Freight Assistance Mechanism operates out of four key departure hubs – Melbourne, Sydney, Brisbane and Perth. The initial destinations chosen were the key markets of China, Japan, Hong Kong, Singapore and the United Arab Emirates.