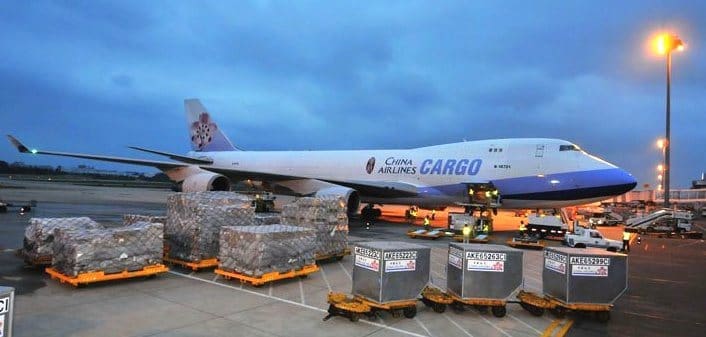 THE cancellation of international passenger flights into, and out of Australia has seen airfreight beef shipments to export markets grind to a virtual halt in the past week.
Airfreight had been playing an important role in an increasingly turbulent global meat trade this year, especially into markets like China, where sea port closures and container blockages were commonplace during January and February due to coronavirus. Click here to view an earlier story.
For the first two months of 2020, Australian airfreight beef shipments to all destinations totalled 5115 tonnes, and lamb and mutton, almost 10,000t. For the same period last year, beef air shipments totalled 4416t.
Main markets being served by air were China, the Middle East, and southern Asian destinations like Singapore.
Beef Central wrote about the growing airfreight red meat export trade in this earlier article.    
The overwhelming majority of chilled beef airfreight leaving Australia is carried as cargo in the holds of passenger aircraft – not dedicated cargo aircraft – Beef Central was told.
Consequently, the cessation of international passenger flights last week has greatly restricted access to freight services. While there are some remaining dedicated cargo aircraft services still flying out of Australia through DHL and other international carriers, there are relatively few freight-only aircraft in service, and access is now extremely limited, Beef Central was told.
Freight rates go through the roof
Even before the Australian government introduced its ban on international travel on Friday, Qantas and Jetstar had announced a 90pc reduction in total international passenger aircraft capacity, until at least the end of May. Singapore Airlines slashed its operations to a handful of destinations around the world, flown by just nine aircraft out of a fleet of 147 – reducing passenger capacity by 96pc.
Prices for airfreight shipment for chilled commodities like beef have risen dramatically, as a result of the passenger aircraft closures.
Northern Cooperative Meat Co's Simon Stahl said quotes for small consignments into a market like Singapore had risen from around $3000 to $13,000 or $14,000 for around three tonnes of product.
"In general terms, prices for airfreight went from around $1 per kilo to $5 per kilo, in a matter of weeks," he said.
"It makes airfreight absolutely prohibitive. Former airfreight customers overseas are now looking at what product they can consolidate, and bring in via a seafreight container. That's going to be easier said than done for some customers – but one thing about human beings is that we always manage to find a way to make things happen, especially under dire circumstances like this."
Australia officially closed its borders to non-residents from 9pm on Friday, in the latest escalation of the global coronavirus pandemic.
There has been some industry speculation that Qantas may be considering re-fitting some of its idle passenger aircraft for freight-only use.
Both Qantas and Virgin Australia say they do not expect international passenger flights to resume until at least May-June 2020.