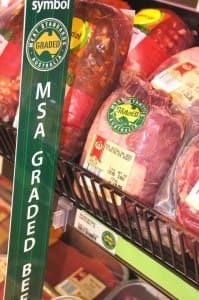 CATTLE numbers graded for Meat Standards Australia hit 3.175 million head in 2014, up 18 percent or almost 500,000 head on the previous calendar year.
While MSA operates on a fiscal year basis ending June 30, it does also issue mid-year statistics to align with calendar year performance.
All states recorded substantial growth in grading numbers, with Victoria (coming off a relatively low base, compared with other states) leading the way with a 67pc increase in beef grading numbers.
As the table published below shows, Queensland easily retained its mantle as the largest MSA beef state, grading at 1.375 million carcases last year, an increase of 17pc on 2013.
MSA optimisation was introduced in 2014 and this new beef carcase sorting system saw 32 beef processors representing 57pc of MSA cattle implement optimisation programs by the end of December.

Index figures showing steady improvement
The MSA index for beef was also introduced in last year to provide a meaningful eating quality feedback measurement for producers. The average MSA index in 2014 for all MSA cattle was 57.28.
A retrospective MSA index calculation on MSA cattle from 2013 showed that the eating quality of Australia's MSA cattle has increased 0.52 index points over 12 months. This represented a notable increase in the average eating quality of beef in Australia, an MLA statement said.
Even with difficult seasonal conditions faced, compliance remained at 93pc nationally last year, of all carcases presented for grading meeting MSA minimum requirements. That's the same percentage as in 2013.
MSA requirements do not include company specifications but relates to pH, meat colour and fat coverage. Of the cattle that did not meet MSA requirements, 83pc were due to high pH and/or dark meat colour, down from 85pc in 2013. There was a slight increase in the incidence of cattle not meeting fat coverage requirements of non-complaint cattle in 2014, up to 7pc from 5pc in 2013.
Drought obviously contributed to that.
Producer, end-user numbers both well up
In other signs of expansion in the MSA program:
An additional 841 end-user outlets (wholesalers, supermarkets, retailers and food-service operators) were licensed to promote the MSA trade mark during the year, bringing the total to 3617.
There are currently 42 MSA licensed processors operating across Australia, with one new processor (Carey Bros at Yangan, Queensland) joining the MSA program in 2014.
The number of MSA-registered producers grew in 2014 to 40,260 up 18pc (from 34,228 in 2013).
Interest in MSA brands continued with an additional 21 beef and/or lamb brands becoming MSA licensed. There are now 110 MSA licensed brands in the market place.
Over the hook premiums for MSA yearling cattle fluctuated throughout the 2014 year, but were on average $0.33/kg above non-MSA yearling cattle, MLA said.
Through the year, MSA producers were provided the opportunity to learn more about MSA and the new MSA index system through 47 MSA workshops held across the country.
MSA sheep grading numbers remained consistent with 6.7 million lambs again being processed using the MSA pathways last year, remaining consistent with 2013 grading numbers.