MOVES by some US burger restaurants to offer patties using 'fresh, never frozen' beef may be starting to impact on Australia's primary exports to the US of frozen trim.
Food service giant McDonald's earlier this year joined a growing list of US burger chains offering patties made only from 'fresh, never frozen' beef as part of their point of difference in an incredibly competitive US burger market.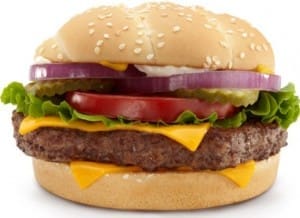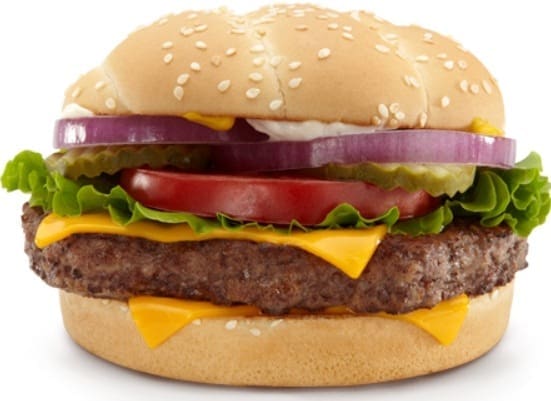 McDonald's biggest US burger chain rival, Wendy's, has for years offered chilled-beef-only burger patties, which it promotes heavily as a point of difference.
In this article published on Beef Central in April,  McDonald's stressed that the 'chilled-only' project, which will be rolled out in all of McDonald's 14,000 US stores by mid-2018, applies only to the company's popular Quarter Pounder burger. But the Quarter Pounder remains incredibly popular, account for about 25 percent of all of McDonald's US beef burger sales. Other US chains have devoted their entire menu to the 'fresh-only' beef concept.
McDonald's US is easily Australia's single largest beef customer, taking large volumes of frozen lean manufacturing beef each year for blending with fattier US beef trim to produce the 'perfect' 75-78CL beef burger.
The global company sources more than 110,000 tonnes (2012 figures) of manufacturing beef from Australia and New Zealand each year through procurement arm Agrifoods Global (formerly MAC Asia Pacific Consortium). The biggest portion of that is used in the company's US restaurants, which in total utilise around 450,000t of domestic and imported beef each year.
The 'fresh only' innovation comes as the company, which has struggled with sales in the past couple of years, has made changes to how it serves and sources its products and ingredients. A commitment to serve only chicken not treated with antibiotics was completed ahead of schedule in 2016.
While switching to fresh beef in Quarter Pounders represents a massive logistical challenge for McDonald's, the move could potentially pay off through an improved public image and better-tasting burgers, analysts say.
Export of chilled trim and manufacturing beef from Australia in large quantities is almost impossible due to shelf-life, given transport distance and time involved.
Why is Australian imported trading at a discount to US domestic beef?
In its weekly US imported beef report published on Friday, Steiner Consulting examines why lean imported (frozen) manufacturing beef is currently trading at a discount to US domestic beef, despite the fact that overall beef imports are down.
MLA on Thursday quoted imported 90s into the US at A594.1c/kg (US210c/lb), while domestic US 90CL was quoted as averaging US214c, and as high as US217c.
Admitting that the recent trend had been a 'puzzle,' Steiner said it was inclined to look at demand from established fast food chains and the broader trends in consumer traffic for an answer.
"Retail domestic ground beef demand we think remains quite good, and US retailers continue to feature ground beef at attractive prices," Steiner said.
But most of that demand is geared towards fresh domestic product. Latest data from the National Restaurant Association reported the foot traffic index for August at 97.7 (values under 100 indicate contraction). For the period March-June the index averaged 99 points. Last year the index was at around 100.2 in the month of September.
"We view the RPI as an indicator of performance at established chains, as they tend to be members of NRA and participate in the survey. Those chains continue to have trouble with increased competition from grocery stores and delivery services," Steiner said.
"Newer concepts have become more competitive by offering 'fresh' menus and, often, offering hamburger options that advertise attributes such as 'local', 'grass-fed' and 'always made with fresh beef'."
This had been an issue for the industry in the last couple of years, but it manifested itself more prominently during times when demand seasonally declines, Steiner said.
Some market participants also noted some short-term issues with regard to purchasing from some US end-users last week.
"Going forward, it appears to us that imported beef will likely continue to trade at a discount to domestic," Steiner said. "This is predicated on the assumption that imported beef supplies will follow a more normal, seasonal trend earlier in 2018. We expect the spread to be relatively narrow, however, given the lack of imported beef availability in the spot market during Q4 of this year."
Imported market activity for the week
Prices for imported beef in the US market were lower earlier last week, but appeared to find some stability as market participants once again had to contend with tight spot supplies and limited offerings from overseas suppliers, Steiner said. Note Beef Central's rain-impact story on Thursday.
"Spot market is very thin and some users that took on shorts earlier back in Aug/Sep now are looking to deliver against those orders," Steiner said on Friday.
"The big debate in the US market at this point is about the direction of domestic lean beef prices in the next two months. Some market participants noted there were domestic suppliers offering product well below quoted USDA sheet and yet finding few bids."
"The seasonal tendency is for lean beef prices to be lower in October/November but it appears that domestic prices may not follow that seasonal as closely as we earlier thought. While at some point we thought it was possible to see domestic lean beef come close to $200/cwt, now it appears that prices may perform better than that."
US wholesale beef prices have also performed better than earlier expected and fed cattle futures have rallied on expectations of robust beef demand in the US later this year.
Imports from grinding beef supplying countries are expected to remain limited through the end of the year.