A DECISION by burger giant McDonald's to adopt a 'fresh, never frozen' policy on part of its beef burger offer in the United States market is raising questions about the possible impact on Australian beef exports.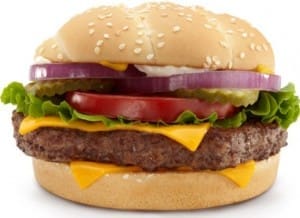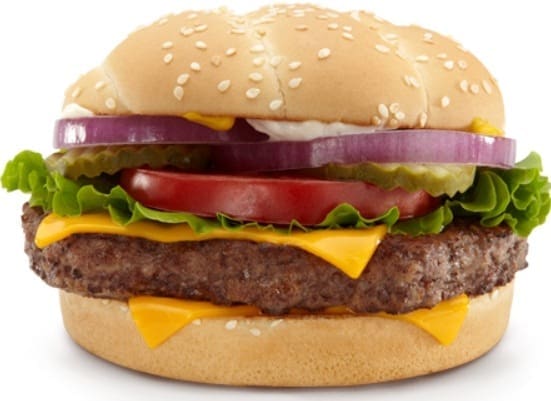 The 'chilled only' project, applying only to the company's popular Quarter Pounder burger, will be rolled out in all of McDonald's 14,000 US stores by mid-2018.
McDonald's US is easily Australia's single largest beef customer, taking large volumes of frozen lean manufacturing beef each year for blending with fattier US beef trim to produce the 'perfect' 75-78CL beef burger.
The company sources more than 110,000 tonnes (2012 figures) of manufacturing beef from Australia and New Zealand each year through procurement arm Agrifoods Global (formerly MAC Asia Pacific Consortium). The biggest portion of that is used in the company's US restaurants, which in total utilise around 450,000t of domestic and imported beef each year.
The 'fresh only' innovation comes as the company, which has struggled with sales in the past couple of years, has made a number of changes to how it serves and sources its products and ingredients. A commitment to serve only chicken not treated with antibiotics was completed ahead of schedule in 2016.
While switching to fresh beef in Quarter Pounders represents a massive challenge for McDonald's, the move could potentially pay off through an improved public image and better-tasting burgers, analysts said.
McDonald's director for worldwide supply chain management, Andrew Brazier, emphasised that the fresh-only move in the US market applied only to patties used for the company's Quarter Pounder burger, accounting for about 25 percent of US beef burger sales.
He told Beef Central that while the US was McDonald's single largest market, the company would continue using Australian frozen beef in its regular beef patties used in other menu items, such as the Big Mac and Junior Burger.
Australian export product volume requirements were not likely to decline, as a result of the move, Mr Brazier said.
"The McDonald's system will continue to be one of the largest users of Australian beef because we use it in so many markets, and those markets continue to expand, increasing our demand for Australian beef."
While the majority of Australian beef used by McDonald's in the US is frozen lean, some chilled manufacturing beef was also used.
"It's not just 90's that we use (referring to lean beef percentage of +90pc). A lot of the time we are blending using a variety of CLs, depending on the raw material suppliers and what they produce," Mr Brazier said.
Asked whether the 'chilled, never frozen' strategy was likely to appear in other large McDonald's markets supplied by Australian manufacturing beef, such as Japan and China, he said McDonald's always liked to share best practices between markets, looking for the  opportunity to improve its offerings to customers.
"The McCafe concept is a good example. We will be sharing the performance of this bold move with chilled in the US with other markets, so watch this space," he said.
An Australian export trade contact who has worked closely with the McDonald's US supply chain for many years, told Beef Central that McDonald's had been trialling a 'chilled, never frozen' offer in a limited number of US stores for some time.
"McDonald's always looks at every angle it thinks can give it an edge, in what is a very competitive marketplace in the US," he said.
"The last few years have been challenging for the company, in maintaining customer traffic, and this move is obviously part of the response to lift performance."
McDonald's biggest US burger chain rival, Wendy's, has for years had a chilled-only burger pattie, which it promoted heavily as a point of difference, the trade contact said.
"But this move really surprises me – I did not expect McDonald's US would go down this line. However I do not think the impact will be all that great on supply out of Australia. They (McDonald's US) are not at capacity in the percentage of imported frozen product they can use in other burger blends, by any means."
Food safety factor
The trade contact said the move to chilled-only would add cost to the McDonald's US supply chain, and would elevate food safety issues as a priority.
"The grinders love to use our frozen meat when formulating burger patties, because the grinding process generates a lot of heat, and our frozen lean product saves them a lot of energy."
"This move appears to be all about the consumer and sales, so far as McDonald's is concerned," he said.
Another big implication was the food safety considerations. Frozen patties are much easier to handle through the vast McDonald's US restaurant supply chain numbering 14,000 sites, and handling and distributing a chilled-only product across stores could present significant cold-chain challenges, Beef Central was told.
"It means their controls over product shelf-life and temperature have to be far more closely monitored than when handling frozen patties," Beef Central's trade contact said.
"Having said that, rival chain Wendy's has been doing that forever, and it's part of their culture. But it's not yet McDonald's culture."
"But they have trialled it, and obviously believe it is going to work, and are rolling it out."
The new 'fresh, never frozen' Quarter Pounder burgers will be cooked to order, trade reports suggest. The offer will include the Quarter Pounder, Quarter Pounder with Cheese, Double Quarter Pounder with Cheese, Quarter Pounder with Cheese Deluxe and Signature Crafted Recipe burgers.
McDonald's chief executive Steve Easterbrook recently said more changes to menu items were in the wind for the company.
"Many customers perceive unfrozen to be better for you," a McDonald's US franchisee said on social media, following last week's announcement. "Perception is everything."