QUEENSLAND premium beef supply chain manager, Mort & Co scored its most significant competition result to date when it's Phoenix entry was named grand champion in the Australian Wagyu Association's 2018 Wagyu branded beef competition last night.
The winners were announced as part of a gala dinner during the 2018 AWA annual conference in Mackay.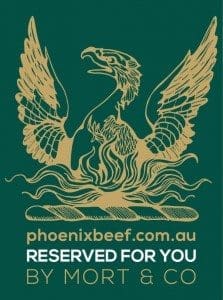 Mort & Co launched its The Phoenix F1-F3 Wagyu brand program in late 2015, entering its first AWA branded beef competition last year, for a silver medal. It went one better in 2018, earning a coveted gold medal in the competition's crossbred Wagyu class, before claiming its first-ever 'best in show' overall branded beef title.
The Australian Wagyu Association's annual branded beef competition has quickly established a reputation as arguably the Australian beef industry's paramount beef taste test, attracting most of the nation's largest and most successful Wagyu supply chains.
The 2018 competition attracted entries from most Australian states, judged in three divisions for Fullblood, crossbred and commercial striploin steaks, all assessed in a heavily controlled environment by an expert panel on tenderness, flavour, juiciness and overall liking.
Cattle for Mort & Co's The Phoenix program are fed a minimum 400 days, producing minimum marbling scores of 4, but ranging up to 9.
The brand is predominantly directed into the China chilled premium beef market for use in high-end restaurants and hotels, with other important markets in Korea and across southeast Asia, Europe, and shortly, also the US.
The winning entry, 420kg carcase weight, carried an intramuscular fat content of 44pc, fineness of marbling index of 2.9 and rib eye area of 127sq cm. The cattle are fed at Mort & Co's 52,000 head Grassdale feedlot near Dalby, using a specially formulated Wagyu ration, and processed at Northern Cooperative Meat Co, near Casino.
The winning entry was from an F2 feeder steer sourced by Mort from Selwyn Maller's Hamilton Park Pastoral Co north of Wallumbilla, east of Roma.
Judges' comments included: "Glorious – an extremely tender, juicy and beef-flavoured meat with enduring bold flavour. Golden piece of meat to accompany a robust blackcurrant-style shiraz."
Mort and Co meat sales and marketing manager Tim Burgess said the win reflected the commitment of a lot of people along the supply chain, from the breeder to the livestock and milling team at the feedlot, to the processor. "Everybody in the chain contributes to the result, so the kudos is well-shared," he said.
"It's about selecting the Wagyu genetics that we know are going to perform, and feeding that carcase performance back to our feeder cattle suppliers, to allow them to constantly improve their herds."
While Phoenix currently accounts for about 300 bodies per month, numbers on feed at Grassdale are growing, and the program will scale to 'bigger numbers' heading into 2019.
"Although still quite new, by brand standards,The Phoenix has already established a strong reputation in the Shanghai market in China, and is extending out into other big Chinese population centres like Dalian and further north," Mr Burgess said.
Class medalists
Product from the winning Mort & Co entry was featured as one of a dozen conference charity auction items sold last night, bought by Jane Hughes, Hughes Grazing, Nebo. The winning bid of $8500 meant each of the chilled rib-eye The Phoenix steaks cost more than $1000. More on the charity auction in a separate item.
The Mort & Co grand champion came from the competition's crossbred class, where it earned one of three gold medals awarded. Others went to Stockyard's Stockyard Black brand (breeder – Wally Rea); and David and Phillip Warmoll's Jack's Creek Wagyu.
In the Fullblood Wagyu class, gold medals were awarded to the de Bruin's family's Mayura Wagyu from Millicent, South Australia, and Black Diamond, (breeder – Macquarie Wagyu, Leyburn, Qld). A silver medal went to Andrews Meats' Shiro Kin brand.
In the commercial steak class (mid-marbling), gold medals were awarded to Stockyard's Stockyard Silver brand, and Andrews Meats' Tajima Wagyu brand.
Mort & Co will showcase it's Grandchester and The Phoenix Wagyu brands at Beef 2018 in Rockhampton next week, working with MLA's Chef Tarek from the Middle East and Matt Golinski from Tuesday onwards. Mort & Co also hosts its own gala dinner on Friday night next week on the Beef 2018 grounds. A few seats are still available.