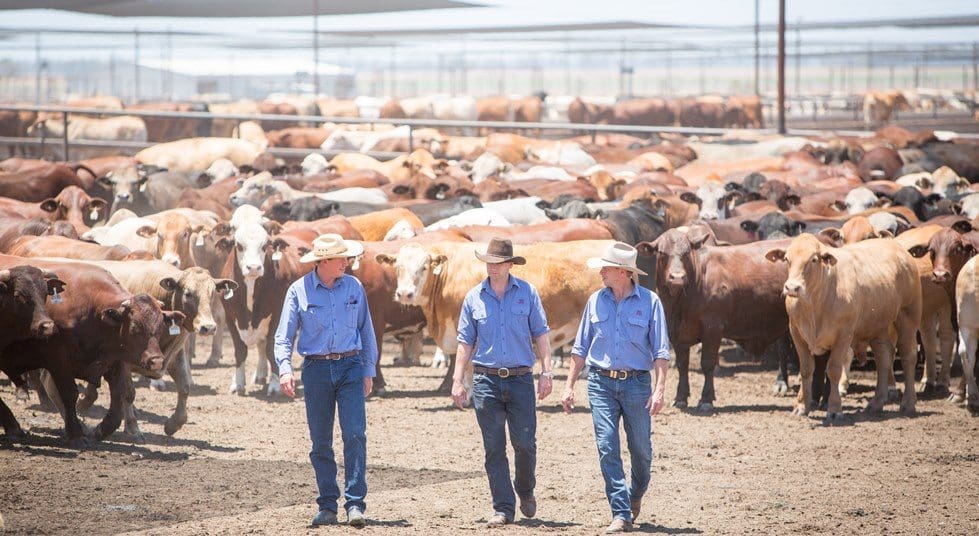 AN IMPORTANT piece of feedlot operator, Mort & Co's strategic move into export beef programs has fallen into place with the launch of a suite of commercial beef brands under which the company's emerging vertically-integrated supply chain program will operate.
One of the largest grainfed beef producers in Australia (see Beef Central's earlier Top 25 Lotfeeders report), Mort & Co is in the middle of expansion which means the company has a current one-time feeding capacity of 60,000 head of cattle across its three feedyards in southern Queensland and northern NSW, delivering annual turnover above 200,000 head.
Over the past two years Mort & Co has responded to the booming international demand for Australian beef by building supply chains designed to take the business beyond the lotfeeding phase, into downstream beef sales and marketing on the global stage.
As part of that move into retained-ownership beef export, Mort & Co on Thursday will officially launch its new beef brands, called the Phoenix Range, covering a spectrum of grass and grainfed and specialised market segments.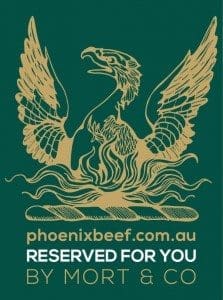 Mort & Co has been exporting grainfed beef in a low-key 'exploratory' manner for the past two years, using a service kill done out of the Northern Cooperative Meat Co plant in Casino.
While much of that early turnoff has been targeted at the China export market, the latest brand program development will see the company's product penetrating a wider range of markets across North and South Asia and the Middle East. Existing customer relationships will continue, but Mort is now in the process of establishing new retail and food service customers in key markets.
Between 200 and 400 head per week will be involved in the program in its early stages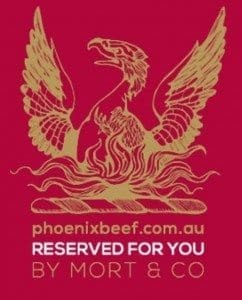 – still only a fraction of Mort & Co's overall turnoff.
The new Phoenix brand range includes five different beef brands, each produced under different finishing conditions to provide a spectrum of eating experiences to meet growing international consumer demand.
Mort & Co sales and marketing manager Tim Burgess, who joined the company a year ago to drive the brand and export beef development, said he was optimistic about the opportunity and scope that premium products like these had nationally and internationally.
"Consumers globally are becoming increasingly discerning about the food they eat – they want to know exactly what's in it, how it's produced and where it comes from. It's this philosophy that is within each of the five brands in the Phoenix Range," he said.
The new brand logo is loosely designed to reflect the Mort family's heraldic crest – the Phoenix – a symbol dating back to the Middle Ages and recognised as representing longevity, resilience and constant renewal.
The brand range will extend from pasture-fed cattle to 70-day grainfed beef ideal for retail and foodservice segments, 100/120-day cattle finished on grain for optimal flavour and tenderness, HGP-free EU-accredited beef and a 400-day grainfed Wagyu program for fine dining applications both in Australia and overseas. Next year a mid-fed 150-day program will be added, further expanding the range.
One of the features of the program will be some cattle specifications which are slightly different to current conventional programs. This is designed to help provide some differentiation in the marketplace, Mr Burgess said.
An example, in the 120-day program, will be the objective of lighter-than-normal carcase weights at slaughter, in order to deliver beef portion sizes that are easier-to-handle in the food service sector. The aim is to produce finished 120-day carcases closer to 320kg average, as distinct from mainstream programs 350-370kg in carcase weight which can produce much larger cut diameter.
That will be achieved partly through lighter feedlot entry weights and managing cattle through the system, partly by avoiding making throughput the key processing objective. All of the brand programs will be underpinned by Meat Standards Australia grading principles for assured quality and consistency.
The company noted that the launch of the Phoenix range came as Australia looked to benefit from Free Trade Agreements with a number of key Asian and Trans-Pacific nations, which opened up great opportunities not only for Mort & Co's export programs but also the increased reputation of Australian beef globally.
Currently Mort manages about 60,000 head of steers within its grain and grassfed inventory which would qualify within the Phoenix range program.
"With a team of nutritional experts and animal health and welfare specialists, the cattle are then fed a unique, custom-designed, slow-cooked ration formulated to produce beef that meets specific customer requirements from around the world – whether it be a particular cooking preference or a customer's palate," a company statement said.
"Regular grainfed beef is loaded with Vitamin B12, B3 and B6 as well as being rich in Iron, Selenium and Zinc. Mort & Co works to enhance these benefits, by providing cattle with unique rations in a state-of-the-art feedlot environment that enrich the results in beef," it said in a statement.
Brand development supported by Industry Co-Marketing program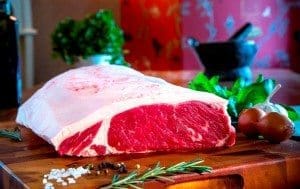 Mort & Co's Phoenix brand was developed with support from Meat & Livestock Australia's Collaborative Marketing Program, which enabled Mort & Co to develop the Phoenix brand, build supply chain relationships and secure customers through restaurants and retailers in China, Korea, South East Asia and the Middle East, as well as Australia.
In a statement, international markets general manager Michael Finucan said MLA had been building the reputation of Australia's high quality, safe and trusted beef in global markets for many years to give Australian brands, such as Mort & Co's, increased access to customers in these crucial markets, with support from its Co-Marketing Program.
"Australian beef has a valued reputation in overseas markets because of its safe, traceable, and high quality profile over other imported meats, particularly in Asia where safety is at the forefront of consumers' purchasing decisions," Mr Finucan said.
"We know international consumers have a taste for high quality and brands they can trust, and through our Co-Marketing Program, Mort & Co has capitalised on these insights by building a brand that represents rich foundations of provenance and enhances the reputation of Australian beef to our international customers."
About Mort & Co:
Mort & Co was first established in 1843 by Thomas Mort as an auctioneering and wool brokering business. He is regarded as one of the pioneers in frozen beef shipments to the UK. In 1997, 150 years later, current CEO and ancestor of Thomas Mort, Charlie Mort, re-activated the identity, firstly as a feedlot operator and cattle supply chain manager, and now as a branded beef program manager.