The FIFA Soccer World Cup is about to start, and burger giant McDonald's is working hard to leverage off its $27 million global event sponsorship.
The World Cup tournament in Brazil – the world's second largest sporting event, after the Olympics – doesn't start until June 12, but McDonald's is wasting no time in activating its special offers built around the event in advance.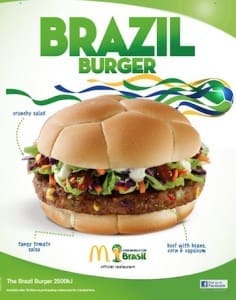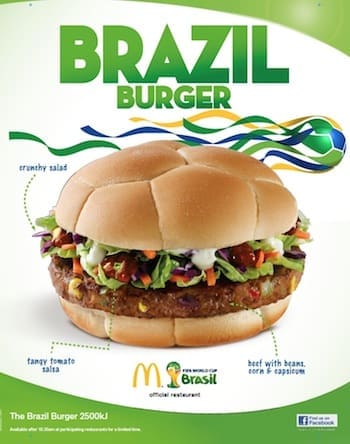 In Australia, where McDonald's is being pushed hard by rival, Hungry Jack's (known as Burger King in the rest of the world, but renamed after its founder, Jack Cowin in Australia) Macca's has created an extensive special menu tied to competing nations and featuring burger buns designed to look like…. soccer balls.
In Australia's promo, the Brazil Burger will be served on a bun resembling a (somewhat deflated) soccer ball (see image).
McDonald's Australia will launch the campaign on May 21, running through to July 15. Five new menu items linked to World Cup participants will be offered throughout the promotion, the star-piece being the Brazil Burger, containing a large beef patty, red beans and chilis, coupled with tomato salsa.
Another short-term addition will be the Argentina Burger (two quarter-pound patties, salsa, onion, pickles and two slices of cheese.
The World Cup promo is a crucial marketing window for McDonald's in Australia, earmarked as one of the company's four 'priority markets' (along with the US, Germany and China) where the chain's sales have lagged over the past year. Biggest competitor Hungry Jack's has been making inroads by lowering prices through discounts and coupons on its burgers.