Global burger giant McDonald's has recorded another tough trading month for February, with global comparable sales declining by 1.7 percent compared with the same period last year.
The result comes on top of dismal full year results reported last month.
All geographic regions, with the exception of a marginal rise in Europe, followed the 'negative growth' trend.
The company's largest US division showed comparable sales down 4pc compared with February last year due to "ongoing aggressive competitive activity," McDonald's reported yesterday.
It said it began this month with a "Turnaround Summit designed to deliver renewed energy and focus around the elements of the restaurant experience that matter most to customers – relevant, high-quality food and beverage offerings, compelling value and outstanding service from a trustworthy brand."
In the company's Asia, Pacific, Middle East and Africa division (including Australia) February comparable sales decreased 4.4pc. This was due primarily to broad-based consumer perception issues in Japan (recent food safety, contamination and ingredient shortages attracted widespread media attention).
The trend was partly offset by a benefit from the shift in timing of Chinese New Year in China and certain other markets, as well as positive results in Australia.
"Rebuilding brand trust by strengthening McDonald's quality and value perceptions is one of APMEA's top priorities for 2015," the company said.
The APMEA region accounted for US$6.3 billion of McDonalds global US$27.4 billion in sales in 2014.
Within Australia, McDonald's sales and customer visits have increased over the past six months, providing a rare bright spot for the world's biggest restaurant chain.
The company does not break out sales for its 940 Australian stores. But the last annual accounts for McDonald's Australia Holdings show a 25pc increase in profit to $234 million, despite receipts from customers edging down to $1.06 billion. McDonald's declared Australia to be a "great spot in our overall turnaround with positive comparable sales and guest counts since September of last year."
The company's 'Create Your Taste' burgers made fresh to order now feature in 16 Australian stores and McDonald's plans to roll them out across 800 sites – except for those in shopping centres – by the end of June. This expansion will soak up some of the $US2 billion McDonalds plans to spend this year.
In Europe, comparable sales increased 0.7pc in February as positive performance in the UK and Germany was partly offset by negative results in Russia.
What has been remarkable has been the speed with which McDonald's performance and customer loyalty has changed over the past 12 months.
"Creating consistently relevant and satisfying customer experiences have been hallmarks of McDonald's business and historic success. However, consumer needs and preferences have changed, and McDonald's current performance reflects the urgent need to evolve with today's consumers, reset strategic priorities and restore business momentum," yesterday's financial report said.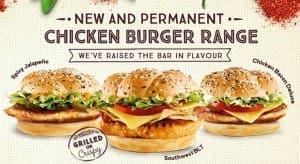 "The goal is to be a true destination of choice around the world and re-assert McDonald's as a modern, progressive burger company," it said.
McDonald's remains the Australian beef industry's single largest customer, worldwide.
Higher raw material costs for ground beef have prompted the company to launch a current marketing promotion aimed at chicken options (illustrated here), where margins are more attractive.
No antibiotics in chicken meat
Meanwhile,   McDonald's restaurants in the US will begin serving meat from chickens that are not raised with antibiotics used to treat humans.
Because the struggling fast-food chain is one of the largest buyers of chicken in the US – McDonald's sells more chicken than beef – the move is likely to have a big impact on the way poultry is raised and the type of chicken served by restaurants, analysts said.
The shift to chicken that was largely antibiotic-free would be phased in over two years, the company said. It also announced that later this year, McDonald's would give customers the choice of low-fat and chocolate milk from cows that had not been treated with the artificial growth hormone rBST.
In January, an International Production & Processing Expo in the US, devoted a panel to antibiotic-free poultry production, at which an industry consultant declared that antibiotic-free chicken was no longer a niche business.
"I think in a few years, one-third of chicken and turkey will be antibiotic-free," Richard Kottmeyer, managing director of Strategic, an agricultural consulting firm, said.
"The problem then is the other 66 percent of consumers will be resenting the fact that their chicken isn't antibiotic-free."