IT wasn't that long back that McDonald's was held up as an example for marketing students to study and admire – a company keenly in touch with its customers, sensing new trends and consumer attitudes almost before they took root.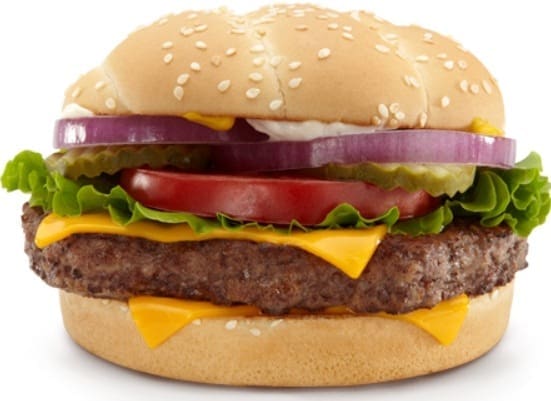 But that reputation now looks to be in jeopardy, as its 2014 financial year performance suggests McDonald's has increasingly become out of step with modern day consumers.
The global burger giant – Australia's single largest beef customer – has lodged a dismal fourth quarter trading result, capping a financial year it would prefer to forget.
Worldwide net operating income in the fourth quarter ended December 31 fell by 20 percent compared with a year earlier. The fourth quarter result capped poor full-year performance, which saw global comparable sales decrease of 1pc year-on-year, reflecting reduced customer count in all regions. Full-year operating income decreased 9pc.
The company warned investors today that results would remain under pressure in the first half of 2015 as the company works to try to revive sales and get its business back on track.
Adding lubricant to last year's financial slide was the much-publicised food safety incident in an OSI-owned Chinese factory supplying products to the McDonald's chain in Asia. Asian consumers abandoned the chain in droves, as reported in this article on Beef Central.
Same-store sales declined 0.9pc globally during the fourth quarter, as fewer customers visited McDonald's restaurants amid tough competition from competing chains in the US, and supplier issues and waning consumer confidence in Europe and Asia.
"2014 was a challenging year for McDonald's around the world," chief executive Don Thompson told the financial market today.
"Our business continues to face meaningful headwinds. Our results declined as unforeseen events and weak operating performance pressured results in all three of our geographic regions," he said.
The company pledged to focus on "becoming a more nimble organisation with a strategy that involves simplifying our menu and catering to local customer tastes."
On a region by region basis:
McDonald's US division saw fourth quarter comparable sales decreased 1.7pc and operating income declined 15pc. The company said this reflected negative guest traffic amid ongoing broad-based challenges, including sustained competitive activity. In addition, results were impacted by higher selling, general and administrative and other expenses.
The Europe region's fourth quarter comparable sales declined 1.1pc and operating income decreased 14pc. Consumer confidence issues, particularly in Russia and Ukraine, and weakness in France and Germany negatively impacted the segment's quarterly results, while the UK delivered positive comparable sales and operating income result.
The Asia/Pacific, Middle East and Africa region (including Australia), was hit hardest, impacted heavily by the Chinese food safety crisis which saw customers across the Asia region abandon the chain in droves. APMEA's fourth quarter comparable sales decreased 4.8pc and operating income declined 44pc due to the lingering impact of the 'supplier issue' on sales and profitability in China, Japan and certain other markets. Sales and operating income benefited from solid performance in Australia.
"As we begin 2015, we are taking decisive action to regain momentum in sales, guest counts and market share," Mr Thompson said.
"This involves driving fundamental improvements in our major markets and continuing our recovery efforts in markets affected by unusual events. We are accelerating our efforts behind solutions that capitalise on the investments we're making in our technology and our restaurants to bring McDonald's Experience of the Future to life for our customers."
As a result of the 2014 financial result, McDonald's has slashed its capital expenditure plan for this year to US$2 billion, its lowest capital budget in more than five years, as the company reduces the number of new store openings. Nevetheless it still expects to open between 600-700 new restaurants (net) this year.
"We believe this lower level of capital spending is prudent while we work to regain our business momentum and improve the sales and profitability at our more than 36,000 restaurants around the world," the company said.
"As the world's leading food service organisation, we will continue to evolve, focusing on the customer as our first priority," Don Thompson said. "Over the next 12 months, our charge is to ensure that we are adapting to the changing marketplace and maximising the potential of our global growth priorities to serve our customers' favourite food and drink, create memorable experiences, offer unparalleled convenience and become an even more trusted brand."
With about 75pc of McDonald's grocery bill comprised of 10 different commodities, a 'basket of goods' approach is used describe the company's commodity costs. For the full year 2015, the total basket of goods cost is expected to increase 1.5pc to 2.5pc. No individual estimates were provided for beef raw material costs.