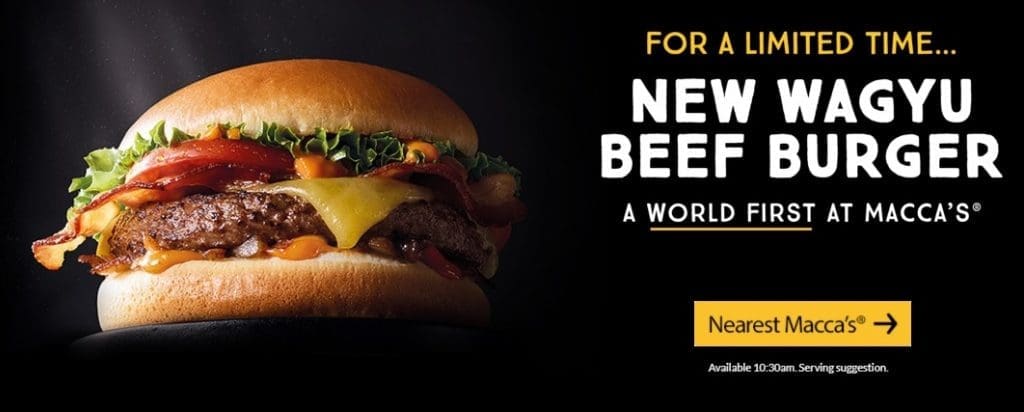 THE issue of breed content in beef entitled to use the word 'Wagyu' in its description, promotion and marketing has resurfaced, with Brisbane's Courier Mail on Saturday devoting three pages to the topic in reference to McDonald's new 'Wagyu burger'.
The primary purpose of the article was to explore whether a product like that sold by McDonald's, produced from beef carrying 50pc Wagyu content, should be allowed to use the name, 'Wagyu.'
But there's nothing new in the debate about how to describe beef carrying less than 100pc fullblood Wagyu content. It has in fact been a burr under the saddle blanket of the Wagyu industry for at least 10 years.
After a lot of internal discussion, the AWA in 2007 commissioned industry consultant Phil Green to develop a detailed independent report into Wagyu product description. The report came at considerable expense, and took the best part of three years to draft, revise and complete.
Backgrounding the events below, it's worth pointing out that the Australian Wagyu Association contrasts markedly with most, if not all other 'cattle breed societies' in Australia. Within its membership ranks are not only Wagyu seedstock producers, but lotfeeders, processors, and export and domestic brand supply chain managers.
That point, alone, has added an acute interest in the topic of protection of 'brand Wagyu', and specifically, the amount of breed content that should be present in order to make certain label claims.
A task force from within the AWA board, working with a range of stakeholders, in 2009 came up with an original proposal for a voluntary certification system based on licenses, using a three-tiered description system:
"100pc Fullblood Wagyu" to describe Fullblood slaughter cattle, using parents registered with the AWA
"Wagyu" to describe Purebred (F4 or higher, 93pc Wagyu) animals
"Crossbred Wagyu" to describe animals minimum 50pc (effectively, F1-F3).
That proposal was later simplified to two levels – for Fullbloods, and everything else (described as Crossbred Wagyu).
The task force also discussed minimum marbling score and days-on-feed as possible standards, but decided this was "best left to individual commercial entities to educate their end-users/customers about marbling grades."
Credible Wagyu brands were already providing clear distinctions about marbling content in their products, they argued. The group acknowledged that to be successful, broad industry uptake would be critical for the program to be successful.
The project's development gained overwhelming membership backing at the 2008 AGM in Tamworth, and its progress was again supported by members at Coffs Harbour AGM in 2009.
The proposal was finalised and tabled for a membership vote at the AWA annual meeting in 2010, only to be dramatically withdrawn, just minutes before the vote.
The reason was that it became evident the program no longer had the requisite AWA membership support to get the resolution over the line. The rapidly changing view was that dictating terms over how commercial brand managers should describe their product was not a 'breed society' matter, but rested with the commercial players themselves.
Customers would ultimately determine whether a product's performance, based on its marbling and eating qualities, deserved repeat buying support. Those Wagyu brands that did not perform to expectations would suffer the consequences.
Since then, it's become evident that the degree of clarity of Wagyu content on products in the international and domestic marketplace can be divided into two main groups:
At the upper end of the food service sector, including better restaurants, hotels and steakhouses, Wagyu is now widely described by its breed content on menus. That applies as much in Singapore or Shanghai, as it does in Sydney.
The same cannot be said for the middle/lower pub/club food service segment, and much of the retail sector.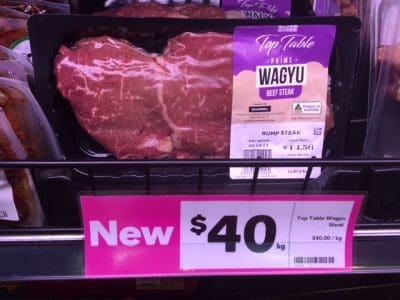 Typical pubs in Australia offering a Wagyu rump steak as a blackboard menu special rarely make any attempt to identify breed content. Premium burger chain, Grilld, sells its 'Wagyu Wonder burger' with no content claims, but evidently made from F1 Wagyu beef. Woolworths makes no obvious reference to breed content in its "Top Table Prime Wagyu Beef Steak" (rump selling for $40/kg, pictured above).
To its credit, emerging retailer Costco makes clear reference to Wagyu content on its in-store pack labels (see image below – click on image for a larger view).
Nor does breed content appear at the bottom end of the food service sector, as evidenced by the McDonald's Wagyu burger report in Saturday's Courier Mail.
Under an excitable headline proclaiming "Wagyu breeders see red in Macca's beef war," the article accused fast food chains, restaurants and supermarkets selling F1 Wagyu beef as selling 'cheap knock-offs of the real deal.'
Queensland premier Annastacia Palaszczuk was quoted as saying consumers would be disappointed to know they might not be getting what the paid for.
McDonald's declined to comment for the article, but offered a statement saying, "Our Wagyu product is labelled in line with industry standards."
To further confuse matters, McDonald's original Wagyu burger launch statement in March described the product as "100% Australian Wagyu beef." While that statement was evidently designed to align with the company's broader "100% Australian" claim covering all of its fresh beef offer, it could easily be misconstrued as referring to "100% Wagyu."
"It's not the role of the (Australian Wagyu) Association to be a policeman," AWA's Matt McDonagh told the Courier Mail in Saturday's report.
Far from being critical of McDonald's as implied in Saturday's article, Mr McDonagh said the AWA welcomed the move by the burger restaurant chain to feature a 'Wagyu' burger.
"We estimate there is now about 10,000 tonnes of Wagyu trim produced in Australia each year. An end-user like McDonald's, which is using 280 tonnes of beef in this trial, alone, is an important part of utilising every piece from every carcase," he said.
McDonald's said its Wagyu burger had been "incredibly well received" by customers and industry partners since its March launch.
Issue applies in other breeds
While all the focus in Saturday's Courier Mail article was on Wagyu, the breed content issue is certainly not unique to the Wagyu industry.
There are numerous Angus-aligned brand programs in Australia that use 'Angus' in their brand identity, while carrying less than 100pc Angus genetics. Some call for "Angus or Angus-British cross", signifying minimum 50pc breed content, while others call for at least F2 (75pc) Angus. At the upper level, some brand programs insists on 100pc Angus content.
Angus Australia's own breed verification service includes the "Verified Black Angus" segment, requiring Angus sires and at least Angus-cross dams, delivering a minimum of 75pc Angus content in the beef it is exposed to.
In the US, the world's largest and best-known beef brand, Certified Angus Beef, includes a statement referencing breed content among its specifications. Somewhat famously, that statement simply says, "Cattle must be Angus-influenced, with a predominantly solid black coat."
It is open to conjecture and interpretation what the term, 'Angus influenced' means, but given the black-coated breed derivatives now present in the beef industry (Limousins, Simmentals, Salers, Brangus etc), it's certainly possible that some of the cattle entering the CAB program in the US have modest Angus content, at best.
To emphasise the point, well over 4.5 million head of US cattle are directed into the CAB program each year.
While CAB defends its breed 'guidelines' by saying they are underpinned by requirements for marbling (USDA modest or higher), maturity, muscling and other traits (perhaps implying that higher levels of Angus genetics are necessary to achieve the performance standards), the fact remains that the word 'Angus' is the single largest driver of the success of the program.
See Beef Central's original McDonald's Wagyu burger launch story here.