A monthly column written exclusively for Beef Central by Steve Kay, editor and publisher of US Cattle Buyers Weekly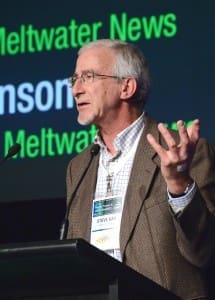 THE fact that Australia exported just over one million tonnes of beef in 2017 was, as Beef Central's Jon Condon put it, quite an accomplishment after drought had sharply reduced the country's cattle numbers.
Herd rebuilding, as Jon wrote, will allow exports this year to increase modestly.
The same has been the case in the US, albeit in a different time-frame. Extreme drought in 2010-2012 also reduced US beef cow numbers, which did not begin to start increasing until 2014. The result was that US beef exports sank to only 1.028 million tonnes in 2015. But as the beef herd kept expanding, so too have exports. They reached an estimated 1.3mt in 2017 and are estimated by USDA to increase to 1.35mt this year.
As Jon wrote, Australia's three biggest export beef markets – the US, Japan and South Korea – last year accounted for just over 675,000 tonnes of Australian beef, or about 66pc of total offshore trade. Australia will thus face more US beef in each of these markets, because US production this year is expected to total about 12.428mt. This would put production up nearly five percent from 2017, versus a 3.8pc increase in 2017 from 2016.
The extra beef will add to a total US red meat and poultry supply of nearly 47mt, with pork production up 5.3pc on 2017 and broiler production up 1.8pc. If realised, the total would be up 3.4pc from 2017's total, which was up 2.6pc from 2016's. Americans will each consume an estimated 100kg of red meat, pork and poultry this year, according to latest USDA forecasts. This per capita figure will surpass a 2004 record.
Forecasts at the start of 2017 of increased meat and poultry production led to alarmist reports by some financial analysts that US meat and poultry companies would have a rough year. The exact opposite occurred, as most companies reported record beef earnings. That's largely because beef demand at home and abroad was far better than expected, and proved to be the big story in 2017 for the US beef industry.
Early signs are that these companies will again profitably dispose of their larger production as long as the macro-economic indicators remain positive but not make as much money as last year.
Growth in US GDP, wages
US gross domestic product is expected to grow year-over-year. An annual growth of 4pc this year would add about US$800 billion to total US GDP. This is a big positive as consumer spending accounts for approximately 65pc of GDP.
Another key factor is that Americans who earn the lowest wages are seeing larger percentage increases in their wages than those above them. This will enable those who can only afford to buy beef infrequently to buy it more often and more pork as well. But Americans will also keep eating more chicken because of its price.
The US will also rely on exports to help dispose of the extra 590,000t of beef it will produce.
In fact, beef exports might need to grow by more than USDA's forecast. Beef exporters will look particularly to Japan and South Korea. Both countries have the strongest economies in Asia and their consumers love US beef. Japan alone contributed more than half the 14.3pc growth in total US beef exports for January through October 2017, notes USDA's Economic Research Service.
South Korea is also ripe for importing more US beef than ever before. US beef exports to Korea in fiscal 2017 (ending Sept 30) accounted for US$1.207 billion of the US $6.866 billion of total food and agricultural exports in the year. Beef exports were 32pc higher than in fiscal 2016, says USDA's Foreign Agricultural Service. This made Korea the second largest value market for US beef and beef products.
Lower cattle prices likely, as production expands
Meanwhile, US beef producers will likely see lower prices for all classes of cattle this year as the ongoing increase in the US calf crop continues to put more cattle on the market. However, prices last year exceeded what analysts predicted, with their strength last fall and early winter providing the biggest surprise.
The price strength came despite grainfed steer and heifer slaughter being up just over 5pc on 2016. Steer and heifer slaughter this year is expected to increase by 2.5pc on last year. One forecast of a kill of 26.1 million head would make it the largest such kill since 2011. As in other years of increases in cattle and beef supplies, demand will again determine both cattle and wholesale beef prices.
The biggest immediate challenge on the supply side is for cattle feeders to keep selling cattle aggressively to minimise the larger supply coming from now into the summer. The December 1 cattle on feed total was 8pc higher than a year ago and was the largest Dec 1 total since 2011.
December placements were expected to have been just below year ago levels. But December marketings were disappointing. This suggests the January 1 COF total was nearly 9pc above the prior year.
Steer and heifer carcase weights remain a big concern in the US industry. The best-ever feeding conditions last summer and fall meant cattle performed at record levels, with average weight gains often over 2.7kg per day. Steer and heifer carcase weights thus advanced in December beyond their seasonal highs and were at record levels for that time of year.
Carcase weights are now declining due to bitter cold in the northern half of Cattle Feeding Country. But analysts say the later seasonal top means they will likely decline at a slower rate than normal into the spring. So the US might produce more beef in the first half of 2018 than is currently forecast.