AUSTRALIA's June beef exports have fallen away sharply, in response to the combination of recent rain and an underlying chronic shortage of killable cattle caused by two years of drought across eastern Australia.
Exports to all destinations in June reached just 95,454 tonnes, a five percent decline from trade in May, which was the busiest month of the year so far.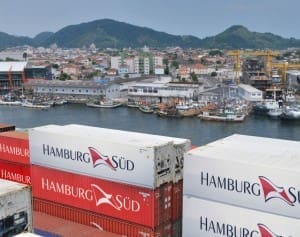 Department of Agriculture figures released today show that June trade was back more than 23,000t, or close to 20 percent, on the same month last year. A stubborn A$ value sitting above US74c for much of June didn't help.
Calendar year to date, exports have now reached 528,600t, a colossal 118,000t decline (18pc) on the same six-month period last year.
The June 30 milestone also provides an opportunity to make comparisons on a fiscal year level. For the full 2015-16 year just completed, total Australian exports reached 1.167 million tonnes, down more than 180,000t from 1.349mt for the previous 2014-15 fiscal year. It's one of the largest year-on-year drops witnessed since the 1970s beef slump era.
Understandably trade flows to most major export destinations have been affected during June.
Japan takes over as biggest volume market
For the second time this year, monthly exports to Japan have in fact exceeded those to the US – traditionally Australia's largest volume market.
Japan was responsible for 24,520 tonnes of Australian beef during June, a rise of about 1000t on the previous month, and virtually the same as this time last year. Calendar year to date, volume has reached 125,000t, a decline of about 15pc on the same period last year. For the full 2015-16 fiscal year, exports to Japan topped 268,000t, down from 304,000t a year before.
There was a large drop in exports to the United States during June, reaching a little over 23,000t, a 21pc decline on shipments in May, and back an alarming 17,700t (-43pc) on June last year. Part of the reason is explained in yesterday's US imported grinding beef report.
Calendar year to date, shipments to the US have reached 146,000t, down 36pc from 227,000t last year. Full fiscal year ended June 30 figures saw tonnage reach 334,000t, back 29pc, year-on-year.
Third largest export market, South Korea, took 15,400t of Australian beef in June, up about 1000t on May exports, but a similar number short of exports in June last year. Calendar year to date, tonnage has reached 85,400t, up a little from 79,000t for the corresponding six months in 2015. Full fiscal year figures have topped 173,000t, a rise of 10pc on the 2014-15 year.
After emerging as Australia's most exciting new beef export prospect in 50 years during 2014, China continues to disappoint this year, as export market share continues to be lost to cheap exports from Brazil (see earlier story on Brazil's rapid penetration of the China market over the past 12 months).
June exports to China reached only 8100t, a small decline from May, but back almost 40pc on this time last year when exports topped 13,300t.
Calendar year-to-date tells a similar story. January-June volumes have reached 47,600t, compared with 68,200t for the same period last year.
With China continuing to open up the competition in its imported red meat market, Chinese auditors are expected to arrive in Brazil in October to inspect new abattoir and meat processing facilities with a view to including them on the list of Brazilian packers certified for export to China. Reports suggest 48 Brazilian facilities are waiting for Chinese audit across poultry, pork and beef processing. At present Brazil has 39 meat processing operations (11 pork, 16 beef) accredited for the Chinese market.
Recent media reports suggest China has become the single largest official export beef market for Brazil in 2016. Brazil shipped more than 71,000t to China in the first five months of 2016, compared with Australia's 39,500t. While many analysts thought this would result in decreased Brazilian shipments through the grey trade (Hong Kong and Vietnam), this doesn't appear to have affected Brazil's sales via Hong Kong that also increased over the same period.
Indonesia stands out
Among other export markets, Indonesia again stood out as a strong performer.
Australian beef exports to Indonesia in June reached 7670t, ranking it as our fifth largest customer for the month, by volume, and within sight of fourth placed China.
Shipments for the six months to June 30 at 33,229t are also double the same period last year, as the Indonesian Government seeks to dampen local beef prices by increasing imported beef supplies.
Further market liberalisation is in the wings in Indonesia, as a realisation that the previous policies that constrained beef imports only helped to drive local prices higher.
Offal trade has also grown rapidly this year, reaching 7000t to June 30, compared with less than 1000t for the same period a year ago.
Indonesia historically has been one of Australia's largest beef offal markets, but recent government restrictions have greatly hampered that trade. In November, Indonesia expanded the list of approved imported products to include more offal items, such as tongue root meat and lips, in addition to cheekmeat, headmeat, lips and tendons. Rumps are now admitted among a handful of secondary, primary and manufacturing beef cuts.
Earlier, it was reported that Indonesian government agencies and relevant ministries were seeking prompt access to around 29,000t of frozen Australian beef for June/July shipment, early consignments of which were said to be arriving by airfreight.
Indonesia's Ramadan religious festival started a month ago, so it will be interesting to observe trade trends in coming months, following the religious festival.
Another market to come under considerable pressure from growing Brazilian exports is the Middle East, where Australia's beef exports last month reached just over 2000t, down from 2500t last month and 4300t this time last year. Calendar year to date, the figure is 17,000t, compared with 26,800t last year, in the face of heavy price competition from Brazilian beef in the largest regional market of Saudi.
Trade to the EU has now settled down after disruptions caused by end of quota year, with 2656t consigned last month – some 1100t more than in May, but much the same as this time last year. Calendar year to date we have shipped just over 12,000t, compared with 11,500t last year.
Russia's ban continues
In bad news for any prospect of re-establishing a serious beef trade with Russia, president Vladimir Putin last week signed an extension on his decree to ban food imports from a range of western countries, including Australia, until at least the end of 2017.
Russia banned foods from the 28-nation EU, the US, Australia and a bunch of other exporting countries 2014 in response to Western sanctions imposed on it for its role in the Ukraine crisis, shutting out a vast range of goods from French and Irish cheese to Spanish fruit and ham, and Australian beef.
Australian exports for the fiscal year ended June 30 reached just 108 tonnes, most apparently for embassy and other unusual uses. At its peak, Australia consigned more than 70,000 tonnes of beef each year into Russia and neighbouring states.