IN the countdown to Brisbane Royal Show starting next Thursday, JBS Australia is showcasing samples from the prestigious RNA Paddock to Palate competition, with a limited-release beef offering across retail and food service outlets in Brisbane and regional areas of Queensland.
JBS's Royal 100 program has returned for 2021, produced exclusively from cattle entered in the 100-day paddock to Palate competition, fed and processed at the company's Beef City facility near Toowoomba.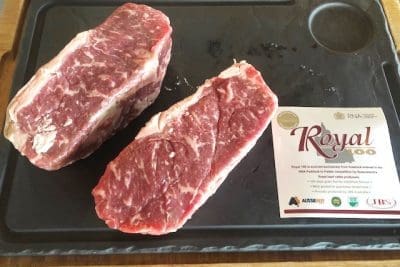 This year's competition is proving to be among the closest in history, with full results due to be announced at a carcase competition dinner next Wednesday.
This year, JBS's Royal 100 will be exclusively available at selected venues and butcher shops across Queensland from Wednesday 4 August for a limited time, while stocks last. It is an exciting opportunity to showcase and support the local produce and industry.
Royal 100 Beef will be distributed far and wide, to places such as Australia's beef capital Rockhampton, north to the Rite Choice meats in Charters Towers, west to the Winton Hotel, down through the Blackall/Charleville region; and south to the border regions of Goondiwindi and Coolangatta. This year, the product will also cross the border to venues at Tenterfield and Lismore in New South Wales.
Russell Pastoral Company's Champion Station near Blackall was selected as weightgain section winners, and this year Royal 100 will be available through the local Blackall butcher and the Barcoo Hotel. There has been no effort spared to place the product into regions where the producers reside.
Beef from the Champion weightgain pen of six will again be available from Wednesday August 4 through the Brisbane's Regatta Boatshed, until stocks run out.
This year's Champion weight gain section winner Palgrove will again be treated to a selection of their steaks specially cooked by Regatta executive chef Lochlan Alexander on August 3, to launch the Paddock to Palate menu.
JBS Australia's domestic business development manager Denis Conroy, said the Paddock to Palate competition was Australia's richest beef supply chain competition.
"The competition is held each year in conjunction with the Ekka, and pits the best cattle producers against each other to create some of Australia's best and most prestigious beef," Mr Conroy said.
"The product produced, given its own distinctive Royal 100 Beef identity – is a unique, once-a-year, dining experience. Royal 100 represents the best cattle from the best producers to create the best beef that can be enjoyed at our exclusive partners' venues."
RNA councillor and beef committee chair, Gary Noller, said the competition attracted some of the best cattle producers across eastern Australia.
"The Paddock to Palate competition is the ultimate judge of how cattle perform on feed and over the hooks," Mr Noller said. "JBS should be commended for bringing the Royal 100 brand to market, allowing consumers to enjoy the beef from some of the country's top producers.
"Our producers continue to share their positive feedback and the pleasure they get seeing their product being showcased into the regional areas, often where many of them live and work."
Royal 100 will be exclusively available at selected venues and butcher shops from Wednesday 4 August for a limited time while stocks last.
Here's a list of some regional food service and retail venues which are carrying stocks:
Hotels and restaurants:
Park Avenue Hotel , Rockhampton
Railway Hotel, Yeppoon
Reef Hotel, Gladstone
Bargara Lakes Tavern, Bundaberg
West End Hotel, Townsville
Kalamia Hotel, Ayr
Beaudesert Hotel, Beaudesert
Raceview Hotel, Ipswich
Club Hotel, Chinchilla
Maraboon Tavern, Emerald
Fibbers, Toowoomba
Brightwater Hotel, Mountain Creek
Baringa Tavern, Baringa
Parklands Tavern, Meridan Plains
Barcoo Hotel, Blackall
Winton Hotel, Winton
Wellshot Hotel, Ilfracombe
Branch Restaurant, Longreach
Butcher shops:
Gracemere Quality Meats, Rockhampton
Barcaldine Meat Barn, Barcaldine
BF Savage & Co Butchery, Longreach
Frazers Butchery, Augathela
Dunnes Butchers, Charleville
Queensland Country Meats, Roma
Maranoa Meats, St George
Rite Choice Meats, Charters Towers
Premier Meats, Tenterfield
Zone Fresh Gourmet, Windsor.